Cliffs Natural Resources (NYSE:CLF) is known primarily as a dividend stock, and for good reason. Investors in the company are currently rewarded with a handsome 8.47% yield. However, a case can be made that there is tremendous growth potential to go along with this income. First, for those who are unfamiliar with the company, here is a quick summary:
Cliffs is the largest supplier of iron ore pellets to the North American steel industry. The company manages and operates five iron ore mines in Michigan and Minnesota and two mines in Eastern Canada. Their mines have a combined annual rated capacity of 38.5 million gross tons of iron ore pellet production, which is 45.4% of total capacity in the US and Canada. In 2011, the US accounted for 41% of the company's revenues, China 31%, Canada 13%, Japan 7%, and other countries 8%.
Performance
Cliffs has not exactly been a stellar performer over the past five years. From its high of $121.95 in 2008, the '09 market collapse caused the stock to fall to a low of $13.73, a drop of 88.7%. It rebounded to around $102 by 2011, and has since fallen to its current level of $30.86 as of Monday, barely off its 52 week low.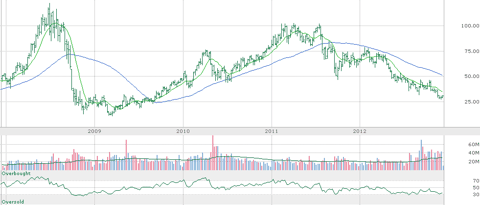 From 2004 through 2011, revenues grew at a CAGR of 32.4%, and free cash flow before asset sales, dividends, and acquisitions increased at a 53.2% rate over the same period. However, analysts project a decline in free cash flow for 2012 due to both lower net income and an increase in capital spending.
Valuation
CLF trades at only 7.8 times 2012 earnings, a huge discount relative to its historical valuation, and to its peers (the industry average is 13.92 times TTM earnings). Earnings are expected to fall to $3.32 in 2013 from $3.80 this year, which is still an 8.9 times forward earnings multiple. Its price/sales and price/book are well below industry averages also, at 0.70x, 0.66x, respectively. Analysts at Standard and Poor's project the company's earnings to resume growth beyond 2013, and they predict a 3-year average earnings growth rate of 1%. This sounds low, but considering the 12.6% decrease in 2013 earnings, that implies an average of 7.8% earnings growth in 2014 and 2015 to achieve the 1% average. Amongst all of the analysts covering the company, the average one year price target is $46.06 or a staggering 49.3% upside from current levels.
The Dividend
The big question on everyone's mind is: Is the dividend safe? Considering that the stock is currently yielding 8.47% and trading at only 8.9 times forward earnings, the market seems to be pricing in a possible dividend cut. This seems logical, since the company may have gotten ahead of themselves by average annual dividend increases of 61% from 2004 to 2011. However, I believe the dividend is not in danger. I wouldn't necessarily expect an increase in the immediate future, but I believe the dividend is secure. The company pays an annual dividend of $2.50 a share, and even with 2013's projected earnings decreasing to $3.32, this is only a 75% payout. When you factor in the growth projected beyond next year, the company should have no problem maintaining its yield.
Conclusion
No company that has dropped over 63% in just over a year and pays 8.47% is without significant risk. For example, the demand for Cliffs' products is dependent on the highly cyclical demand for iron ore and metallurgical coal. However, I feel that the shares are more than fairly valued now, and the company has definite potential to grow beyond 2013, due to the projected expansion of the company's sales into Asia as well as entry into new markets here. Once the company's earnings start to show significant growth again beginning in late 2003, I think the $46 price target seems completely justified.
Disclosure: I have no positions in any stocks mentioned, and no plans to initiate any positions within the next 72 hours. I wrote this article myself, and it expresses my own opinions. I am not receiving compensation for it (other than from Seeking Alpha). I have no business relationship with any company whose stock is mentioned in this article.