As a dividend investor, you have most likely heard of the payout ratio. The ratio can be calculated by dividing the Dividend per Share by Earnings per share, or if you are looking at a company's cash flow statement, by dividing Dividends Paid by Net Income. The payout ratio is used by many investors to determine how safe a company's dividend is. The story goes that if a company has a high payout ratio, the dividend may be at risk, and if the company has a low payout ratio, the dividend is relatively safe. The premise behind the payout ratio is sound. Investors want to ensure a company isn't paying out more than what it earns, that would be unsustainable.
A sample of dividend-paying companies and their payout ratios can be found below. To determine dividend safety, 70% was used as a guideline.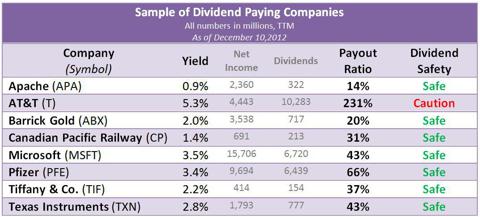 The payout ratio was calculated by examining the company's cash flow statements and dividing Dividends Paid by Net Income on a trailing 12 months basis. And here is where the problem lies. As you may, or may not know, there are many issues with Net Income, or earnings, inherently. Earnings can be manipulated by accelerating revenue recognition, messing around with deprecation, changing or dipping into reserves, and a whole host of other accounting magic perfectly acceptable under GAAP. After all is said and done, the amount of earnings reported may be very different than the amount of actual cash earned. This is significant for dividend investors because dividends are paid from cash, not earnings.
To determine the amount of cash a company earned, we can turn to a company's cash flow statement and calculate Free Cash Flow (FCF). Free Cash Flow shows how much cash a company generated after normal operations and purchases of capital equipment required to keep the business running. The number is calculated by taking the Cash Flow from Operations and subtracting Capital Expenditures, also sometimes referred to as Investments in Property Plant & Equipment.
On a side note, in regards to quarterly cash flow statements, here's a fun fact if you are using third-party sources to view the statements. Depending on where you are viewing the statements, the quarterly numbers may either be presented as cumulative (year to date) or only for a specific quarter. There is no disclosure explaining which way they are presenting it (where would be the fun in that?), they leave it up to you to figure it out. Morningstar, for example, presents cumulative (year to date) for each quarter, while Yahoo Finance shows just that specific quarter.
Once we have Free Cash Flow calculated, we can divide the Dividends Paid by FCF. Our new ratio provides a much more accurate representation of a company's ability for sustainable dividends.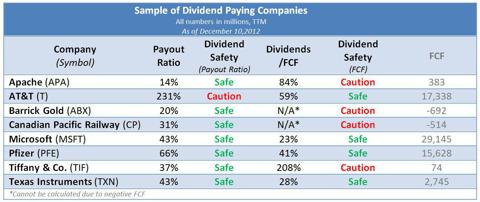 As you can see, using Free Cash Flow tells a much different story than Net Income in the Payout Ratio. Barrick Gold (NYSE:ABX), Canadian Pacific Railway (NYSE:CP) and Tiffany (NYSE:TIF) are actually paying out more dividends than they are generating cash. This is obviously not sustainable and something investors would want to keep an eye on, should it continue. Barrick Gold and Canadian Pacific are generating negative Free Cash Flow, which warrants additional attention in itself. Apache's (NYSE:APA) dividend also appeared very safe at 14%; however, on closer inspection, 84% does not seem as safe anymore.
Using Free Cash Flow for Microsoft (NASDAQ:MSFT), Pfizer (NYSE:PFE) and Texas Instruments (NYSE:TXN) actually worked for their benefit. A clearer picture is painted that these companies' dividends are even safer than originally thought. AT&T (NYSE:T) especially, with a payout ratio of over 200%, is probably overlooked by many new dividend investors. With such a high ratio, it wouldn't make it through most dividend investor's screens. In reality, AT&T is only paying out just under 60% of the cash generated.
The payout ratio can be found on most investing websites and is commonly quoted when dividend-paying companies are mentioned. However, at the end of the day, the payout ratio does not accurately show an investor if a company's dividend is safe or sustainable. Hence investors must beware. One should be prudent and look beyond the payout ratio and take cash into account, by using Free Cash Flow. A company with a payout ratio of over 100% may not necessarily be cause for alarm, for example AT&T above; however, a company with a dividend/FCF ratio of over 100% definitely justifies intensive scrutiny.
Disclosure: I have no positions in any stocks mentioned, and no plans to initiate any positions within the next 72 hours. I wrote this article myself, and it expresses my own opinions. I am not receiving compensation for it (other than from Seeking Alpha). I have no business relationship with any company whose stock is mentioned in this article.