Last week we looked at how the stock market rally over the past twelve months has been driven entirely by P/E multiple expansion. From this point forward, continued upside in the market will have to be driven by either a) earnings growth, and/or b) more expansion in the P/E multiple.
Here are some highlights from Factset's most recent 3Q12 earnings scorecard as of 11/23/12, with 97% of the companies in the S&P 500 (NYSEARCA:SPY) having reported:
Year-over-year earnings growth of -0.9%
70% of the companies beat earnings estimates
41% of the companies beat sales estimates
73% of the 4Q12 earnings guidance has been negative
Since 9/30/12, analysts have reduced 4Q12 earnings growth estimates to 3.9%, down from 9.3%
This will be the first quarter of negative growth in the past eleven, and while the majority of companies beat bottom line earnings estimates, the 41% that beat top line sales estimates is the lowest since the first quarter of 2009.
Forward-looking growth estimates appear too high in our view. Just in the past two months Wall Street analysts have paired their fourth quarter growth estimates by over half, while companies themselves have also been reining in expectations with 73% of next quarter's guidance being negative. Yet, consensus estimates for 2013 continue to run north of 10% growth (there are some notable exceptions such as Morgan Stanley's Adam Parker who expects a decline of 1.0% in 2013).
There are two problems with expecting strong earnings growth in 2013. The first is a troublesome macroeconomic environment that will make it difficult for companies to grow the top line. While the US has managed to buck the trend and avoid a double-dip recession, the majority of Europe, the UK and Japan is either in or near economic contraction. Even commodity-rich and emerging countries such as Canada (NYSEARCA:EWC), Australia (NYSEARCA:EWA) and China are slowing although still positive. It's also worth pointing out that had the US been running a smaller deficit that was in-line with the average in Europe it also would be in a recession. In other words, government spending above and beyond tax receipts (e.g. deficit spending) is the only thing keeping the US economy from contracting. As Deutsche Bank's Jim Reid has stated, "…that extra deficit flexibility has made all the difference."
The chart below, taken from a recent study by the National Federation of Independent Business, reveals a disturbing trend of declining sales amongst small businesses right here is the US. The thicker line represents the net percentage of survey respondents who experienced sales growth in the last three months, while the thinner line represents the net percentage of respondents who expect sales growth in the coming three months. Both indicators are well below historical averages dating back to the mid 1970's. These businesses are obviously far smaller than the average company in the S&P 500, but this data reveals that the difficult macro environment is being felt across the spectrum of the corporate community.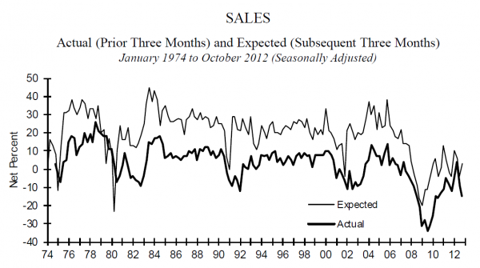 The second problem with expecting strong earnings growth in 2013 is that corporate profit margins are already near record highs, so it's widely held that any further margin expansion (typically derived from aggressive cost cutting) might be limited. That said, you wouldn't necessarily get that sense from listening to the companies themselves:
"The company has commenced a restructuring plan to increase productivity, enhance competitiveness and accelerate growth. The plan will deliver pre-tax cost savings of about $450 million ($300 million in 2013) by eliminating corporate costs … The restructuring plan includes eliminating about 1,500 positions globally in the next 12-18 months." -DuPont (DD Oct. 23)
"The Dow Chemical Company today announced a restructuring program designed to accelerate cost reduction actions and advance the next stage of the Company's transformation in the midst of persistently slow macroeconomic growth. These actions will result in a net reduction of approximately 2,400 positions, or five percent of the global workforce. The restructuring also includes the shutdown of approximately 20 manufacturing facilities." - Dow Chemical (DOW Oct. 23)
"AMD expects that the restructuring actions taken in the fourth quarter of 2012 will result in operational savings, primarily in operating expenses, of approximately $20 million in the fourth quarter of 2012 and approximately $190 million in 2013. The savings will be largely driven through a reduction of AMD's global workforce by approximately 15 percent, which is expected to be largely completed in the fourth quarter of 2012." -Advanced Micro Devices (AMD Oct. 18)
Corporations are obviously aware of the headwinds they will face in growing revenues, so perhaps their resolve in growing the bottom line will lead to more aggressive cost cutting than we realize. However, it seems to us that as companies support bottom line earnings through cost cuts they will be enforcing a negative feedback loop. More layoffs and lower capital expenditures are in and of themselves headwinds to economic growth. It's the classic paradox of thrift in which what is good for the individual company is damaging to the whole economy when individual participants are all doing the same thing simultaneously.
So what about the possibility of further P/E multiple expansion as a source of upside for the market in the coming year? As we stated last week, the market's current valuation appears fair to us when measured using trailing or forward 12-month earnings. However, another popular method, called the Shiller P/E Ratio, uses average inflation-adjusted earnings over the previous ten years in order to smooth out short term volatility in earnings. When viewed through this lens the market actually looks quite expensive.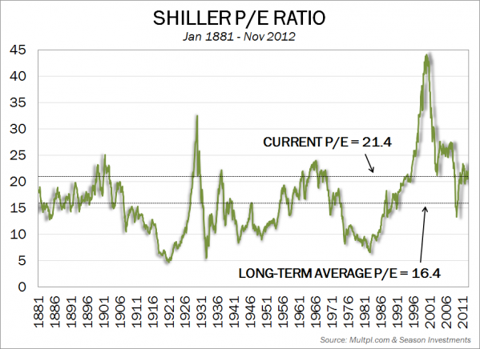 We can't count out the possibility for higher valuation multiples by this time next year, but suffice it to say that the market is not starting from a point of being priced "cheap". Thus a difficult macroeconomic environment, historically high profit margins and extended long-term valuations are all reasons to exercise caution as we enter the upcoming New Year.
Original Source: Can The Stock Market Repeat?
Disclosure: I am long SPY. I wrote this article myself, and it expresses my own opinions. I am not receiving compensation for it. I have no business relationship with any company whose stock is mentioned in this article.
Additional disclosure: Transparency is one of the defining characteristics of our firm. This information is not to be construed as an offer to sell or the solicitation of an offer to buy any securities. It represents only the opinions of Season Investments or its principals. Any views expressed are provided for informational purposes only and should not be construed as an offer, an endorsement, or inducement to invest.