Primarily covering frontier markets on Seeking Alpha, I never expected to write an article about bond yields. However, it has come to my attention that the legacy of Alan Greenspan and Ben Bernanke has not only led to all-time low yields on U.S. Treasuries (NYSEARCA:TLT) and T-bills (NYSEARCA:BIL), but has created low yields in the higher risk world of investing in emerging and frontier market sovereign debt.
This article will begin with a discussion of a specific Mongolian sovereign debt issue (because I have a degree of expertise about Mongolia) before discussing the broader world of emerging market debt, and the wild risks investors are taking currently investing in this debt.
What The Yield?
It was announced on November 29, 2012, that the Mongolian government raised $1.5 billion dollars for sovereign bonds:
A $500 million, five-year bond sold at its launch price of 4.125% yield. A $1 billion, 10-year bond sold at 5.125%, according to people familiar with the deal.
According to an earlier article prior to the bond sale in the Wall Street Journal:
Standard & Poor's Ratings Services rates Mongolia BB-, a non-investment grade, or junk rating, similar to Bangladesh and Georgia. Moody's Investors Service rates Mongolia B1, similar to Senegal and Kenya.
Having written 21 articles about Mongolia on Seeking Alpha, with 3 of the last 4 focused on the rising risks of investing in Mongolia right now, I was shocked at these low yields.
Is This Reasonable?
The first of the two Wall Street Journal articles I cited adds:
Emerging-market countries have issued a record $85 billion in sovereign debt in 2012, according to data firm Dealogic. Zambia and Bolivia [along with Mongolia] also became first time issuers this year.... By comparison, Italy's benchmark 10-year bond trades with a yield of about 4.75% and Zambia's 10-year bond, sold in September, yields 5.625%.
I felt confused by memories of 10 years ago when I could get these kind of 10 year rates on AAA U.S. Treasuries (NYSEARCA:TLH). Looking at the chart, I saw that from the last 1960s to the very early 2000s, getting over a 5% yield from AAA U.S. Treasuries was the norm for almost two generations. (For a list of the top 10 U.S. Treasury Bond funds, see this article by David Fry.)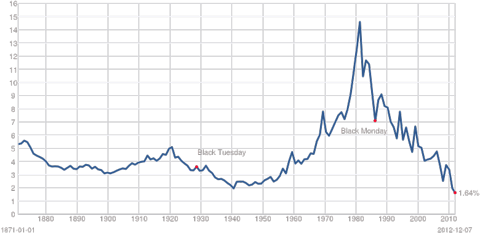 Source: Multpl.com.
I checked the historical rate of defaults for emerging market sovereign debt (as there is no separate category for frontier market sovereign debt with Moody's or S&P).
S&P results were hard to find, though they did offer a chart on historical trends of default that show global crisis years are bad years for emerging markets debt. Moody's had clearer results. They rated Mongolia at B1. The rate of default for B1 sovereign debt is almost 10% by Year 4 and gets to about 15% at 6 1/2 years.

Source: Moody's.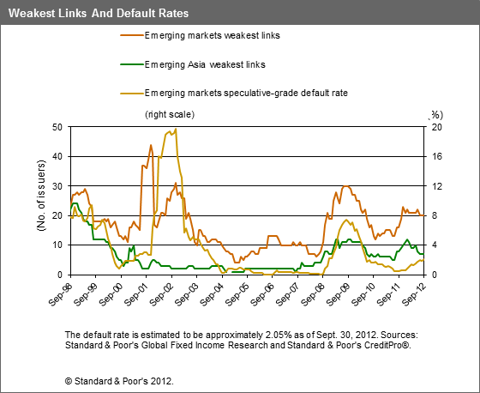 Source: Standard & Poor's.
If I understand correctly then, the historically low rates in the U.S. have changed the income environment from investing in AAA no risk of default Treasuries with a 5% yield to investing in low-grade debt for the same yield. The problem is that this low-grade debt that Moody's defines as "speculative grade" has a 1 in 10 chance of defaulting in 4 years, and a 1 in 7 chance of defaulting within 6 1/2 years. Indeed, a BB- rating like Mongolia's means for S&P, "Less vulnerable in the near-term but faces major ongoing uncertainties to adverse business, financial and economic conditions."
However, to be clear, it took less than the long-term for Mongolia's bonds to experience risk. Terrence Edwards, a reporter domiciled in Mongolia and fluent in Mongolian, reported for Reuters on December 5, 2012, six days after the Wall Street Journal announced the bond sale:
Mongolian bonds plunged $7-$8 on Wednesday on the news that the populist Mongolian People's Revolutionary Party (MPRP) was no longer prepared to work with the free-market Democratic Party, the country's biggest party, following June elections.
So, now I had to question the broader picture, because clearly the risk in Mongolia was closer to my own assessment than the bond market's assessment.
Looking Beyond The Nose On My Face
In an article this past March on why I invest 50% of my funds in precious metals, I chronicled my own exit from bond income to precious metals between 2006 and 2009:
My breaking point was the 2008 crisis when I rolled what was left of my bond portfolio into precious metals between October 2008 and February 2009. With the income generation of bonds decimated and the government response to the crisis of bailing out the financial institutions, I was cornered into rethinking risk. I concluded financial institutions being bailed out meant they would learn nothing, and that meant the government bail outs would ultimately create more systemic risk.
As a counterpoint to my thinking, I found a good article on Institutional Investor explaining growing interest in Emerging Market sovereign debt. The article discusses
The thrust of the Institutional Investor article is, as Dave Nadig of IndexUniverse says in the article:
I think investors are realizing that investing in the emerging markets is actually a double bet; you not only have to invest in the asset class - in this case, a sovereign bond or a corporate bond - but you also have to invest in that currency... If you invest in U.S. dollar denominated emerging bonds, you're effectively neutralizing the potential for that currency gain.
The volatility of the charts for local currency bond funds below (EMLC, ELD, & LEMB) don't bear this thesis out over a 2 year duration when compared to the U.S. denominated EMB which is currently yielding 4.26% (unless you knew to time your purchase of these funds in June 2012).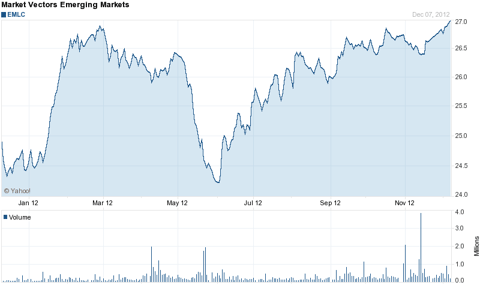 Source: Yahoo! Finance EMLC 2-year chart, as of December 9, 2012.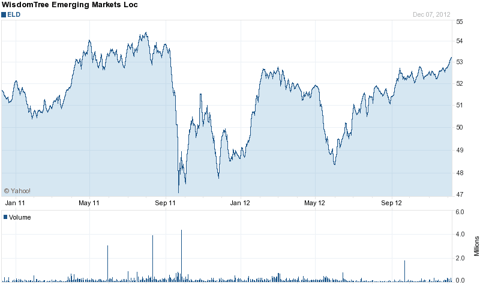 Source: Yahoo! Finance ELD 2-year chart, as of December 9, 2012.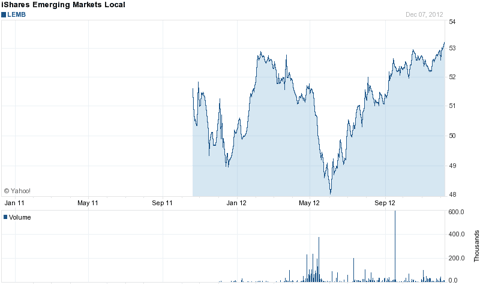 Source: Yahoo! Finance LEMB 2-year chart, as of December 9, 2012.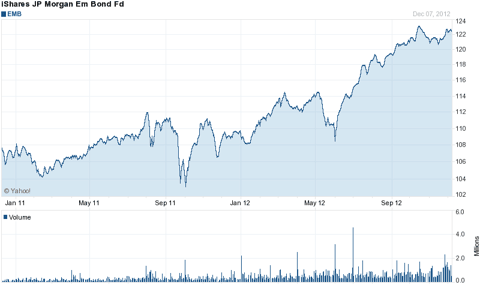 Source: Yahoo! Finance EMB 2-year chart, as of December 9, 2012.
Unless you want the roller coasters of local currency bond funds, it would seem more advisable to stay in U.S. dollar denominated emerging market funds. This theme was also pursued in a recent article by Emerging Money on Seeking Alpha that advocated for the closed-end Aberdeen Asia-Pacific Income Fund (NYSEMKT:FAX) which invests primarily in bonds that trade in U.S., Australian, or New Zealand dollars. The article points out that FAX currently yields 5.3% and:
Its net asset value [NAV] rate of return has averaged in excess of 10% per year for the most recent 1, 3, 5 and 10 year periods. It has averaged 8.11% per year for the past 15 years.
This sounds great, so I decided to look at a chart for the life of the fund.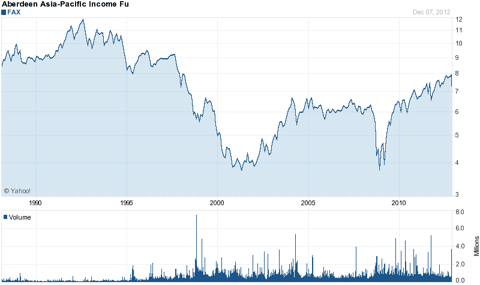 Source: Yahoo! Finance FAX maximum chart, as of December 9, 2012.
Sigh. Those are some steep drops when it drops. This does not look as good as it sounded for a 5.3% yield.
My Worry Should Be Your Worry Too
Bond yields of all types of bonds historically go in cycles. Yields on high grade debt are at all time lows which is pushing more people into lower grade debt to get the yield they need.
However, this is a bad idea.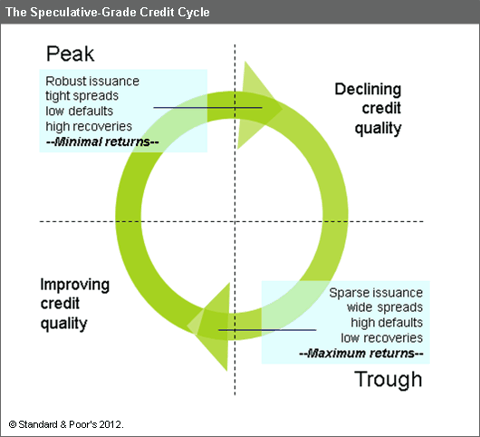 Source: Standard & Poor's.
The problem with pushing into higher yielding low quality securities is that when yields across the bond spectrum are near historic low rates, it means yields are most likely to go up in the next few years. And, when yields go up, the price (or value) of the bonds goes down.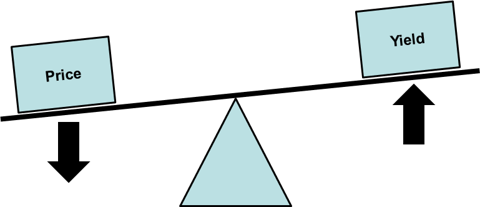 Source: Pringturner.com.
Thus, my worry is that the carnage of the tech bubble and real estate bubble that has led Federal Reserve Chairman Ben Bernanke to low interest rates in the U.S. (with knock-on effects around the world) will lead to further carnage in emerging market and frontier market debt, not to mention higher grade sovereign bonds.
To understand what I worry there will be more of in the future, please watch this 6 minute video by Felix Salmon on litigation about Argentina's default on its sovereign debt (he uses Legos, it is quite fun). Unless you're a professional bond trader, the risks of emerging and frontier market sovereign debt do not justify accepting the current low yields being paid.
Disclosure: I have no positions in any stocks mentioned, and no plans to initiate any positions within the next 72 hours. I wrote this article myself, and it expresses my own opinions. I am not receiving compensation for it (other than from Seeking Alpha). I have no business relationship with any company whose stock is mentioned in this article.