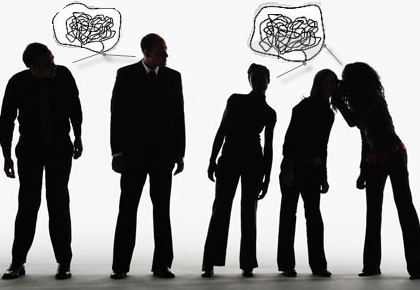 Traders are getting jumpy as rumors of a fiscal cliff deal come to the fore, then fade once again. A deal may be in the negotiation process, which many pundits believe would include tax hikes on the so-called rich in exchange for immediate entitlement reforms. There's no question both sides need to get something they want out of any deal.
Stocks are subject to unfounded rumors planted by algos and others to front-run and suck in unsuspecting investors. Tuesday's stock market ramp featured some late-day selling after Harry Reid asserted Republicans were "holding up middle class tax cuts," saying there will be no deal by Christmas. (That threatens to upset the President's body surfing plans at Kailua beach.) Meanwhile, John Boehner repeated a previous comment that the President is "slow-walking negotiations." But this is what they do -- create enough pressure from one side to another until the other side blinks. Until a deal is done, you can expect plenty of volatility on any rumor, planted or otherwise.
Below are two charts from a lengthy slide presentation, authored by Mary Meeker from KPC (Kleiner, Perkins, Caufield & Byers). In it are some fascinating views of how our world might look in the decades ahead. No taxes on the rich or anyone will cure these imbalances -- it's the math.
(click images to enlarge)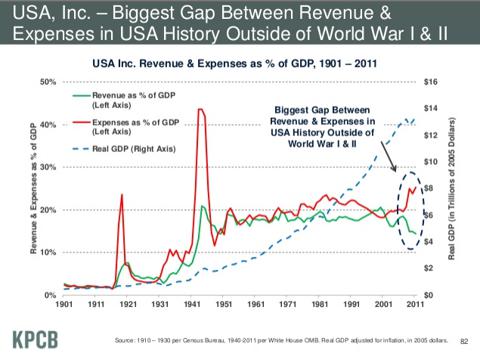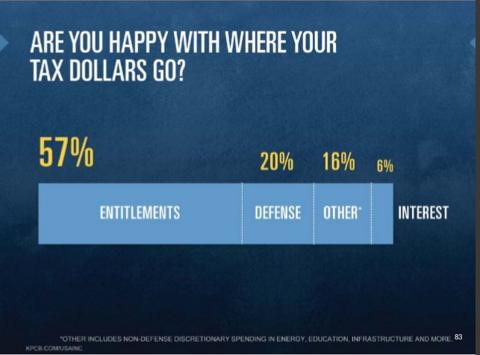 The other market moving item on the agenda remains the Fed, which will announce another policy decision Wednesday afternoon. Some expect Bernanke & Co. to extend QE3, end Operation Twist, announce an exit date (as if) and other measures to stimulate growth and, of course, jobs.
Bulls generally feel a deal will be made, and like to tell us about all the money on the sidelines. It's more likely money coming out of the Fed's printing press, methinks.
Tech (NASDAQ:QQQ) and (NYSEARCA:XLK) led markets higher, given a short squeeze in Apple (NASDAQ:AAPL), with cheerleaders for the stock amping up their megaphones, as the past few months have them quite flummoxed and depressed.
Bonds (NYSEARCA:TLT) fell as stocks rallied, which is typical. The dollar (NYSEARCA:UUP) was lower (a favorite event for stock bulls), while gold was slightly weaker. The latter decline likely means bulls would rather be in stocks for that "risk on" moment. Commodities (NYSEARCA:DBC) overall were weaker on metals.
Beyond all the hoopla, volume was again light, but breadth per the WSJ was positive.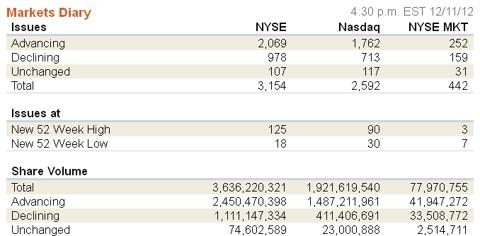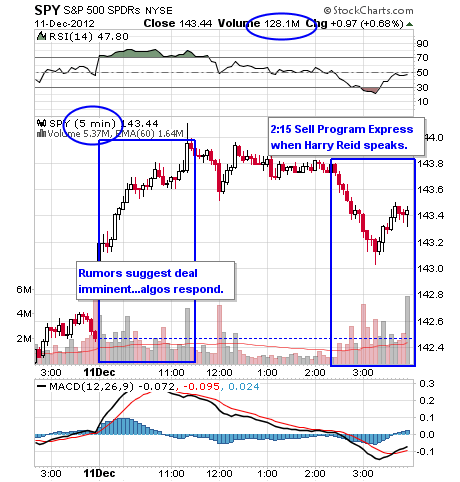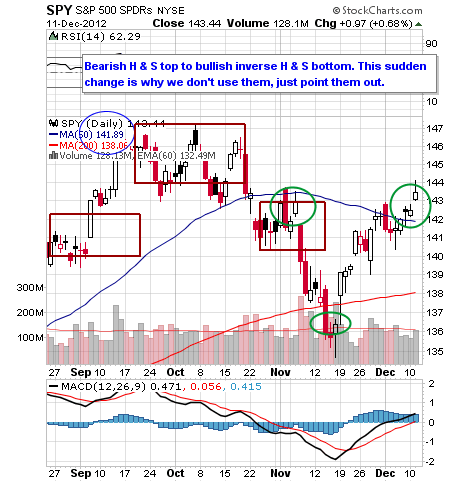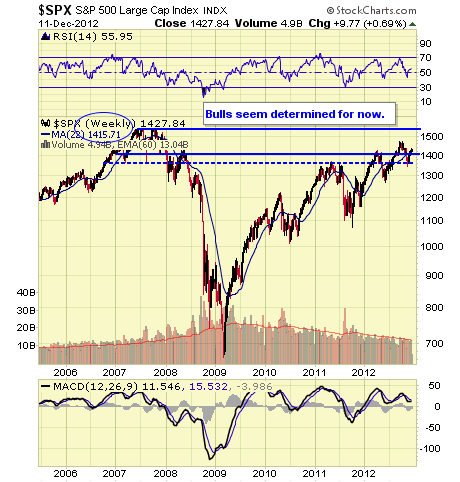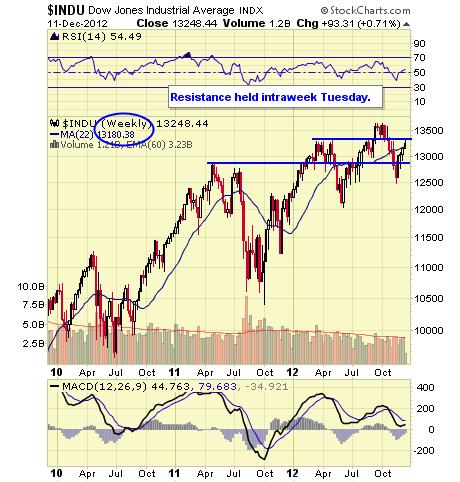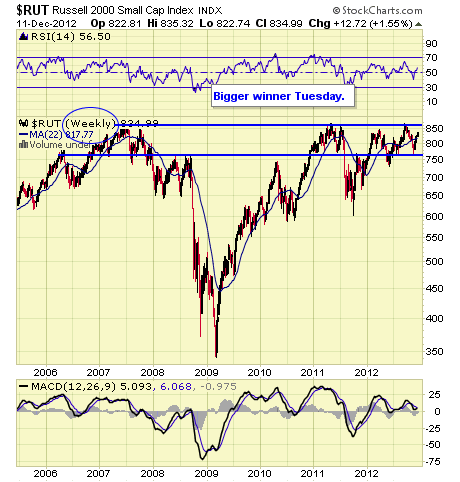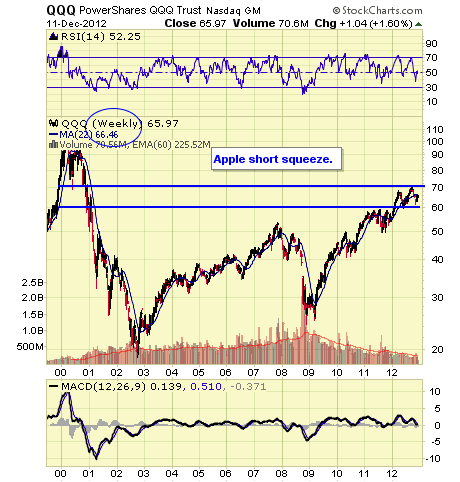 Continue to U.S. Sector, Stocks & Bond ETFs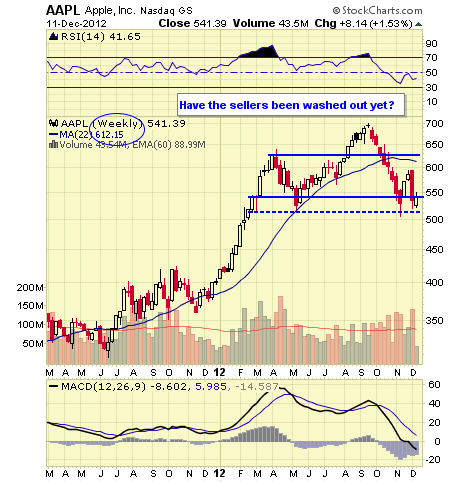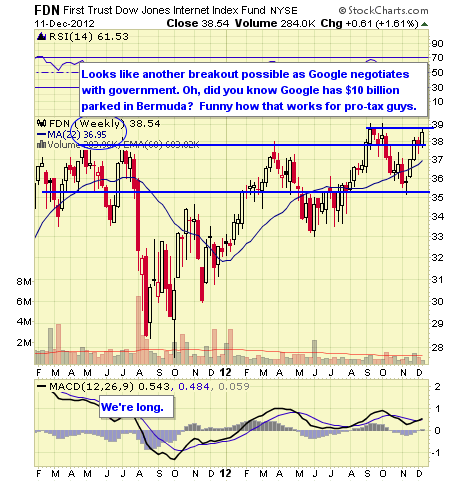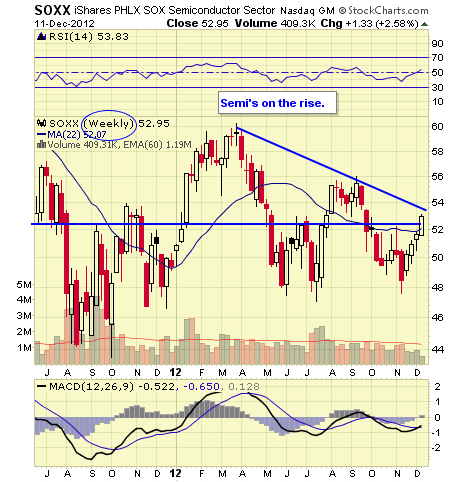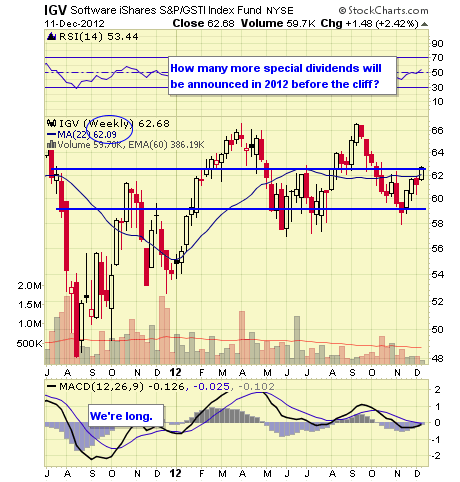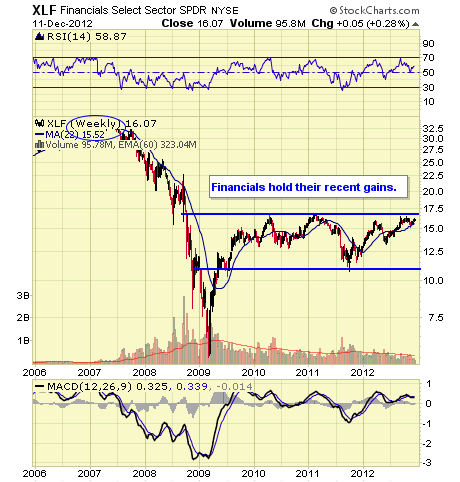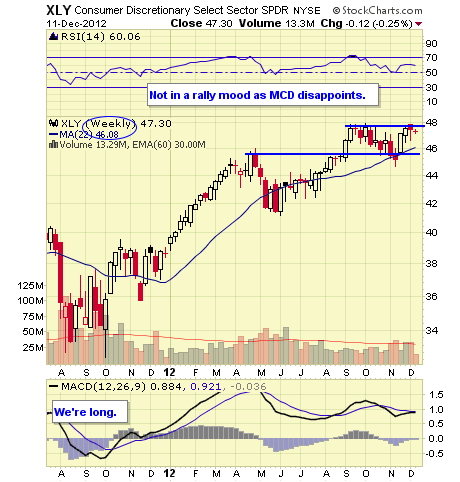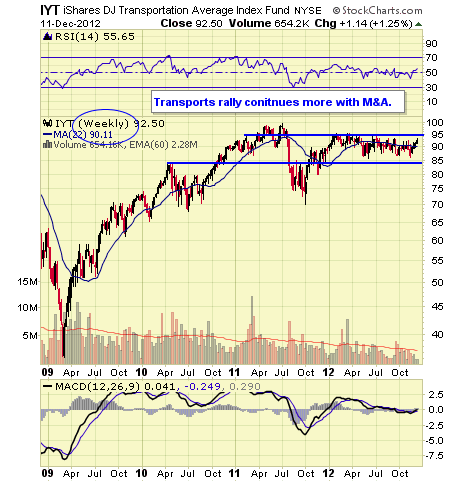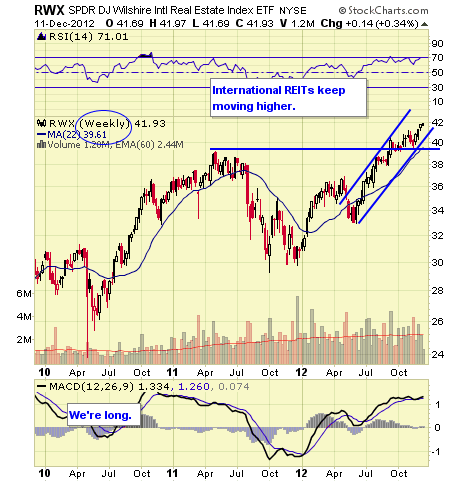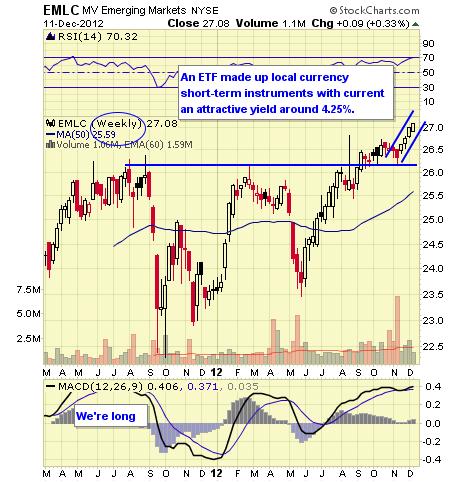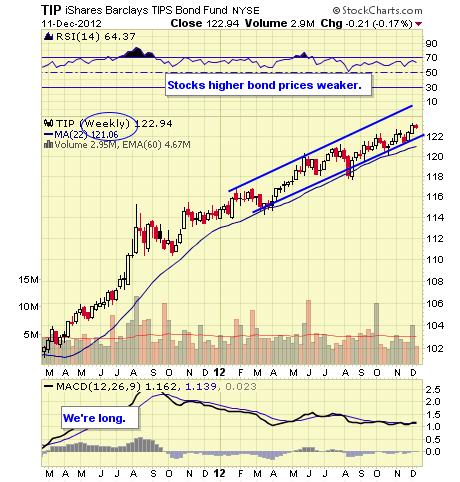 Continue to Currency & Commodity Market ETFs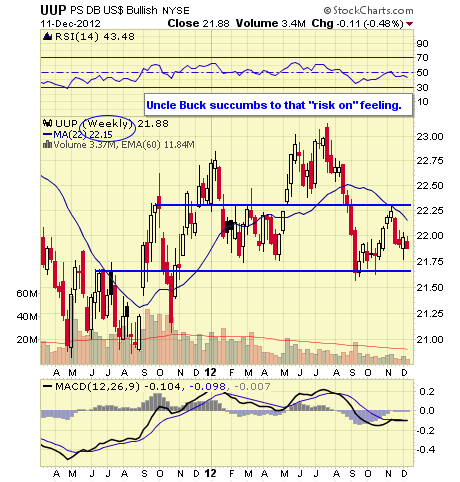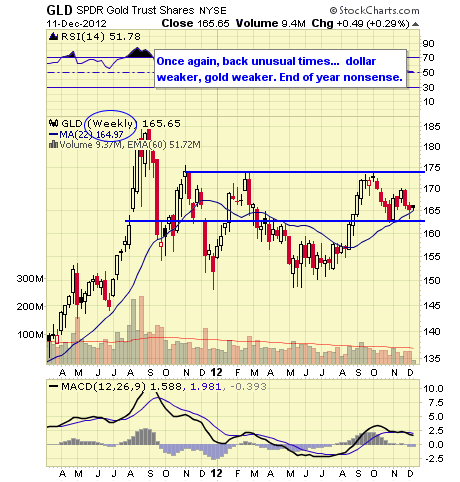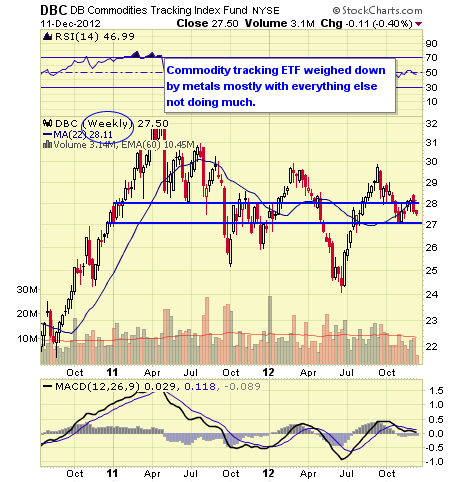 Continue to Overseas Sectors & ETFs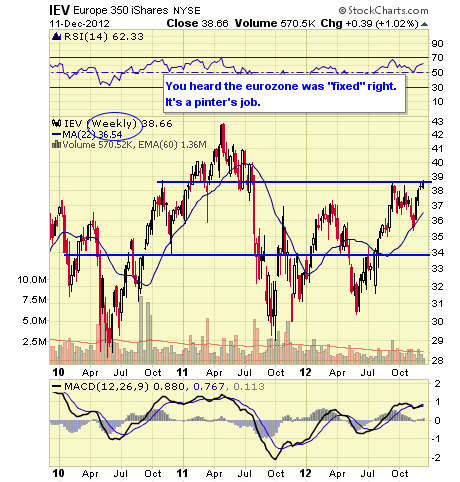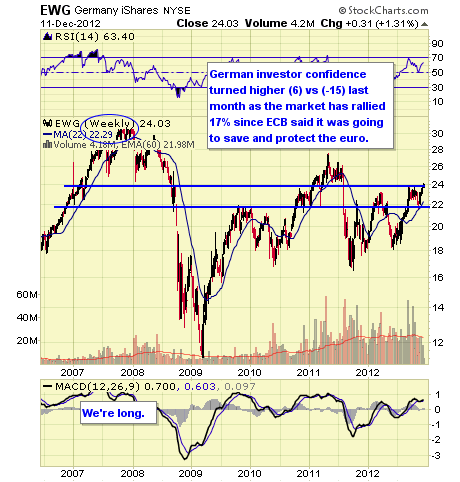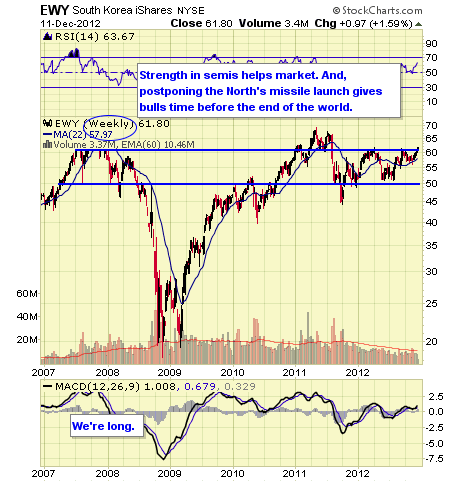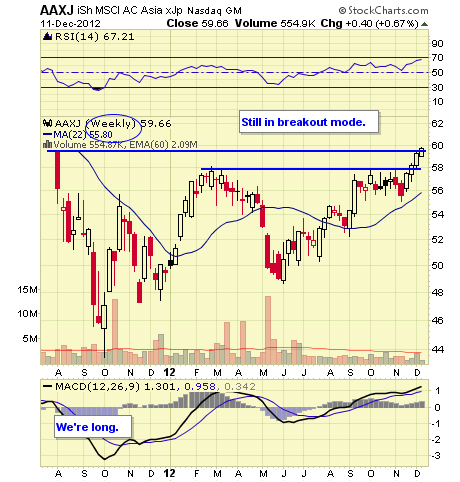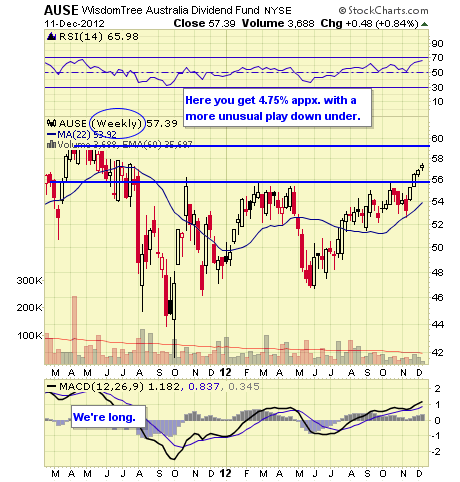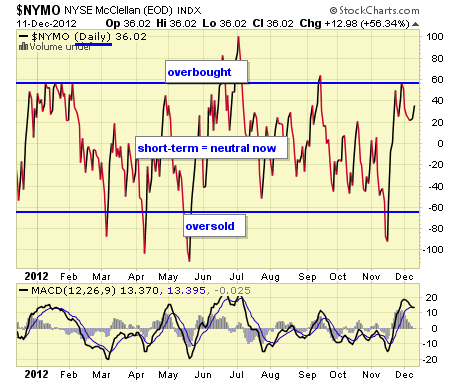 The NYMO is a market breadth indicator that is based on the difference between the number of advancing and declining issues on the NYSE. When readings are +60/-60, markets are extended short term.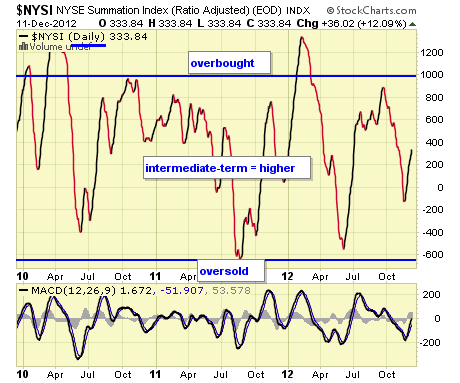 The McClellan Summation Index is a long-term version of the McClellan Oscillator. It is a market breadth indicator, and interpretation is similar to that of the McClellan Oscillator, except that it is more suited to major trends. I believe readings of +1000/-1000 reveal markets as much extended.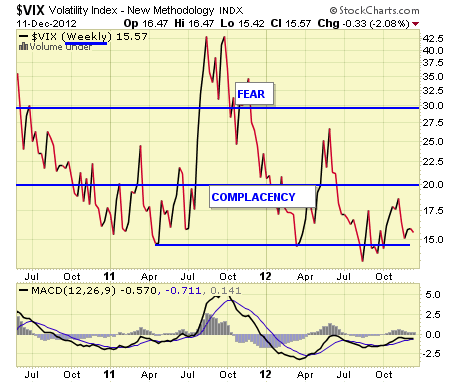 The VIX is a widely used measure of market risk, and is often referred to as the "investor fear gauge." Our own interpretation is highlighted in the chart above. The VIX measures the level of put option activity over a 30-day period. Greater buying of put options (protection) causes the index to rise.
Concluding Remarks
Offers and counter-offers are moving back and forth between the GOP House and the WH, per CNN. Per another source, the WH has offered revenues of $1.4 trillion vs. $1.6 trillion previously, and last summer, it was $800 million.
Wednesday is the Fed meeting and more hints of any political deal, in addition to more liquidity from Bernanke & Co. The combination from the two could lead to nothing, or something quite spectacular.
Disclaimer: The ETF Digest maintains an active ETF trading portfolio and a wide selection of ETFs away from portfolios in an independent listing. Current "trading" positions in active portfolios, if any, are embedded within charts: Lazy & Hedged Lazy Portfolios maintain the follow positions: VT, MGV, BND, BSV, VGT, VWO, VNO, IAU, DJCI, DJP, VMBS, VIG, ILF, EWA, IEV, EWC, EWJ, EWG, & EWU.
The charts and comments are only the author's view of market activity and aren't recommendations to buy or sell any security. Market sectors and related ETFs are selected based on his opinion as to their importance in providing the viewer a comprehensive summary of market conditions for the featured period. Chart annotations aren't predictive of any future market action rather, they only demonstrate the author's opinion as to a range of possibilities going forward.
Disclosure: I have no positions in any stocks mentioned, and no plans to initiate any positions within the next 72 hours. I wrote this article myself, and it expresses my own opinions. I am not receiving compensation for it. I have no business relationship with any company whose stock is mentioned in this article.