On October 28 I penned an article entitled "The Fed, David Einhorn, And The Search For The Mythical Free Lunch." In that piece I criticized what, in my judgment, is a dangerous way of thinking about the relationship between the American consumer, debt, and the U.S. economy. Specifically, I noted the absurdity in claiming that an increase in the amount of debt taken on by U.S. households is indicative of a "strengthening recovery."
In short, analysts and commentators seem to be having a difficult time making up their minds. During 2009 and 2010 it was all about deleveraging and repairing household balance sheets. Somewhere along the way however, someone apparently realized that the American economy is driven by borrowing and spending -- consumer spending accounts for two thirds of U.S. economy activity. As such, any real recovery will most likely be predicated upon consumption. The Fed implicitly acknowledged this when it targeted the "wealth effect" in its latest iteration of QE.
This whole debate only makes sense however, when framed correctly. That is, the whole thing begins to look like a house of cards unless contemporaneous increases in consumer credit can be excused by reference to a period of responsible deleveraging. The spin goes something like this: American households, having spent the post-crisis years repairing their balance sheets, are now in a good position to begin borrowing again, just as rates hit record lows.
Allow me to rain on the proverbial parade: the often celebrated period of deleveraging is illusory. As Morgan Stanley's Gerard Minack recently explained,
"Recent deleveraging largely reflects write downs, defaults, assets sales and banks' balance sheets shifting from credit funding, not saving."
Need proof? Consider the following graph from the St. Louis Fed which shows the personal savings rate since the financial crisis: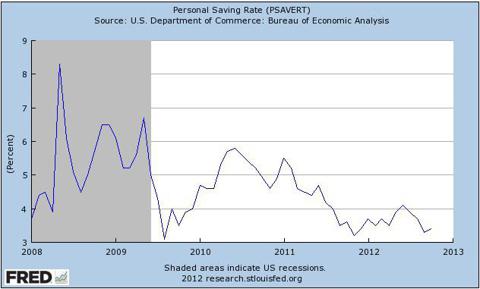 Source: St. Louis Fed
As you can see, the personal savings rate in America is now well less than half of what it was in mid 2008 and is near its post-crisis low.
How then, is it possible that U.S. household debt has decreased by some $876 billion from its peak?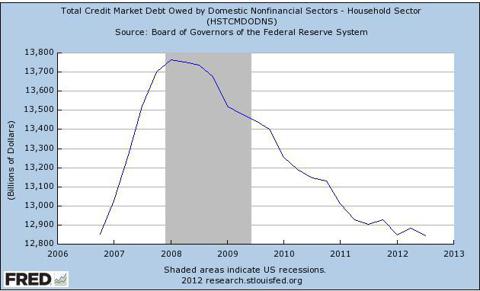 Source: St. Louis Fed
Here is the answer to this apparent quandary courtesy again, of Mr. Minack:
"Just as the rise in leverage was built on using debt to buy assets, deleveraging has largely put that process in reverse. Debt reduction can be financed by asset sales or, if that's not feasible, debt write-down. Estimates for mortgage defaults centre around $1¼-½ trillion - implying that defaults account for all the net reduction in household debt."
This analysis is consistent with that of Karen Dynan of The Brookings Institute who told Time magazine in October that "most of the decline in outstanding aggregate debt has been defaults."
During this same period, total U.S. domestic non financial debt has risen. This is because while defaults have forced the private sector to deleverage, the slack in terms of spending has been picked up by the public sector (i.e. government borrowing and spending):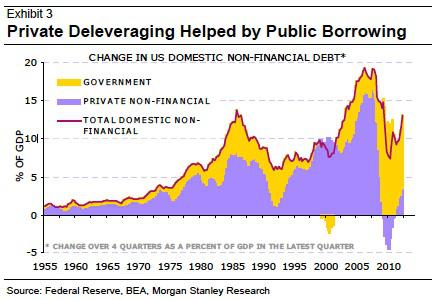 Source: Morgan Stanley, Fed, BEA
Here is a description of the trade-off from Morgan Stanley:
"Public sector leverage is up, offsetting (most) of the decline in private sector leverage.
With the fiscal cliff looming and the eurozone debt crisis highlighting the dangers of fiscal irresponsibility, the pressure to reduce government spending has never been greater. As such, the above mentioned trade-off must be reversed if there is to be a sustainable economic recovery; that is, the private sector must begin spending again in order for the economy to move forward.
There are several problems with this. For example, real disposable personal income per capita is stagnant at best: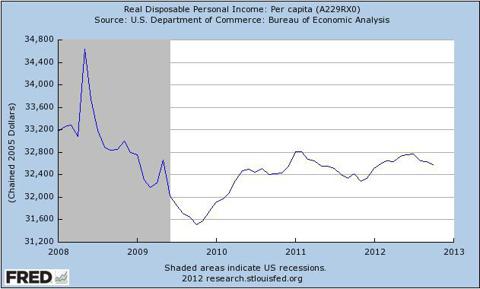 Source: St. Louis Fed
This means that any increase in spending isn't going to be fueled by extra money, it's going to be fueled by borrowing which, in turn, means that a recovery driven by consumer spending will mean a recovery characterized by a releveraging of U.S. household balance sheets.
Paradoxically, a housing market recovery will exacerbate this phenomenon. If the great deleveraging was fueled by mortgage defaults, a decline in the rate of those defaults (default rates hit a post-recession low in September) coupled with increased borrowing by households will quickly lead to an increase in household debt levels.
There are those who believe that an increase in borrowing (consumer credit) is exactly the shot in the arm the economy needs -- they are unconvinced by the argument that a collapse caused by debt cannot be cured by still more debt. To this crowd, October's consumer credit "beat" was welcome news. Consumer credit increased by $14.2 billion in October, far more than the $10 billion gain forecast by economists.
However, nearly $11 billion of that increase was non-revolving debt and $7 billion of that total (or about half of the total increase) was accounted for by student loans. From MarketWatch:
"Analysts have said that student loans, now captured under the federal government subcomponent, are driving credit higher. The other major category, credit-card debt, increased $3.4 billion in the month after a $2.2 billion decrease in September. Analysts said credit card debt is not growing fast enough to foster a strong environment for consumer spending."
The circularity here should be readily apparent. The government stepped in to pick up the slack when the private sector stopped spending (or started defaulting) post-crisis. Now, with the pressure on to reduce government spending, the private sector must step back in to keep aggregate demand from declining markedly. Consumer credit is expanding, but half of that expansion is fueled by government spending on student loans. How can the consumer continue to borrow to pick up where the government left off when the product being sold (student loans) depends on government spending?
The entire economy seems to have become an immense and inherently absurd circular funding scheme characterized by its fragility. The system is now based almost entirely on created credit and debt rather than the production, sale, and consumption of real, tangible goods and services. An economy cannot function properly in this environment.
Investors betting on a robust economic recovery in the U.S. should carefully consider the above before making investment decisions based on the assumption of a return to historic levels of GDP growth. My advice: invest in hard assets and precious metals and focus on capital preservation.
Disclosure: I have no positions in any stocks mentioned, and no plans to initiate any positions within the next 72 hours. I wrote this article myself, and it expresses my own opinions. I am not receiving compensation for it (other than from Seeking Alpha). I have no business relationship with any company whose stock is mentioned in this article.