In April 2007, something amazing almost happened. Driven by strong April tax collections, we came within a mere $64B of posting a Trailing Twelve Month (TTM) surplus, a feat not achieved since 1/2002. From there, the deficit proceeded to explode, topping out at $1.8T in 9/2009 before gradually improving to the "healthy" $1.2T we saw with the close of 11/2012. So let's compare 2007 to the latest full year we have, 2011, and try to figure out what happened. 2007 ended up with a $190B deficit. 2011 ended at $1,204B, a $1T change in a mere 4 years. If you listened to the news lately you would probably guess that plummeting revenues and soaring costs together created the mess we find ourselves in. You would be half wrong.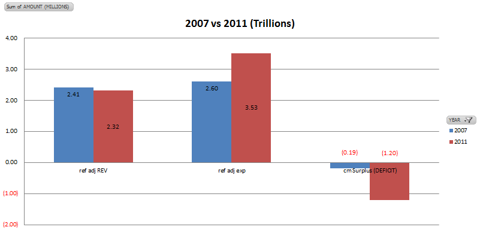 The truth is, revenue was pretty constant over that 4 year period, dropping $87B from 2007 to 2011. Spending, on the other hand, spiked $925B. So of the $1T increase in deficit from 2007 to 2011, about 10% of that was from lower revenues and 90% was from higher spending. So that's kind of understandable in 2008-2009 when TARP money was flowing out, but 2011? What are we spending another $1T per year on that we weren't in 2007? I sure don't feel like I'm getting another $1T worth of government services, do you?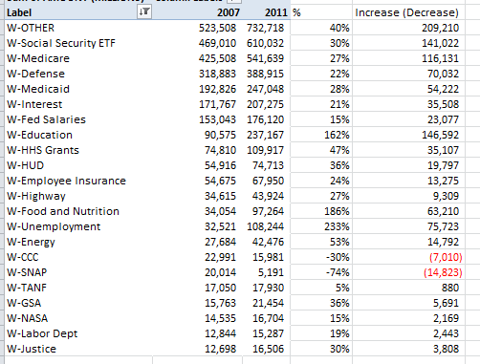 The above table has a handful of the spending categories reported in the DTS. We just line up 2007 with 2011. With the exception of a few small categories, spending is way up. Over a period when revenue was essentially flat, and population growth up perhaps 5%, spending is up across the board 36%. Most is already locked into a steady upward trend like Social Security and Medicare. What's left is too small to make a difference.
For anyone looking at the facts, the future is quite obvious. Spending will continue its upward trajectory and whatever revenue additions our government manages to squeeze out of taxpayers will be both inconsequential and fleeting. As a result, deficits will continue to soar and the debt outstanding will continue to climb until external parties refuse to buy any more debt and start liquidating what they do have. At that point the spending stops, and trillions of off balance sheet liabilities like social security and medicare are defaulted on, as well as on balance sheet liabilities like bonds outstanding and government/military employee pensions.
It's about time that we as a nation did the elementary school math required to figure out that this will not end well. Over ten years, we have a $10-$12 Trillion problem, yet we can't even agree on spending cuts or revenue increases that get us $1 Trillion over that same period? $12-$1=$11 if you were wondering.
Disclosure: I have no positions in any stocks mentioned, and no plans to initiate any positions within the next 72 hours. I wrote this article myself, and it expresses my own opinions. I am not receiving compensation for it. I have no business relationship with any company whose stock is mentioned in this article.