Informatica Corporation (NASDAQ:INFA), the world's premier independent provider of data integration software, was established in 1993 and has grown from less than 5,000 customers in 2004 to over 30,000 customers in mid 2012. In just a span of two decades, the company was able to establish itself as a trusted advisor in the industry through the breadth of its portfolio offerings in data management and integration. On account of its outstanding performance in the market, Informatica has been recognized as the leading independent player in the data integration industry for the past six years. Today, Informatica continues to empower organizations through bringing into play its expert data management and integration services to drive its clients top business imperatives. Prominent investor George Soros, founder of hedge fund Soros Fund Management, initiated a position in INFA in the last reported third quarter which ended on September 30, 2012. The blog Warren Trades details why it is important to track hedge funds holdings.
While overall customer demand for INFA products increased from the second quarter to the third quarter of 2012, most of Informatica revenue shortfall in the third quarter was in Europe, where the company reported numbers that were short of the market expectations. According to Informatica´s last quarterly report, despite the company improved operational results in the US and Asia Pacific relative to the second quarter 2012 results, the disappointing European results reflect continued operational challenges. This fact caused the downtrend in the stock. I like the fact that INFA management recognized this problem and hired a new worldwide sales leader that will be focused on implementing the changes necessary to get European region back on track.
I believe that the majority of the company's challenges are execution related, and fixable. In the last earnings call, management recognized that discussions with channel partners suggest only modest competitive and macro pressures and not a structural or difficult to fix problem.
Informatica´s products solve the problem of inconsistency in data integration. As companies use different information systems (databases, ERP, etc) each system handles data in different ways. Informatica solved this inconsistency by standardizing and profiling data across the organization. Informatica generates 45% of its revenue from licensing data integration systems to companies and governments. Informatica has acquired several small companies to broaden its product portfolio. That strategy proved to be solid because INFA is strong in other areas such as master data management and ultra messaging. In addition, these acquired companies gave Informatica sustainable cross-selling opportunities.
Informatica generates high growth while expanding profitability. The company has a 21% 3 year EPS growth rate and a 15% ROE, combined with a high ratio of free cash flow per share to reported EPS in FY12. I find it attractive that Informatica has a great record of EPS growth of 25% and 27% in the past 2 reported fiscal year earnings. That, combined with a strong balance sheet and overall fundamentals tells me that the company is strong to turn things around.
That was noticed by institutional investors. Informatica's stock is owned by 263 funds, the highest number in company history and institutions like Coatue Management, Soros Fund Management, Fred Alger and Balyasny initiated a position in the past quarter.
In terms of multiples, the stock does not appear cheap compared to its peers. For example, Informatica trades at a P/E that is higher than that of IBM, Oracle (NYSE:ORCL) and Microsoft (NASDAQ:MSFT). Informatica trades at a P/S of 3.8x while IBM trades at 2x, Microsoft at 3.2x and Oracle at 4x, which is almost the same multiple as INFA. In terms of growth, Informatica can be better compared against Tibco Software (NASDAQ:TIBX), SalesForce (NYSE:CRM) or Cognizant Technologies (NASDAQ:CTSH). Informatica looks cheap in comparison to these high growth peers. TIBX trades at 4.95x P/BV, CRM at a whooping 12x book and CTSH at 5.12x in comparison to Informatica´s 2.95x P/BV multiple. This is evidence that the market has placed reduced expectations on Informatica future growth.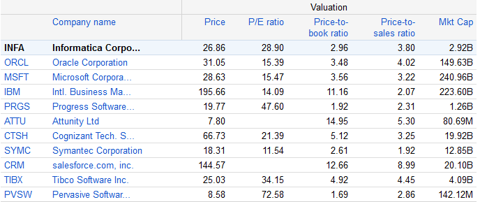 Source: Google Finance
In conclusion, I think that Informatica trading at 29x P/E ratio does not represent a value opportunity, but is one of the tech stories I find most compelling. With consecutive years of annual revenue growth in excess of 20%, strong balance sheet fundamentals (current ratio of 2.33 and zero debt/equity) and growing institutional interest, the stock could be poised for a rebound.
Disclosure: I have no positions in any stocks mentioned, and no plans to initiate any positions within the next 72 hours. I wrote this article myself, and it expresses my own opinions. I am not receiving compensation for it (other than from Seeking Alpha). I have no business relationship with any company whose stock is mentioned in this article.