The holiday season is upon us. While many retail stores have seen increased sales this season, Best Buy (NYSE:BBY) has not been so lucky. With the company trading at a near yearly low of $12.39/share, this has left many BBY investors to wonder if Best Buy is still a good buy.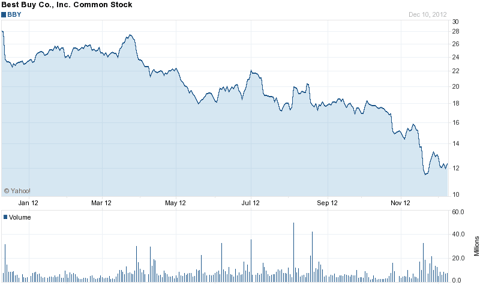 How Healthy is Best Buy?
The trouble that Best Buy has encountered in the past few years is best explained in a Reuters article that talks of how Best Buy faces overwhelming competition from "discount and online retailers like [Wal-Mart (NYSE:WMT)] and [Amazon (NASDAQ:AMZN)]" . Some would say that Best Buy showed up late to the online game or even that Best Buy needs to increase their profit margins or sales numbers. While these actions make sense, I do not believe that they are Best Buy's Best Bets.
With a market cap of $4 billion, Best Buy is by no means a small company. Even though Best Buy's net income has shrunk for the past 3 years, what Best Buy still holds is a brand name and the Best Buy brand equates to money in itself. What I have found as surprising was the high amount of Insider Transactions this year. Any time that we see 100,000 shares purchased by insiders and 2,090,910 shares sold by insiders, it shows that there are serious problems with the company. It appears to me that the Senior Leadership at Best Buy is aware that they are on a sinking ship and have little belief that the company will turn around.
Net Share Purchase Activity
Insider Purchases - Last 6 Months
Shares
Trans
Purchases
100,000
1
Sales
2,090,910
1
Net Shares Purchased
(Sold)
(1,990,910)
2
Total Insider Shares Held
68.03M
N/A
% Net Shares Purchased
(Sold)
(2.8%)
N/A
The latest analyst opinions of the Best Buy stock, as seen below, have been recommendations to Downgrade.
| Date | Research Firm | Action | From | To |
| --- | --- | --- | --- | --- |
| May 20, 2012 | BB&T Capital Mkts | Downgrade | Buy | Hold |
| Apr 2, 2012 | McAdams Wright Ragen | Downgrade | Buy | Sell |
| Apr 17, 2011 | KeyBanc Capital Mkts | Downgrade | Buy | Hold |
Below we see some of this year's key financials for Best Buy. Notice the negative profit margin for the trailing twelve months. In addition we see that the 3rd quarter shows a negative year over year decline in revenue.
Fiscal Year
Fiscal Year Ends:
Mar 2
Most Recent Quarter (mrq):
Nov 3, 2012
Profitability
Profit Margin (TTM):
-2.43%
Operating Margin :
4.64%
Management Effectiveness
Return on Assets :
8.68%
Return on Equity :
5.66%
Income Statement
Revenue :
50.70B
Revenue Per Share :
138.43
Qtrly Revenue Growth (yoy):
-3.50%
Gross Profit :
12.57B
EBITDA 6:
3.30B
Net Income Avl to Common :
-1.06B
Diluted EPS :
-3.36
Qtrly Earnings Growth (yoy):
N/A
Based off of the facts presented above, I feel that Best Buy has failed to meet its commitment to provide value to its shareholders. The company does not appear to be healthy by any means that I can find by analyzing the fundamentals. At this point I truly believe that Best Buy's brand is its greatest asset.
Who are Best Buy's Competitors?
Let's face it, Best Buy is neither Amazon nor is it Wal-Mart. Wal-Mart has found its niche in providing low-cost products, in high quantities to the masses. Amazon has found its niche in the ability to provide a vast selection of products to its customer base at competitive prices. Amazon, in particular, is such a strong competitor for Best Buy because Amazon's business model allows a customer to find the product that they want in the Best Buy showroom, yet they can purchase this product online through Amazon.
In recent years we have witnessed Best Buy attempting to increase its online presence, in hopes of competing head to head with its most fierce competitors. I feel that this is not the best strategy for Best Buy to pursue.
What is Best Buy's Best Bet?
If I were on Best Buy's Board of Directors, a Major Shareholder, a Best Buy C-Level Officer or even a Geek working the local Geek Squad desk, I would recommend a change in direction if this company wants to avoid going bankrupt.
If Best Buy has an issue with its customers going to buy products from Amazon, then we have to find a way to keep that from happening. First thoughts are that Best Buy needs exclusive access to cutting edge technology. That can happen in one of two (feasible) ways. Either Best Buy works to convince manufacturers to provide them exclusive sales rights for a set amount of time or Best Buy becomes involved at the development stage.
If I were a decision maker at Best Buy I would maintain the company's current catalogue of products. These products are important because there will always be the impulse shoppers who will want to buy products right away from the physical store. I would institute a group commission pay plan where every employee of a store benefits from each and every sale.
One method I would use to increase the stock price at Best Buy is I would hire the best contract negotiators (low salary, high commission) that can be found. I would task them with approaching manufacturers who are set to release new products, to request 3-6 months exclusive sales rights for Best Buy, in exchange for bulk purchases at premium prices from Best Buy. If enough of these deals are structured properly, Best Buy would not only increase its profit margin, but it would also strengthen its brand and become known for having the cutting edge products.
At this point I'm sure the "bean counters" are thinking that it would be better if Best Buy were to build their own cutting edge products. I disagree with that concept because Best Buy is in the business of selling the best products, not manufacturing them. Best Buy needs to remain lean, in order to be successful in this economic climate. Purchasing from a manufacturer significantly limits Best Buy's liability such that the only risk is having excess quantities of products.
Another method I would use to increase the stock price at Best Buy is I would approach the research departments at some of our nation's Universities. I would invest money into their Engineering programs in hopes of getting ownership of the cutting edge technology, as it is being developed. I would initiate "Technology Transfer" initiatives and we at Best Buy would own the product. We would then license these ground breaking technologies to companies such as Amazon and Wal-Mart.
Is Best Buy a Good Buy?
Given the large amount of insider transactions as well as the lack of a clear strategy to increase or maintain revenue, I would recommend that investors avoid purchasing the Best Buy stock. Based on the downtrend that Best Buy's financials have taken this past year, I would also recommend that investors sell any positions that they may hold in this stock. The only way that I would recommend purchasing this stock is if Best Buy were to find a way to gain access to exclusive merchandise that their competitors, Amazon and Wal-Mart, are unable to purchase.
Final Thoughts
Ultimately, I have listed two of many ideas that Best Buy can undertake to become profitable again. Best Buy needs to change their business model from that of a traditional retail outlet, to one that plays a role in obtaining the best and most exclusive products, whether it is through negotiating licensing agreements or investing in the development of technology and then becoming a part of the Technology Transfer.
Best Buy's issue is not a "Brick and Mortar" issue, it is a thinking outside of the box issue. I hope for the BBY shareholders that Best Buy leadership shifts their thinking before all shareholder value is lost. Until then, my recommendation on Best Buy stands as a Strong Sell.
Disclosure: I have no positions in any stocks mentioned, and no plans to initiate any positions within the next 72 hours. I wrote this article myself, and it expresses my own opinions. I am not receiving compensation for it (other than from Seeking Alpha). I have no business relationship with any company whose stock is mentioned in this article.