Almost a year ago I made my case for investing in Gazprom (OTCPK:OGZPY), the Russian gas & oil giant. When I suggested buying the stock, it was trading for about $11 and change, and a price to earnings ratio of about 3 on 2011 earnings. Although my investment thesis had a long term horizon in mind, I sold most of my Gazprom shares in March (as I announced here) netting a 20% profit in just two months. The European crisis and the gas glut from shale reserves have contributed to the following drop in price of Gazprom's stock, which is down 15% year-to-date; today it is being exchanged for $9 on the pink sheets and for €7 in Frankfurt.
Cheap valuation
Harry Beck wrote a good article a few months ago explaining why Gazprom was and still is extremely cheap and unfairly scorned by investors. Some readers have pointed out that the 2.7 p/e multiple reported by the author was unduly optimistic, given the fact that 2012 year-half results for Gazprom were much worse than in the first half of 2011, coming at 22 Russian Rubles (RR) per share instead of 33.
Earnings per share in 2011 were 57 RR per share; if we assume a similar drop in earnings in the second half of this year, we can still expect a year end profit per share of at least 35 RR for 2012. Since the number of outstanding shares hasn't changed (approximately 24 billion), at the current market price, which is 140 RR as traded on the Russian exchange MICEX, Gazprom is being exchanged at a price to earnings ratio of about 4.
Now, even discounting all the political risks and declining gas prices due to the shale gas boom, we are still talking about the number 1 natural gas producer and the number 1 combined oil and gas producer in the world, trading at bargain bin valuations, as if it was an obscure African small cap, fraught with business risks and an uncertain future.
Gas demand is growing
On the contrary, most energy experts forecast a rosy future for gas producers. A report from the International Energy Agency, with the title "Golden Rules for a Golden Age of Gas" - released in May 2012 - concludes that
global gas demand growth equals the combined increase from coal, nuclear and oil resulting in gas overtaking coal as the second most important fuel after oil.
In the future more natural gas may also be requested for transportation purposes; the automotive industry is already committing investments to develop CNG fueled cars.
Gazprom estimates that world gas consumption will grow more than 50% in the next two decades, from 3.2 tcm in 2010 to 5.1 tcm in 2030.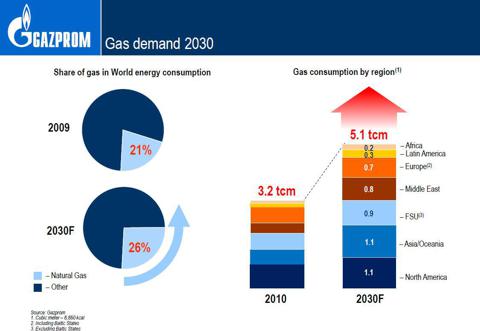 Infrastructure investments
Gazprom is being punished by the markets in light of the recent shale gas boom, increased competition, EU official investigations in its business practices and declining profits from higher taxes, lower energy prices and the ongoing financial crisis. In 2012 Gazprom hasn't really shined and, given all the above mentioned facts, investors have the right to be worried. But does all this justify a price only four times the earnings?
Let's remember that Gazprom is not passively waiting in a corner for better times but is actively taking care of its expansion plans, investing heavily in infrastructure: the North Stream pipeline was completed last October; it serves mainly the German market and a 25 year-supply contract has already been signed between the Russian and the German governments. Other similar agreements are being discussed with other North-European countries. The construction of the controversial South Stream pipeline has just begun; it will transport Russian gas to 38 million households in southern Europe starting 2015, bypassing troublesome Ukraine.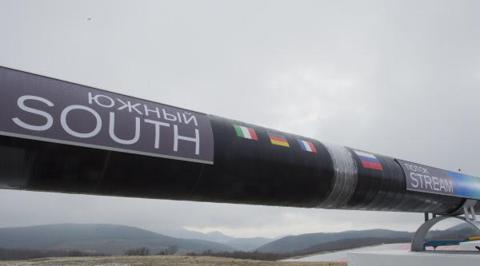 A recent asset swap agreement will transfer 100% control of Germany's BASF (OTCQX:BASFY) gas trading and storage business into Gazprom's hands, helping the Russian company secure yet another stronghold in the important European market.
Let's not forget that they are also investing in LNG terminals and carriers to supply growing demand from Japan and other Asian countries; demand for gas is growing in former Soviet Union countries such as Kazakhstan and Belarus where it enjoys a virtual monopoly status; it also has an extremely profitable oil business with its Gazprom Neft subsidiary and with Energoholding it is the top electricity and heat producer in Russia.
Abroad it is setting up joint ventures with many energy companies in places such as India, Venezuela and Vietnam and inking supply agreements in Japan and Korea. Finally, after years of negotiations, talks are in progress with the Chinese government for the construction of the Altai pipeline to provide up to 30bcm of gas to the energy hungry Chinese market.
A fracking bubble?
While the plentiful US gas reserves (or so it seems: in January, the Energy Department cut its estimate of the amount of gas available in the Marcellus Shale by nearly 70%) are exerting strong downward pressure on natural gas prices, let's not forget that in Europe the situation is quite different; many of the shale deposits are much deeper, and more expensive to exploit than those in the United States.
Moreover, some lawmakers in the EU are proposing a ban on fracking on concerns over water pollution and other environmental damages. Hydraulic fracturing was banned in France in 2011 after public pressure and in Bulgaria in January 2012. The practice has also raised concerns in Denmark, the UK and in Poland, which is thought to have the largest shale reserves in Europe.
After all, the explosion in shale drilling in the U.S. was aided by exemptions from the nation's strictest environmental laws, and maybe one day people will realize the toxicity of the fracking chemicals that can leak from drilling sites. Remember that even asbestos was once considered safe.
Some experts also reckon that the shale gas miracle is overhyped and the contraction of the natural gas supply will eventually lead to a new equilibrium price for gas at much higher levels than the present. Others claim that at the current gas prices fracking is not so profitable and actually some companies are working at a loss.
Conclusion
Gazprom is one of the greatest energy companies out there and while its peers, such as Exxon Mobil (NYSE:XOM) and Petrochina (NYSE:PTR), are trading at a price/earnings ratio of 10, this energy major is being overly punished by the markets despite being an efficient and profitable company with a reasonable debt burden, a good dividend and interesting growth prospects, especially in the Asian continent.
In addition Gazprom discounts the fact that it is a Russian company, a country that is often associated with corruption and lack of transparency. But is corruption a matter of passports or has it more to do with human greed? Are we sure that all US and EU large caps in our portfolios are as clean and transparent as a drop of water?
Russia's recent entry to the WTO after 20 years of negotiations is a sign that the country is improving and its new stature may boost incomes by as much as a 25% for Russian households, thanks to new investments and better trade access according to World Bank estimates, and this is of course beneficial to its largest enterprise.
I am confident that in time investors will recognize that the company's shares are discounting too much pessimism; in my opinion, the current price provides a great entry point and I set a $12 target for the stock in spring 2013.

Disclosure: I am long OTCPK:OGZPY. I wrote this article myself, and it expresses my own opinions. I am not receiving compensation for it (other than from Seeking Alpha). I have no business relationship with any company whose stock is mentioned in this article.
Additional disclosure: I recently bought Gazprom shares on the Frankfurt exchange at a price of €7 and it makes up 15% of my current stock portfolio.