Ford (NYSE:F) stock has been moving very well over the past couple of months, making many shareholders hopeful that the automaker has finally made the turn. While Ford works to contain the growing losses in Europe, now up to $1.5 billion, it has seen accelerated sales in both the U.S. and most recently China. Together, the two nations have been able to keep Ford from posting serious earnings damage from the effects of Europe.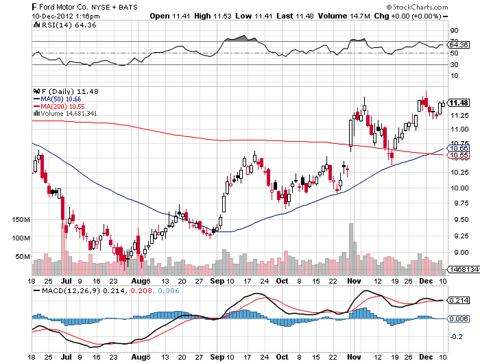 Source: Stockcharts.com
Above is a 6-month chart of Ford, which recently overtook its 200-day simple moving average and has found strong price support from its 50-day simple moving average. Also for technicians, Ford has recently formed a "Golden Cross," which is when the 50-day sma (blue line) crosses the 200-day sma (red line) to the upside. It implies that bullish momentum is in play and more gains are expected.
But it's the fundamentals that pushed Ford through its technical resistance points, and now a combination of fundamental and technical analysis continue to drive the stock higher. Ford has beat each of its last three earnings estimates and pretty handily at that. Below are the three most recent earnings announcements, accompanied by estimates and actual reported figures:
| | | | | |
| --- | --- | --- | --- | --- |
| Earnings Period | Earnings (Estimates) | Revenue (Actual) | Earnings (Actual) | Earnings Beat (%) |
| 2012 Q1 | $.35 | $30.5 Billion | $.39 | +11.4% |
| 2012 Q2 | $.28 | $31.3 Billion | $.30 | +.7.1% |
| 2012 Q3 | $.30 | $30.2 Billion | $.40 | +33.33% |
Despite losing over $450 million in Europe last quarter, Ford was able to still post a profit, something that clearly shocked many analysts -- and shareholders as well. Even with all the bearish arguments going around for most of 2012, Ford has been able to keep its head above water and I think the stock will really outperform for the rest of 2012 and into 2013.
While concerns lurk about sales across the Atlantic Ocean, it's much of the opposite across the Pacific Ocean, with Chinese sales booming in the second half of 2012. For the third consecutive month, Ford achieved record high sales in China when the numbers came out for the month of November. With over 67,500 units sold for the month, it was an increase of 56% when compared to sales of November 2011.
Of all their models, the Ford Focus has been the best, selling over 38,000 units last month alone. While the Focus is doing well, there is another model causing a stir too, whose growth is up triple digits over the last year. The Ford Edge -- which is actually imported -- has increased sales 111% year-over-year and helped contribute to the 74% year-to-date increase in Ford's passenger car sales. Overall, Ford sales have increased 18% year-over-year in China, something that is helping reduce the negative impact from the current losses in Europe.
So why all this growth? As John Lawler, the CEO of Ford China would say, "We're grateful that so many Chinese consumers appreciate the value, performance and technology of the Focus." It appears as though Ford has been able to instill the notion that its vehicles are high quality, efficient and advanced, all while remaining fairly priced.
He went on to say, "Our plan to introduce 15 new vehicles by 2015 is on track...we're going to make more inroads into China's fastest-growing segment as we work to double our production and retail capacity by 2015."
All of this implies that Ford plans to continue the rapid growth it has experienced in China so far -- and perhaps even more. By controlling losses in Europe and fattening profits from China, Ford will continue to see better than expected earnings reports going forward. I also expect Ford to continue this growth and that's why I remain both long and bullish the stock.
The Trade
Buy 1 Ford March 11 call @ .92
Delta: 64
Net Debit (Max Loss): .92 ($92)
Break-even: $11.92
In a previous bullish trade, I recommended an options play that highlighted a stock replacement method. It allowed the long call holder to have the same price movements of Ford stock -- whether up or down -- while only paying 33-50% of the actual price, depending on which method you selected. This trade is different from the previously mentioned one on a lot of levels, mainly that it is not intended as a stock replacement method.
The trade outlined above is simply meant to take advantage of an increasing Ford stock price. With an expiration date set in March, it means that time decay will have little affect on the options premium, at least for a little while. If Ford begins moving and can get over $12, the options value will likely have increased 50-60% or more by then, depending on how much time premium is left. With a break-even price of $11.92 and a recent Monday closing price of $11.47, we only need Ford to move $.45 to the upside by March expiration to reach our break-even point.
I think Ford can and will get over $12, especially with its recent strength amidst the 'Fiscal Cliff' and during the market sell-off in November, where Ford outperformed the S&P 500 (NYSEARCA:SPY) by 10%. I also think Ford will continue to grow both domestic sales and international ones, while containing European losses to as minimal damage as possible.
Disclosure: I am long F. I wrote this article myself, and it expresses my own opinions. I am not receiving compensation for it (other than from Seeking Alpha). I have no business relationship with any company whose stock is mentioned in this article.