Sprint Nextel Corp. (NYSE:S) has come a long way after its disastrous acquisition of Nextel Communications Inc. back in 2005. Even though the acquisition has largely been responsible for Sprint posting losses for a number of years now, the management decision to shut the Nextel network down has been taken positively by the market, reflecting well in its share price. Shares have more than doubled so far this year and in my opinion there is still a significant upside. Cash proceeds from SoftBank's investment in Sprint provides a range of various strategic options for the company, which will not only improve its liquidity position but also open new doors for competing with its bigger rivals, AT&T (NYSE:T) and Verizon (NYSE:VZ). Based on the company's latest results, Softbank deal, and its improving spectrum position in the industry, I am bullish on the stock.
The $8 billion in proceeds from SoftBank Corp. (OTCPK:SFTBF) has helped Sprint in a number of ways. An investment of this scale was much needed by the company, given its financial constraints. Moreover, the $3.3 billion investment in its convertible debt can most definitely be regarded as a very cheap source of financing, considering the coupon on the debt is only 1% over a period of seven years. With the passage of time, the focus has shifted towards the use of this recent capital injection by SoftBank, as investors are now discussing how the company will realize its goals of giving its competitors a tough time.
Two scenarios that were widely discussed were spectrum investments and consolidation. It seems like the company has done the right thing by trying to improve its spectrum position and market coverage relative to its peers. On the consolidation front, different news reports have come out, suggesting that Sprint might make a counter offer for MetroPCS Communications (PCS). However, given the SoftBank/ Sprint deal is not expected to close until mid-2013, it is very unlikely that SoftBank would get involved in both, the pending approval from the regulators and the counter offer for PCS at the same time. Analyzing the recent developments after the news of Softbank/Sprint deal broke out, it seems like Sprint is more interested in investing in spectrum assets to improve its network.
Sprint's recent spectrum investments
Clearwire Corp.
Following the SoftBank's investment in Sprint, the carrier announced that it had increased its stake in Clearwire to 50.8%, effectively giving the company control over Clearwire's spectrum assets. It is an intelligent move by the company as it relies on Clearwire for its current 4G strategy through its WiMax network and the recent increase in its stake would serve to help in the development of its next generation network.
United States Cellular Corp.
The company recently announced that it had reached an agreement with United States Cellular to sell its Chicago, St. Louis, Illinois and three other Midwest markets to sprint for a total of $480 million. The sale would include the 1900 MHz PCS spectrum. Moreover, it would also give sprint about 10% of US Cellular's customer base.
Dish Network Corp.
Bloomberg recently reported that Sprint has approached Dish Network Corp. (NASDAQ:DISH) about a partnership that would allow the TV company to enter the mobile phone market. In return, Sprint would gain access to more airwaves that are currently not being used.
Based on the recent news flow surrounding Sprint, it is safe to assume that the company is aggressively looking for airwaves. Even though Sprint's LTE network is far behind Verizon and AT&T in terms of market coverage, the company is well on its way to expanding its footprint. As part of its Network Vision Program which is expected to be completed next year, the company has launched 4G LTE in over 30 cities, with the expectation that it will be available in over 100 cities in the near future.
As mentioned previously, Sprint's Nextel network has been weighing on the company's profitability for a number of years now. However, the company is well on track to shut it down completely. Analyzing the latest financial results reveals that the company was able to recapture almost 60% of Nextel customers on to its core Sprint platform, which compares well to the reported recapture rate of only 27% in the third quarter of the previous year.
The following charts show the performance of the core Sprint platform across the majority of its key business metrics.

Sprint is trading at cheap valuations as reflected in its price to sales multiple of 0.49x. AT&T is trading at 1.5 times its sales while the said multiple for Verizon is 1.10x. Sprint does look attractive on valuations. The stock has outperformed T and VZ on a YTD basis and in my opinion, it has further upside.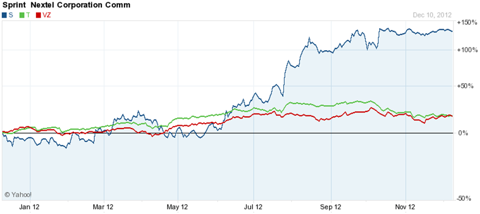 Softbank's investment in Sprint and Sprint's investment for spectrum will help it further expand its LTE network in days to come and eventually lead to growth in customer additions along with improvement in other metrics. I am bullish on the company's potential for a turnaround and recommend a long position in the stock.
Disclosure: I have no positions in any stocks mentioned, and no plans to initiate any positions within the next 72 hours. I wrote this article myself, and it expresses my own opinions. I am not receiving compensation for it (other than from Seeking Alpha). I have no business relationship with any company whose stock is mentioned in this article.