For years now, Sirius XM (NASDAQ:SIRI) investors have been hearing about the impending short squeeze which is just around the corner. It's understandable why some would expect a large squeeze to happen. With a sizable short interest which has typically fluctuated between 250 and 300 million shares often sitting at over two weeks worth of volume to "cover," the stock always seems poised to put the heat on those who are short and make a run of epic proportions.
It is widely assumed, though, that much of this running short position is hedged vs. the $1.875 convertible notes. This is understandable when one considers that coupled with these notes were shares loaned to the bondholders to short and recoup their capital. While those shares have long since been returned to the Sirius XM vaults, it is believed that bond holders still remain hedged short for part of their underlying position.
That's a fair assumption. But regardless, I believe it is also safe to assume that much of the current short position at any given time is due to traders betting on the downside of the stock. Take a look at the past year for short interest in Sirius XM, and make note of the colors: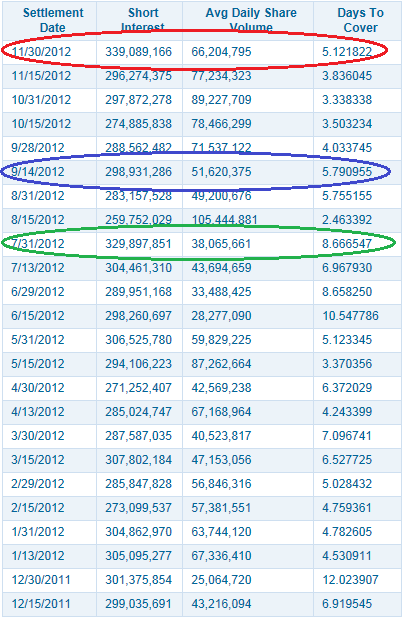 Notice the colored ovals above match up with high points in short interest, and compare those points with the share price performance of Sirius XM shortly after.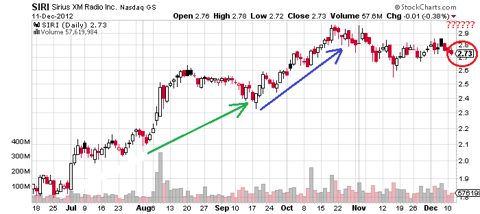 As you can see, at each high point in short interest the share price had a sharp rise which was likely due in part to short covering. This is supported by the subsequent short data points after each rise, showing decreasing short interest while share prices increased. In my opinion, shorts lost money on both rises.
Investors should pause here and reflect on what contributed to these rises in share price. In this timeframe, not only did Sirius XM post good quarterly results, but Liberty Media (LMCA) was busy buying shares of Sirius XM on the open market in its pursuit of control of the company. Interestingly enough, shorts were selling right into Liberty's hands and eventually the pressure popped and shorts were forced to cover.
One would think that the shorts would have learned a lesson, but it does not appear that they did. Consider the current short data is the highest I have seen it in years. Over 339 million shares of Sirius XM are sold short, 10 million more shares than were short at the end of July. The situation here is also largely the same. Over the past month and a half since Sirius XM hit its highs, it appears that shorts have sold in part directly into the hands of Liberty Media. A simple look at insider purchases will show this. If you follow my belief as well that UBS (NYSE:UBS) is currently attempting to fill a third and final forward contract for Liberty to move to control, the shares being scooped up by Liberty could be even higher.
So we have very high short interest, considerable buying over the past several weeks, and what appears to be decreasing volume. While these few things alone can cause the pops we have already seen above, there are two important issues on the table which may catalyze a considerable short squeeze, and soon.
The first is the issue of impending share buybacks. As investors know, recently Sirius XM confirmed that it intends to buy back as much as $2 billion worth of stock. That's a huge amount of buying pressure, and will serve to prop up the share price moving forward. Not only does a buyback add to buying pressure, but it also decreases the outstanding share count. Assuming the market cap of the company stays the same, less shares means each share is worth more, and should cause the share price to rise. Arguably, shorting into a buyback is virtual suicide. This is bad news for shorts #1.
The second is the issue of Sirius XM's recently announced special dividend of $0.05. The ex dividend date for this is December 14th. Why is this such a problem for those with a short position? Because those with a short position are on the hook for the dividend to the longs that they "borrowed" the shares from. That's right, each and every share short will require the short holder to pay out $0.05 on December 14th. When you consider 339 million shares short, that is nearly $17,000,000 that shorts will need to pay out in cash as a loss. This is bad news for shorts #2.
The combination of these two issues presents a losing proposition for anyone with a short position. Even those holding shorts which are hedged will be subject to a loss due to the dividend which they have to pay out.
So, for shorts, this becomes a matter of reasonable expectations. Anyone short at Tuesday's close of $2.73 has to ask themselves if they feel the share price is due to decrease enough that, at the very least, they will be able to recoup the $0.05 dividend loss.
When considering that Sirius XM is due to buy back $2 billion worth of stock soon, and when considering that Liberty Media still has shares left to purchase to go to control, I think shorts would do well to cover immediately. With the dividend date fast approaching, and with share buybacks starting any day now, being short shares of Sirius XM is extremely risky. About the only thing a short can hope for is that the "fiscal cliff" mess in Washington is not worked out, and the market takes a turn south. Even then, it's likely Sirius XM's buyback program would limit downside.
Don't forget that there's also the matter of full year subscriber numbers typically released a few days after the New Year as well. Many longs are expecting guidance to at least be met, and some such as myself are expecting an exceptional beat approaching 2 million net subscriber additions for 2012. It's highly unlikely that Sirius XM will come in under expectations for Q4.
This is the perfect storm for a short squeeze. Considering the current size of the total short position, my advice is to brace yourselves. If this hits, the share price could move up quickly.
Those who enjoy playing devil's advocate may add the notion here that "perhaps the shorts know something the longs don't?" I don't think so, and as history has proven, they've been wrong before.
Disclosure: I am long SIRI. I wrote this article myself, and it expresses my own opinions. I am not receiving compensation for it (other than from Seeking Alpha). I have no business relationship with any company whose stock is mentioned in this article.