Allegiant Travel Company (NASDAQ:ALGT) is a low-cost airline that focuses on flying leisure travelers to warm weather destinations. Over the past decade, it has been the most consistently profitable U.S. airline, with 39 consecutive profitable quarters. CEO Maurice Gallagher has attributed the company's success to "going left when everybody else went right." Some of the major keys to Allegiant's success have been: 1) keeping fleet costs low by buying used aircraft at bargain prices; 2) serving smaller markets where there is no competition; 3) matching capacity to demand based on seasonal trends; and 4) driving high ancillary revenues. This strategy has allowed Allegiant to grow profits in spite of the current high fuel price environment, and I believe the company is poised to deliver significant further earnings growth over the next few years as various new initiatives take hold. While the stock is trading near 52-week highs, there is substantial upside remaining for Allegiant.
Cost Advantages: Flexibility vs. Fuel Efficiency
The backbone of Allegiant's fleet is the MD-80 family of aircraft. For many years, Allegiant exclusively flew MD-80s, but the company has recently added several Boeing 757s, and will add Airbus A319s beginning in 2013. The MD-80 was introduced in 1980 and remained in production for almost two decades, but many major carriers have begun to retire their MD-80 fleets over the past decade. Current production aircraft types such as the Boeing 737 Next Generation and Airbus A320 family have significantly better range and fuel consumption, which has become particularly important as oil prices have risen in recent years. This has allowed Allegiant to acquire and reconfigure used MD-80s for $4 million or less, a fraction of the cost of buying new aircraft.
The trade-off, of course, is that the MD-80 is much less fuel efficient than newer-model aircraft. The fuel consumption gap has been pegged at approximately 25% (depending on the comparison aircraft). For a typical Allegiant flight of approximately 900 miles, fuel costs are roughly $1500 higher for the MD-80 compared to a similarly-sized Boeing 737 NG or A320 family aircraft. Furthermore, Allegiant's MD-80s are 23 years old on average, which contributes to higher maintenance costs.
It would thus be natural to wonder how Allegiant manages to make a profit flying MD-80s that are fuel-inefficient and expensive to maintain. One important benefit is that the low acquisition cost minimizes capital expenditures and allows the company to maintain a negative net debt position (i.e. more cash than debt). However, the most important factor is the flexibility afforded by having low fleet costs. Allegiant can afford to concentrate its flying during peak periods, and keep aircraft grounded during non-peak periods (e.g. early mornings, late nights, Wednesdays, Saturdays, and seasonally weak periods). For Q3, Allegiant's aircraft flew for an average of only 5.2 hours per day. By contrast, JetBlue (NASDAQ:JBLU) planes, which are newer and more fuel efficient, but also vastly more expensive, were in use for an average of 12.4 hours per day for the same period. There is simply no way that JetBlue could afford an aircraft utilization rate anywhere near Allegiant's. The higher depreciation costs of new aircraft require much higher utilization in order to spread those fixed costs over more ASMs (available seat miles).
With much lower depreciation costs, Allegiant's costs are almost all variable. The benefits of having this additional flexibility are substantial. In a recent presentation (available at Allegiant's investor relations site), management provided the following slide:
(click to enlarge)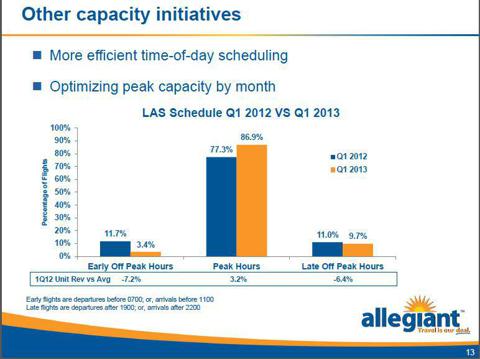 This slide provides a summary of the arrivals/departures by time of day for Las Vegas, Allegiant's largest base of operations. The key takeaway is that flights arriving or departing during "peak hours" have unit revenue that is 10% higher than off-peak flights, on average. Already in Q1 2012, the company managed to group over 77% of its flights during what it calls peak times. In Q1 2013, Allegiant plans to concentrate nearly 87% of flights during peak hours. Obviously, this requires lower aircraft utilization, but the revenue benefit is likely to be substantial. This sort of capacity plan is made possible by Allegiant's low fleet costs.
Allegiant has also been mitigating the MD-80's poor fuel consumption by reconfiguring its MD-80s from 150 seats to 166 seats. This project began in the middle of 2011, and will be completed by the end of Q1 2013 with 51 aircraft renovated (the other 7 MD-80s currently in the fleet are retiring in 2013). Adding 16 seats increases capacity by nearly 11%, with relatively minimal additional fuel burn. As a result, Allegiant saw its fleet fuel efficiency improve by 7% in Q312 vs. Q311. Allegiant had only converted 26 of the 51 aircraft at the beginning of Q3 (and 36 out of 51 by quarter-end), so there will be significant additional gains over the next few quarters.
Lastly, Allegiant has been able to minimize its maintenance expense this year by purchasing used MD-80 engines rather than overhauling its existing engines. Other airlines have been retiring MD-80s at a rapid pace in recent years, which has pushed down residual values even further. Allegiant has found that it can purchase and install used engines that are halfway through their maintenance cycle for less than $200,000, whereas it would cost nearly $500,000 to overhaul the existing engines. Given that other carriers are expected to continue retiring MD-80s in the next several years (American Airlines (AAMRQ.PK) will retire its entire MD-80 fleet in the next five years as part of its fleet renewal plan), Allegiant expects to see favorable pricing on MD-80 parts for as long as it needs them.
Fleet Changes/Modernization
As discussed earlier, Allegiant has flown a fleet consisting entirely of MD-80 type aircraft for most of its recent existence. However, the company has recently moved to introduce additional aircraft types. Allegiant has purchased 6 Boeing 757s, primarily to enable service to Hawaii, because MD-80s do not have the range and over-water capabilities necessary to do so. Allegiant's Boeing 757s are configured with 223 seats, so they have also been used for more popular routes to and from Las Vegas. While the 757s use somewhat more fuel than the MD-80s on a per-trip basis, the additional seats make the overall CASM (cost per available seat mile) significantly lower.
In July, Allegiant announced that it would also acquire/lease a total of 19 Airbus A319s. The A319 will have similar capacity to Allegiant's MD-80s with 156 seats, but will offer a 25% reduction in fuel costs and 40% reduction in maintenance costs. While Allegiant expects the cost of ownership for the A319s to be approximately double that of the MD-80s, the fuel and maintenance savings will be approximately triple the incremental ownership cost. While the move will increase complexity, I agree with the management that the net savings (projected at $1 million annually per aircraft) make it worthwhile. Moreover, the cost of acquiring used A320 family aircraft is likely to decrease over the next few years, as both Airbus and Boeing are introducing re-engined narrowbodies in the next five years. I expect Allegiant to phase out the MD-80 fleet in favor of A320 family aircraft by the end of the decade. As the MD-80s near 30 years of age, those planes will become increasingly uneconomical to fly, while Allegiant will be able to purchase used A319s at a low price due to other airlines upgrading to newer models. This will allow Allegiant to take full advantage of the A320 family's superior performance, boosting profits.
Financial Trends
Year-to-date, Allegiant has grown EPS by 64%, from $2.01 to $3.29. Analysts currently expect Allegiant to post strong EPS growth of 32% for 2013 (from $4.14 to $5.47). However, Allegiant has frequently beaten analysts' earnings estimates, and I believe the company will exceed the analyst consensus in 2013 by 30% or more. The main drivers of improved profitability are: 1) lower seat-mile costs driven by the "166 seat project" for Allegiant's MD-80s and the introduction of new aircraft types; 2) better revenue performance in the continental U.S., due to slower growth; and 3) a full year of Hawaii service, which should be more profitable than the company average.
Lower Costs (Particularly from Fuel)
Management has guided that non-fuel CASM will decrease by 1% to 6% next year. Benefits from the addition of more modern Airbus A319s and Boeing 757s and an increase in average stage length will be somewhat offset by higher facility costs and pilot pay increases. Nevertheless, Allegiant is poised to extend its leadership as the lowest-cost airline (excluding fuel costs). Moreover, as noted above, Allegiant's fuel consumption (on an ASMs/gallon basis) has recently improved 7% year-over-year. Better fuel efficiency is due to several factors: 1) the addition of 16 seats on the MD-80s, 2) an increase in average stage length; and 3) better fuel consumption per seat for the Boeing 757s recently added to the fleet.
Allegiant will see continued improvements in fuel consumption per seat mile through 2013. These will be driven by the completion of the 166 seat project and the introduction of additional Boeing 757 aircraft in Q1, followed by the gradual introduction of A319s beginning in Q2. Fuel costs represent a huge cost-saving opportunity for Allegiant: in 2011, fuel costs of $331 million represented 47.7% of Allegiant's operating expenses. This is well above the industry average, as a result of Allegiant's use of MD-80 aircraft (which were not in a dense configuration at that time), and the additional expense of procuring jet fuel at small regional airports.
Allegiant has projected fuel consumption of 64.9 ASMs/gallon in Q4 (an 8% year over year improvement), and I project that this figure will reach 67-68 ASMs/gallon by Q213. For FY13, I expect fuel consumption to be ~8% lower per ASM, compared to FY12. With Brent crude prices moderating recently, Allegiant may also see lower jet fuel prices in 2013. (That said, oil prices are volatile, and an unforeseen supply disruption could lead to another price spike.) Based on the current price outlook, fuel costs per ASM will be down 10% or more for 2013.
Slower Growth Means Better Revenue Performance
Allegiant has grown quickly in recent years, but that growth has come in spurts. While the company has managed to maintain its profitability even during high growth periods, higher growth has typically pressured revenue. The following graph (shown in several of Allegiant's investor presentations) captures this starkly.
(click to enlarge)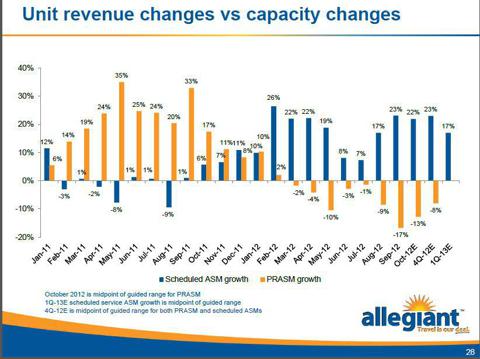 As one can readily observe, capacity was flat for most of 2011, and even shrank in some months. This resulted in double-digit unit revenue gains, which peaked at 35% in May. By contrast, capacity has grown rapidly for most of 2012, particularly in the spring and fall. This has pressured unit revenue (although the effect is magnified beginning in June, 2012, when Allegiant began enforcing a carry-on bag fee that is not included in passenger revenue). Allegiant recently disclosed that Q4 PRASM is likely to be down 8%-10%; based on recent trends, this will probably translate to total RASM which is flat to down 3% year over year.
However, next year's growth in the continental U.S. will be slower, at approximately 7% year-over-year (vs. 16% in 2012). This should allow passenger demand to catch up to supply, which will drive RASM gains within the continental U.S. in 2013. (However, the addition of flights to Hawaii will increase average stage lengths and be dilutive to RASM on a company-wide basis.) While we will not see double-digit RASM increases, as occurred last year, I expect a 1%-3% increase next year, despite a longer average stage length. In tandem with lower costs, this should result in much higher profitability next year.
New Hawaii Routes Likely to Outperform
The one market where Allegiant does project substantial growth in 2013 is Hawaii. Other carriers such as Hawaiian Airlines (NASDAQ:HA) and Alaska Airlines (NYSE:ALK) have seen great success flying from the West Coast to Hawaii in recent years, due to strong demand. For the most part, Allegiant's service is targeting markets without nonstop service to Hawaii: of the nine markets it has announced to date, it will only face competition in three (Las Vegas, Bellingham, and Phoenix). This follows Allegiant's traditional strategy of choosing routes that other carriers cannot serve economically. Whereas Allegiant has exhausted many of the best opportunities in the continental U.S., the Hawaii market does not have an ultra-low cost carrier like Allegiant at present. Additionally, Hawaii is a particularly good market for selling vacation packages, which is something that Allegiant specializes in. This will drive high ancillary revenues, which have very good margins. I therefore expect Allegiant's Hawaii routes to quickly become more profitable than the system average.
Bottom Line: Profit Potential is Under-Appreciated
Allegiant likes to boast that it has industry-leading pretax margins (see slide 10). However, the company's margins are actually significantly lower today than they were in 2009, although net income is roughly flat due to revenue increases. Essentially, Allegiant has not yet been able to fully pass along the increase in fuel costs it has seen since then. However, the three factors I just touched on should boost margins next year: 1) lower costs due to more efficient aircraft; 2) better revenue performance due to slower growth; and 3) strong performance on the new Hawaii routes.
If Allegiant can duplicate its 21.6% pretax margin from 2009 next year, the company could report EPS of approximately $7.50 on revenue just under $1.1 billion. While a 21.6% pretax margin may seem high for the airline industry, the lack of competition on most of Allegiant's routes, the company's focus on reducing seat-mile costs, and growth in high-margin ancillary revenues make this target achievable. Additionally, fuel prices have been moderating recently; if the current trend continues, that will be an additional tailwind for margins. To be somewhat more conservative, I am modeling pre-tax margins of 20% in 2013, leading to EPS of $7. Based on a TTM multiple of 17 (near the middle of Allegiant's historical range), I expect Allegiant to reach $119 by the end of 2013: more than 60% above the current trading price.
Investment Risks: Labor Strife
The biggest risk facing Allegiant investors today is the possibility of labor strife. Allegiant's low-cost model is driven in part by low labor costs, but workers (unsurprisingly) want better pay and working conditions, in light of the company's financial strength. In the past, Allegiant has not had to deal with labor unions, but the flight attendants voted to unionize two years ago, and Allegiant's pilots recently elected union representation as well. Labor unrest could potentially result in a strike by one of the work groups, or lead to rapid increases in labor costs for Allegiant.
The flight attendants have been actively negotiating with Allegiant since this past summer. Thus far, each side has taken a hard line, and a federal mediator was recently brought in to help break the logjam. Some of the major points of dispute are: 1) work rules (specifically pay for delay-related overtime); 2) Allegiant's refusal to deduct union dues from employee paychecks; 3) pay rates and contract length; and 4) Allegiant's use of part-time flight attendants at its Honolulu crew base. While the flight attendants have stated that they do not intend to strike at this time, Allegiant's management is training other employees to fill in as flight attendants as a precaution. This is a prudent decision, but a flight attendant strike would still be harmful to the company.
In August, Allegiant's pilots voted to join the Teamsters union. While the pilots' pay is competitive with pay rates at other low-cost carriers, work rules are likely to become a significant headache during upcoming negotiations. The profitability of Allegiant's business model is driven in part by the company's ability to vary its flight schedule substantially based on seasonality and day of the week. A more restrictive set of work rules could force Allegiant to pay pilots a minimum, even if they are not working, or could force Allegiant to add less profitable flights to make work for the pilots on light travel days. Fortunately, Allegiant's management has been very clear that while they will negotiate in good faith, they will not sacrifice the company's flexibility.
Allegiant investors should keep an eye on the progress of negotiations for both of these work groups, but I do not think the risks justify avoiding Allegiant as an investment. Allegiant could probably maintain most of its flight schedule in the face of a flight attendant strike, thus reducing the TWU's negotiating power. I expect the two sides to eventually reach an agreement that will increase Allegiant's costs, but not by a dramatic amount. The pilots, by contrast, have more leverage because they would be nearly impossible to replace. Moreover, pilot pay rates are much higher, so the potential cost increases could be much more significant. However, with the pilots having just elected union representation, negotiations are likely to take 2-3 years, so any resolution (or strike) is still far-off. Even the worst-case scenario of a strike is unlikely to have a significant impact on Allegiant's long-term financial performance. Spirit Airlines (NASDAQ:SAVE) endured a pilot strike in 2010, but still managed to execute an IPO the following year, and shares have performed well since then.
Investment Risks: Multiple Contraction
Another potential risk for Allegiant investors is multiple contraction. Whereas many other airlines have been put in the "penalty box" with single digit P/E ratios, Allegiant has generally maintained a TTM P/E ratio between 15 and 20 since going public. Allegiant's superior valuation is in large part a consequence of its pristine balance sheet. Whereas most airlines have heavy debt loads, Allegiant has actually managed to maintain a net cash position (more cash than debt) in recent years. Allegiant has also received a high valuation because of its strong historical growth rate and future prospects.
Allegiant's fleet renewal could potentially result in higher leverage going forward, particularly because Boeing 757s and A319/320 family aircraft will be more expensive to acquire than MD-80s. The current delivery schedule is fairly moderate (19 new aircraft over three years, half of which will be leased); but if Allegiant moves more aggressively to add planes, this would require additional debt financing. This in turn could lead to a lower trading multiple for Allegiant, preventing share price gains even if bottom line profit improves. However, based on Allegiant's current fleet plan and my projections for profitability over the next few years, I expect Allegiant to finance the aircraft primarily from current cash flows. Even with these somewhat higher capital expenditures over the next few years, Allegiant should still be able to return cash to shareholders while maintaining a net cash position.
Investment Risks: Competition?
While Allegiant does not have a "moat" in the traditional sense, I do not see competition as a serious investment risk for Allegiant. There is a reason why the company has competition on less than 10% of its routes. No other carrier has as lean a cost structure as Allegiant. While Spirit Airlines does have similar overall costs, Spirit keeps costs down through heavy utilization of its planes, whereas Allegiant minimizes its fleet costs, so that it can fly only when there is sufficient demand. As a result, Allegiant serves routes less than daily: something that other airlines usually cannot afford to do.
Theoretically, another entrepreneur could attempt to start a new carrier and duplicate Allegiant's model. However, the difficulty of raising capital for an airline startup constitutes a significant barrier to entry. Moreover, Allegiant has built its brand over the past ten years or so, and it would take years for any start-up to become competitive. Because Allegiant faces no credible competitive threat, I believe that it will be able to sustain its industry-leading margins over the long-term. However, if another competitor were able to replicate Allegiant's model and opted to directly challenge Allegiant, that could pose a severe risk to the stock.
Conclusion
Allegiant's unique operating model takes advantage of low fleet costs to run a more flexible flight schedule than competitors. This additional nimbleness allows the company to profitably serve small markets with direct service to leisure destinations. By default, Allegiant has a monopoly on most of its routes: other carriers cannot compete on Allegiant's terms. Allegiant's strong track record has rewarded investors in the past, and I think that 2013 will bring significant further gains. I expect EPS growth of more than 60% to $7 in 2013, which should in turn fuel share price appreciation of more than 60% to $119. Additionally, Allegiant is one of the best-positioned carriers to benefit if fuel prices trend lower in 2013, providing even more upside. Based on Monday's closing price of $72.80, Allegiant shares are a strong buy.
Disclosure: I am long HA. I wrote this article myself, and it expresses my own opinions. I am not receiving compensation for it (other than from Seeking Alpha). I have no business relationship with any company whose stock is mentioned in this article.