Diabesity, what in the world is that you ask? It is a descriptive noun for Diabetes resulting from Obesity. Obesity is the root cause of most of the major healthcare problems facing not only the United States, but every country in the world that has adopted the western lifestyle of processed foods, fast foods and too little exercise. Obesity increases your risk of diabetes, heart disease and cancer. Some of the best-selling drugs in the world are for treating the outcomes that result from being overweight or obese such as drugs for lowering LDL cholesterol or improving glucose control. In this article, I will discuss the opportunity for Arena Pharmaceuticals' (NASDAQ:ARNA) BELVIQ to address the diabetes market and what that could mean for shareholders with a long-term investment horizon.
In the US alone we spend $14B a year on diabetes branded drugs and many billions more on generics. According to the CDC, the direct and indirect costs of diabetes in the US in 2007 was $174B. It is estimated that up to 95% of diabetics are classified as Type II and at least 80% of Type II diabetics are overweight or obese. Even more alarming is that 79M Americans are classified as pre-diabetic, mostly due to being overweight or obese. There are at least 8 drugs specific to diabetes that sell more than $1B a year worldwide. To understand this space, you should become familiar with the standard of care.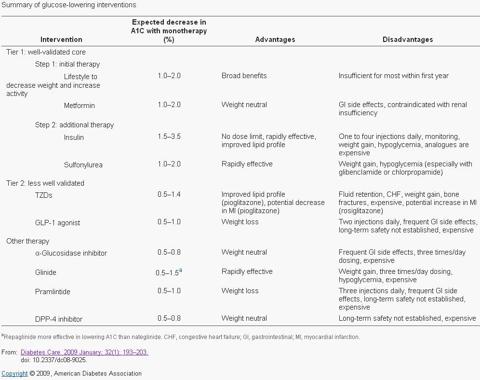 The standard of care for preventing Type II diabetes is weight loss. The first course of treatment for those diagnosed with Type II diabetes is lifestyle modification / weight loss in conjunction with the generic drug metformin. If metformin isn't doing the trick, physicians will add in second line therapies such as Merck's (NYSE:MRK) Januvia. Januvia (sitagliptin) is a DPP-4 inhibitor usually given as a 2nd line therapy for improving glucose control for diabetics. It also comes pre-combined with metformin in a combination called Janumet. Januvia was first marketed in 2007 and will cross the $5B a year in global sales this year. Januvia lowers HbA1c by -.6 (-.8 placebo adjusted.) A $5B a year drug that only lowers HbA1c by -.6. Januvia has also been associated with fatal and non-fatal severe pancreatitis, acute renal failure and severe allergic reactions in post-marketing reports. Despite those risks, EvaluatePharma is calling for Januvia to be the world's best-selling drug in 2018 at $9B a year.
I believe the market has improperly analyzed the potential for Arena's BELVIQ as both a diabetes drug and perhaps more importantly - a drug to prevent diabetes. It is difficult to compare two drug trials side by side but you can look at the overall outcomes to make reasonable assumptions. In the diabetes trials for both Januvia and BELVIQ, patients with a baseline HbA1c of around 8.0 were enrolled.
Januvia's trial consisted of patients just on Januvia and Januvia with metformin. BELVIQ's trials consisted of patients generally on metformin and also potentially on 2nd line therapies such as Januvia. Januvia's placebo group was blinded and didn't know if they were on the drug arm or not. BELVIQ's diabetes placebo was on a supervised exercise program and also were subject to a placebo-effect of believing they may be on a weight loss drug. The following two tables show the results of each trial.
Januvia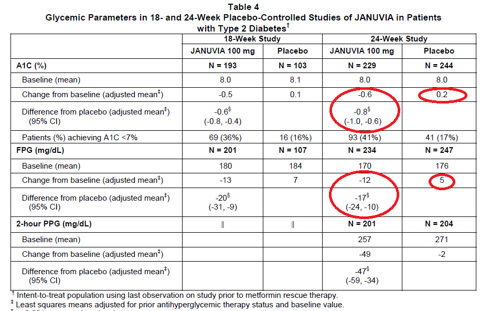 BELVIQ BLOOM-DM Results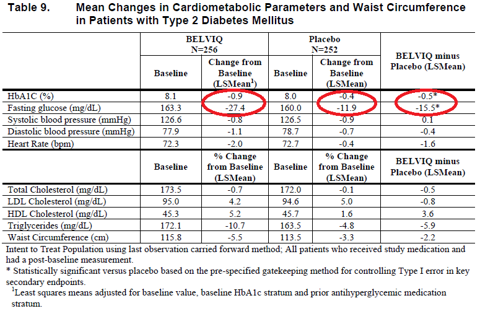 In these trials, BELVIQ was 50% more effective than Januvia at reducing HbA1c and without the potential severe adverse events now associated with Januvia. In addition, patients in BELVIQ's diabetes trial were able to reduce their other diabetes medications such as Januvia. Much of BELVIQ's success at lowering HbA1c is likely as a result of weight loss but there is more to the puzzle. There are recent scientific studies that show there is a distinct method of action tied to the same receptor BELVIQ targets, 5-HT2c, that may also cause improvement in glucose control.
This is supported by the data that patients taking BELVIQ once a day improved HbA1c slightly more than those taking it twice a day, which isn't true of weight loss. This will certainly require more monitoring post-marketing but if BELVIQ can in fact reduce HbA1c 50% better than Januvia with a better safety profile, should it not also sell several billion a year?
Novo Nordisk is trying to get a high-dose of Victoza approved for the morbidly obese and feel that if they could get just 1% of the most obese in the US, it would be a $6B a year market for them. If a very small fraction of the obesity population is worth $6B a year, how much is a first line treatment for the other 99% worth? That is exactly what BELVIQ is. BELVIQ should not be analyzed as an "obesity drug." It is a drug for improving cardio-metabolic health. This is a market even larger than the statin market dominated by two of the best-selling drugs of all time, Lipitor and Crestor, and multiples larger than Januvia's market.
ARENA IS STRUCTURED FOR PROFITABILITY
Jack Lief has structured Arena so their costs will be low, margins / profitability high and taxes low - a mix that will lead to massive earnings. Arena's partnership with Eisai offloads all of the sales & marketing costs and 90% of the post-approval trial costs ($200M+) to Eisai. Arena sells the finished BELVIQ pills to Eisai at a price that starts at 31.5% of the net sales amount and increases in tiers up to 36.5%. At sales above $250M a year, Arena will then start to receive purchase price adjustments.
The net effect is a percentage of sales at almost 50% of what Eisai is selling the product for until the purchase price adjustments expire. In future deals (Europe, China, India, Japan, Russia, Middle East, Africa) you will likely see deals similar to the recent partnership completed with Ildong for South Korea whereby Arena receives between 35-45% of the Net Sales amount. Arena's manufacturing subsidiary, Arena GmbH, has a 10 year tax holiday from Switzerland which will result in an effective tax rate of probably less than 10% for the company. With $600M in NOLs to offset profits and BELVIQ likely to cost $.10 a pill to produce -- Arena is structured to be highly profitable.
I have written valuation models in the past but a simple way to understand the potential profitability is to break it down to the earnings potential for each million patients who take BELVIQ as a chronic therapy. The assumption I will make in this exercise is that Arena will receive at least 35% of the Net Sales amount. If Arena is selling BELVIQ to at least a million patients a year, their revenue will in fact will be much higher when accounting for the purchase price adjustments.
BELVIQ Retail Monthly Estimate: $150/mo = $1,800/year/patient
Eisai's Net Sales Amount (70%): $105/mo = $1,260/year/patient
Arena's Average Gross (35%): $36.50/mo = $441/year/patient
Arena's COGS: $6/mo = $72/year/patient
Arena's Profit per patient: $369
For every 1M patients, BELVIQ will sell $1.8B a year and Arena will earn $369M per year.
A 10% tax rate and low operating costs could lead to profitability of 80% of this amount = $295M. I will not count purchase price adjustments, milestone payments, upfronts, rolling tiers or increased operating costs for simplicity's sake, just the value that each BELVIQ patient brings to Arena.
Using 230M outstanding shares = $1.28 EPS potential for every million patients. This is massive earnings growth if BELVIQ can sell as well as or perhaps even twice as much as Januvia.
Keep in mind the following when you think about the potential that lies ahead for this company to achieve many millions of patients who take BELVIQ worldwide:
20M+ Type II diabetics in the US alone
79M pre-diabetics in the US
66% of the US overweight or obese and this is a prevalence replicated throughout the westernized world.
500M obese worldwide.
2-3M patients a year take phentermine in the US
18M annual scripts for FenPhen in 1996 in the US (and BELVIQ can replace the fenflurimine component in this potent combo)
Millions of patients a year on 2nd line diabetes drugs not as effective as BELVIQ such as Januvia
No existing 1st line drug for pre-diabetics / metabolic syndrome
BELVIQ could be the only option in Europe where phentermine use is limited or illegal.
VALUATION COMPARISONS
Very few biotechs exceed expectations to increase in value 10-20X post launch of their inaugural drug. Most often, they are the companies where expectations were too bearish and drug sales far exceeded those expectations. When this happens, the market must reassess the value and you will see the underlying marketcap go up exponentially over a number of years. The most important factor for determining the valuation multiple is revenue and earnings growth. As BELVIQ takes off over the next 1-3 years, I believe Arena will replicate what many of the following companies have done:
Alexion (NASDAQ:ALXN)
(click to enlarge)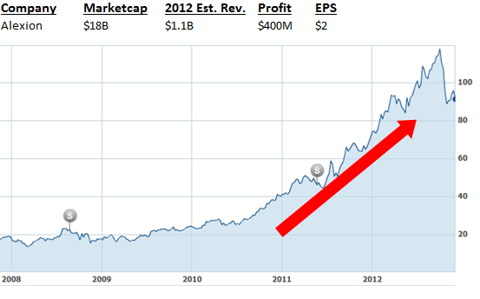 Biogen (NASDAQ:BIIB)
(click to enlarge)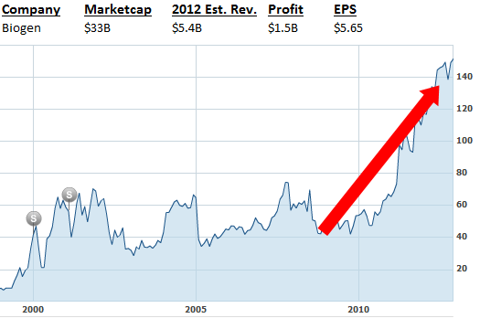 Celgene (NASDAQ:CELG)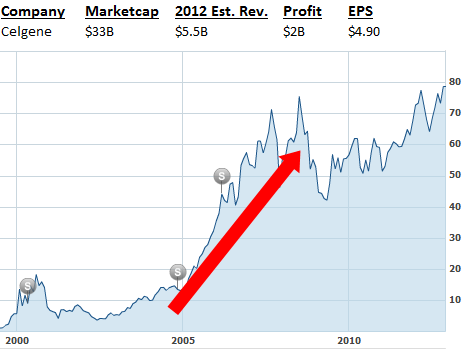 Gilead (NASDAQ:GILD)
(click to enlarge)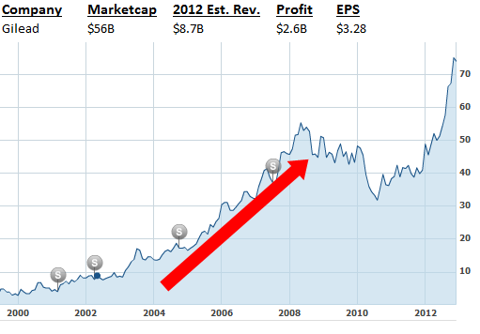 Arena with 2M chronic patients (could happen as soon as 2014): BELVIQ sales of $3.6B, Arena Revenue of $882M, Arena Profit of $590M, Earnings potential of $2.56 will led to a marketcap of at least $20B. Arena with 5M chronic patients (could happen by 2016): BELVIQ sales of $9B, Arena Revenue of $2.2B, Arena profit of $1.48B, Earnings of $6.40 would indicate a marketcap of $30-50B (very close to Gilead total revenue, profit and above their earnings.) I believe that a majority of this appreciation should occur over the next 1-4 years, as it did for the companies listed above.
Future ARNA Chart?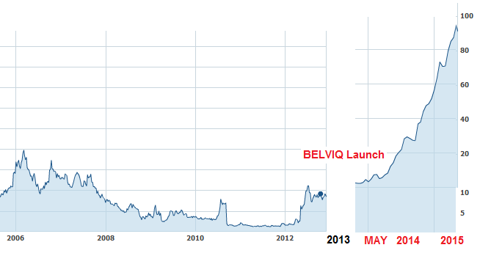 In summary, BELVIQ has the profile of a 1st line therapy for not just obesity but for pre-diabetics and metabolic syndrome. It is a drug for improving cardio-metabolic health and has a better efficacy and safety profile than some of the best selling drugs today. BELVIQ should be hitting store shelves in March and by this time next year, we will have a much clearer picture as to how well the drug will sell.
In May, we should get guidance from both Arena and Eisai as to their estimates for 2013 and the market will be forced to re-assess the appropriate valuation. With just 2M chronic patients, Arena's market cap will likely approach the $20B market cap mark. As always, investors should do their own due diligence.
Disclosure: I am long ARNA. I wrote this article myself, and it expresses my own opinions. I am not receiving compensation for it. I have no business relationship with any company whose stock is mentioned in this article.