The term "QE4" is what most business writers appear to be calling what will be announced today when the Federal Reserve's policy committee adjourns and issues a press release. They'll also provide updated economic forecasts and then Fed Chief Ben Bernanke will conduct a quarterly press conference, so, there could be a good deal more from the Fed today in addition to the announcement itself.
For those who don't already know, "QE4" will be an open-ended program of $45 billion per month (possibly more, but certainly not less) in central bank money printing that will be used to purchase long-dated Treasuries. Combined with the ongoing QE3 program of $40 billion per month in new money to buy mortgage backed securities, the Fed will soon be creating $85 billion per month "out of thin air" until such time that the economy and the labor market show major signs of improvement or other considerations (e.g., higher inflation) cause them to change course.
All of that is relatively well known in advance, however, what is not known - and what is very important for precious metals investors - is what this all means for the price of gold.
We'll find out soon enough, but one thing is certain - markets are clearly not responding the same way they did in advance of previous quantitative easing announcements.
As shown below, there have already been three "QE" announcements along with the official launch of "Operation Twist" just over a year ago and, save for the first round of money printing back in 2008 (when this was new to both the Fed and investors), all of these announcements were fairly well telegraphed by the central bank.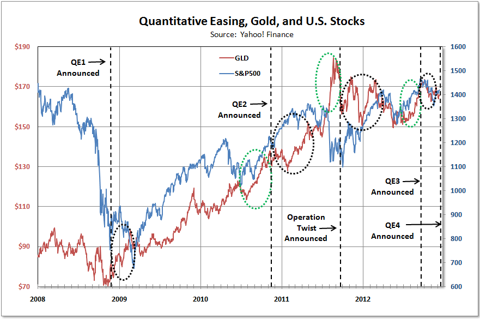 As a result, the gold price began moving higher in advance of the Fed's policy statement as indicated in green, however, that has not happened in recent weeks in advance of today's "QE4" launch.
That's one cause for concern amongst precious metals investors lately, though, some argue that since "QE4" is not currently "priced in" (i.e., as a result of the dual distractions of the elections and "fiscal cliff"), the gold price could soon surge as it makes up lost ground. In early morning trading, gold has gained about $5 an ounce, so, it's possible that this process is already underway.
Another important element of the graphic above is how the gold price moved after prior "QE" announcements as indicated in black. In early-2009 for "QE1" and in early 2011 for "QE2", the gold price advanced sharply in the months that followed, about 30 percent and 15 percent, respectively.
But, after "Operation Twist" was launched in September of last year, the gold price tumbled from its all-time high of over $1,900 an ounce. While the debt ceiling crisis and its resolution played a major role in how asset prices moved during this period (note that stocks tanked while the gold price rose as the crisis intensified), it has become common wisdom that the gold price only responds positively to new Fed money printing, not balance sheet shuffling.
This thinking has since been called into question since there was a nice run-up in the gold price over the summer this year prior to the September "QE3" announcement, but gold has struggled in recent months along with equity markets.
That's another cause for concern.
Clearly, with each successive round of Fed money printing, asset prices have mounted smaller and smaller moves upward and, since higher stock prices are one of the primary objectives of these programs, that is not a good trend for the central bank - as far as boosting the price of "risk assets" is concerned, they may have already "run out of bullets".
To be sure, the uncertainty surrounding the ongoing "fiscal cliff" negotiations is having an impact on investors, so, not too much should be inferred from recent market action in advance of today's "QE4" launch, but, gold investors are understandably disappointed with how the metal's price has moved lately and the November 28th sell-off (as detailed here previously) certainly didn't help.
Nonetheless, how asset prices move later today will set the tone for the weeks and months ahead.
The size of "QE4" will be important, probably the most important number that is released today.
If, as in the past, Fed Chief Ben Bernanke feels that he must "beat expectations" - in this case, expectations of $45 billion per month in new money printing - the committee may announce a larger number. Surely, "QE4" in the amount of $60 billion per month will send the gold price soaring, however, it's more likely to be just a modest increase.
One thing is certain - "QE4" will be launched today. To not do so would be seen as Fed "tightening" and that's the last thing they want to do.
As such, owners of such funds as the SPDR Gold Shares ETF (NYSEARCA:GLD) should watch closely for how the gold price moves in response to the announced size of this latest round of money printing as it will provide a good indication of what is to come in the final few weeks of the year.
Disclosure: I am long GLD. I wrote this article myself, and it expresses my own opinions. I am not receiving compensation for it (other than from Seeking Alpha). I have no business relationship with any company whose stock is mentioned in this article.