Abercrombie & Fitch (NYSE:ANF) is a trendy fashion retailer that is going from unknown to world-renowned. The company has an exceptionally bright future ahead.
Qualitative Analysis
Abercrombie & Fitch is a fashion retailer. Its primary target market is college and high school students.
Abercrombie & Fitch owns Hollister, Gilly Hicks, and Abercrombie Kids. The company operates 280 Abercrombie & Fitch stores and 494 Hollister stores within the United States. Abercrombie & Fitch is the high-end brand, while Hollister is the low-end brand. Abercrombie & Fitch directly competes with Aeropostale (NYSE:ARO) and American Eagle (NYSE:AEO).
Institutions trade the company like a fad: "Net institutional sales in the current quarter [are] at -5.5M shares," according to Kapitall. Despite the lack of institutional support, the company has recently surprised on earnings, so perhaps it isn't a fad after all.
When I walk into an Abercrombie store, I realize just how unique it is. A group of models will stand at the entrance, establishing the preppy, "we are cool" icon of the brand. It helps shoppers imagine themselves being popular and fitting in with a group of "popular" people. The smell of fierce cologne in the air is intended to stimulate memory (lululemon adopted a similar strategy with its sugar fragrance). The store employees are dressed in the latest Abercrombie product offerings; the clothing is folded to perfection and has a lot of variety. The displays are clean and the interior decoration is modern contemporary, with wooden paneled floors, walls, and ceilings. The stores appeal to sound, sight, smell, and feel -- four out of five senses. This is a form of neurological marketing, intended to burn into the memory of every customer of Abercrombie & Fitch.
In essence, this is a unique brand, one so unique that investors mistake it for a fad.
Technical Analysis
On Nov. 14, 2012, Abercrombie & Fitch traded up from $31.50 per share to $41.00 per share. The impressive move was marked by an earnings surprise, some changes in buy recommendations, and a lot of short covering.
The stock has continued the uptrend since Nov. 14, 2012. While many technical traders would negate the upward move due to the rising star formation. I believe the stock is not ready to pull back; rather, I believe the stock should be bought on pullbacks.
Click to enlarge images.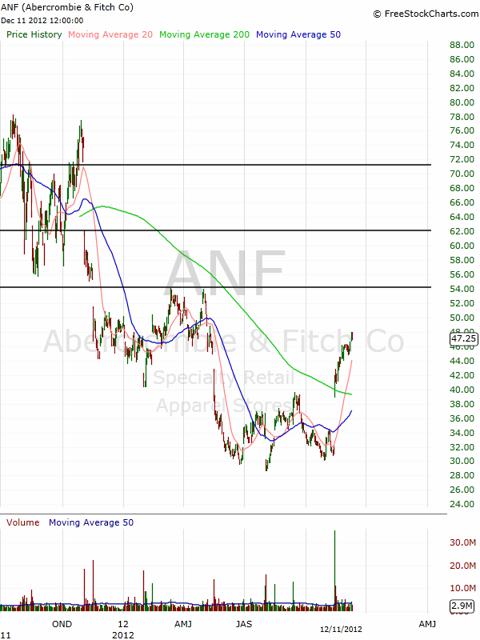 Source: FreeStockChart.com.
Notable resistance areas are $54.00, $62.00, and $70.00 per share. Over the short run, I anticipate $62.00 to be the most important area to watch for.
Street Assessment
Analysts, on a consensus basis, have strong expectations for the company going forward.
| | | | | |
| --- | --- | --- | --- | --- |
| Growth Est | ANF | Industry | Sector | S&P 500 |
| Current Qtr. | 71.40% | 44.50% | 10.40% | 8.70% |
| Next Qtr. | 233.30% | 55.10% | 4.30% | 14.90% |
| This Year | 28.70% | 13.90% | 6.20% | 5.60% |
| Next Year | 17.20% | 18.40% | 4.20% | 13.20% |
| Past 5 Years (per annum) | -27.18% | N/A | N/A | N/A |
| Next 5 Years (per annum) | 17.08% | 11.82% | 14.07% | 9.17% |
| Price/Earnings (avg. for comparison categories) | 15.98 | -152.54 | -20.94 | 17.83 |
| PEG Ratio (avg. for comparison categories) | 0.94 | -4.22 | 0.2 | 0.28 |
Source: Yahoo Finance.
The company shows great potential. On a consensus basis, analysts have a five-year average growth rate forecast of 17.08% (based on the above table).
| | | | | |
| --- | --- | --- | --- | --- |
| Earnings History | 12-Jan | 12-Apr | 12-Jul | 12-Oct |
| EPS Est | 1.12 | 0.02 | 0.17 | 0.59 |
| EPS Actual | 1.12 | 0.03 | 0.19 | 0.87 |
| Difference | 0 | 0.01 | 0.02 | 0.28 |
| Surprise % | 0.00% | 50.00% | 11.80% | 47.50% |
Source: Yahoo Finance.
The average surprise percentage is 27.33% over analysts' forecast earnings over the past four quarters (based on the above table).
Forecast and History
EPS History and Price History

Year

Basic EPS

P/E Multiple

2007

$ 5.45

14.48

2008

$ 3.14

24.97

2009

$ -

-

2010

$ 1.71

18.25

2011

$ 1.11

43.57
Source: Table created by Alex Cho, data from annual shareholder report, and price history is from Yahoo Finance.
The EPS figures below show that throughout the 2007-09 period, revenues dropped as Abercrombie & Fitch was adversely affected by the Great Recession. Once the United States economy exited the recession in 2010-11, the company earnings have improved.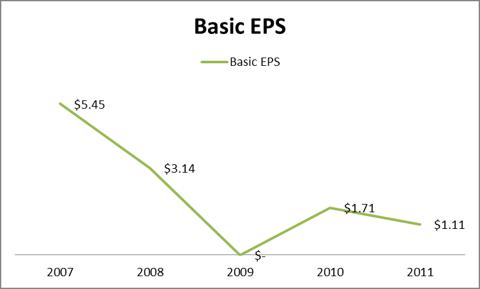 Source: Table created by Alex Cho, data from annual shareholder report.
By observing the chart, we can conclude that the business is cyclical and affected by macroeconomics. Therefore, the largest risk factor to Abercrombie & Fitch is the slowing of international gross domestic product growth. So, as long as the world economy continues to grow, the company will generate outstanding returns over a five-year time span based on the forecast below.

Source: Forecast and table by Alex Cho.
By 2016, I anticipate the company to generate $6.50 in earnings per share. This is because of its recent streak of beating analyst estimates, improving global outlook, and the continued success of its product offerings. The forecast is proprietary, and below is a non-linear chart indicating the price of the stock over the next five years.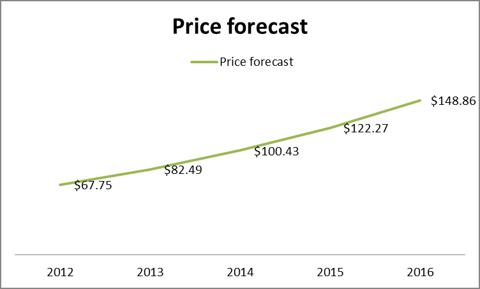 Source: Forecast and chart by Alex Cho.
Investment Strategy
Currently, Abercrombie & Fitch is trading at $47.25, and on a consensus basis analysts are anticipating a lot of upside from the earnings surprise. I have a price forecast of $67.75 for 2012. Being that there are only 20 days before the end of 2012, it may not necessarily hit that price target due to the short time frame. This means investors should focus on the long run by focusing on 2012-13. In the first quarter of 2013, Abercrombie & Fitch will announce earnings for the fourth quarter of 2012. Up until earnings are announced, the stock should experience a strong run-up. I anticipate the price of the stock to rally until $67.75.
The Short Term
Over the next couple months, the stock is likely to appreciate from $47.25 (previous session close) to $67.75. This implies 44% upside from current levels. The technical chart readings implies a strong up-trend in price action, which supports my price target. Therefore, both the forecast and the market sentiment indicate a great buy entry at $47.75 (previous session close) and sell at $67.75. However, there are notable resistance areas along the way, such as $54.00 and $62.00 per share. Watch those levels closely because it is likely that there will be minor pullbacks at those levels.
I would sell the stock beyond $67.75 per share. This is because I anticipate both technical and fundamental traders to sell shares in Abercrombie & Fitch, after it announces earnings in January or February.
The Long Term
The company is a great investment. I anticipate Abercrombie & Fitch to deliver on the price and earnings forecast despite the risk factors (global economic slowdown). The primary upside catalyst is international growth, and growth of its low-end brand (Hollister). Pursuing both the low-end and international growth has been a priority for Abercrombie & Fitch. Therefore, I anticipate the company to deliver on my forecast price target of $148.86 by 2016.
Conclusion
Abercrombie & Fitch is a great investment over both the long and short term. While everyone is jumping on the lululemon bandwagon, buy Abercrombie & Fitch on growth and momentum.
Disclosure: I have no positions in any stocks mentioned, and no plans to initiate any positions within the next 72 hours. I wrote this article myself, and it expresses my own opinions. I am not receiving compensation for it (other than from Seeking Alpha). I have no business relationship with any company whose stock is mentioned in this article.