Vera Bradley (NASDAQ:VRA) reported fiscal third-quarter earnings last week and investors were not pleased. Shares fell over 10% on heavy volume (4.1 million shares versus a three-month average of 691,000 shares) when the stock opened for trading the following morning. The company did exceed analyst expectations on revenue, which grew 14.2% year over year to $138.3 million and diluted earnings per share, which grew 37.5% year over year to $0.44. The big scare came from an inventory ordering mistake and lowered top end guidance for the remainder of the current fiscal year.
I mentioned in my prior article about the company some concerns regarding fiscal second-quarter earnings. If you recall, the company extended credit to certain customers toward the end of the quarter in order to meet top end expectations. I prefer to see sales not artificially boosted up in order to meet corporate goals. While there was no direct evidence of these practices occurring during the recent quarter, management's inventory mistake adds another cause for concern regarding the trust and experience in the home office.
Inventory Problem
CFO Jeffery Blade explained the problem during the company's recent earnings call:
During the third quarter we identified in issue related our inventory planning process that inadvertently resulted in increased order quantities. The result was the ordering of approximately $15 million of inventory which would have been ordered in the first half of fiscal 2014. As a result we expect inventory growth to outpace revenue in a range of 10% to 20%, primarily in the fourth quarter and the first quarter of fiscal 2014.
Inventory at the end of the third quarter was $135.3 million compared with $111.1 million in the prior year. This increase of 21.8% outpaced revenue growth of 14.2%. The majority of analyst questions following management's prepared remarks circled around this inventory mistake. Blade reassured investors that the items purchased were "top-selling" and expected no problem moving the inventory over the next two quarters. While an optimistic attitude is comforting, actions speak louder than words. With Vera Bradley's declining revenue estimates each quarter (see table below), the market may want to see the results rather than believe a feel-good story.
| | | | | |
| --- | --- | --- | --- | --- |
| Fiscal Year 2013 | As of Fiscal Q4 End | As of Fiscal Q1 End | As of Fiscal Q2 End | As of Fiscal Q3 End |
| Revenue Outlook | $540 million - $545 million | $535 million - $540 million | $531 million - $536 million | $526 million - $531 million |
| | | | | |
| Fiscal Year 2013 | As of Fiscal Q4 End | As of Fiscal Q1 End | As of Fiscal Q2 End | As of Fiscal Q3 End |
| Diluted EPS Outlook | $1.68 - $1.71 | $1.68 - $1.71 | $1.60 - $1.63 | $1.63 - $1.65 |
Source: Vera Bradley Press Release
Positive News
The company did have a strong quarter financially. Revenue was up 14.2% year over year, comparable same-store sales increased 7.1% and days' sales outstanding fell to 64 from 74 in the fiscal second quarter. Blade cited strong momentum through the department store channels and specialty retailers, especially Dillard's (NYSE:DDS). During the fiscal third quarter the company displayed product at an additional 54 locations bringing the total store count to 230 Dillard's locations. The recent move into Japan is still in its infancy stage, but the company continues to build brand awareness in this region and is excited about the opportunities ahead.
Vera Bradley is using cash to open stores in new locations and to expand operations. During the quarter the expansion of a distribution center in Fort Wayne was completed. This essentially doubled the capacity to 400,000-square feet. Management expects the expanded distribution center to support growth for the next several years. The company appears to be managing cash flow appropriately, not overexpanding or investing in risky ventures.
Conclusion
Although shares of Vera Bradley trade at the lowest earnings multiples in this company's history (see chart below), investors may want to be patient before initiating new positions. I will admit that following my last article on Vera Bradley, shares moved significantly higher. However my concern focused on management issues, not valuation, and following the recent inventory error, it appears my concern still remains valid.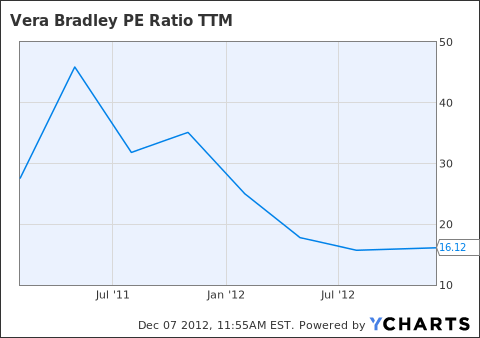 VRA PE Ratio TTM data by YCharts
If you are looking to invest in a handbag maker I would take time evaluating luxury brands such as Coach (COH) or Michael Kors (NYSE:KORS). The growth story and track record of management for both these companies remains intact. In my opinion, Vera Bradley will need to prove itself to investors before a significant uptrend develops for this stock.
*Note: All data reported and graphed is pulled directly from Vera Bradley SEC filings and press releases.
Disclosure: I have no positions in any stocks mentioned, and no plans to initiate any positions within the next 72 hours. I wrote this article myself, and it expresses my own opinions. I am not receiving compensation for it (other than from Seeking Alpha). I have no business relationship with any company whose stock is mentioned in this article.