Having spent two decades managing money for high net worth clients and wealthy individuals, I have always found safe, conservative bonds and bond funds to be useful in portfolio construction. Many of the individuals whose portfolios I supervised had the great bulk of their personal net worth in volatile stocks or privately held businesses. They didn't mind taking some risks in the market, but they wanted the overall portfolio to have ballast. What money they had away from the bulk of their fortunes they did not want tracking the NASDAQ 100 or the high-yield "junk" bond market.
The closed-end fund (CEF) market consists of publicly traded investment vehicles that trade on the NYSE like regular stocks. Unlike traditional mutual funds (open-end funds, or OEFs), which price at NAV each day at 4:00 PM, CEFs can trade at a premium or discount to NAV, depending on investor demand for the underlying securities. Discounts are nice, but persistent discounts can reflect poor underlying portfolio management. Avoid premiums above 5%-7% even for CEFs that you plan to hold a long time as it is tough to recoup even those added costs in today's low-rate environment. Buying a fund like the PIMCO High Income Fund (NYSE:PHK) at a 34% premium to NAV is only asking for trouble.
Unlike OEFs, you can buy or sell a CEF during regular market hours. Monthly income distributions help investors hold through difficult periods and give off regular income. Most bond CEFs employ leverage to juice their yields, but three of my favorites use no leverage.
Here are five CEFs that I believe are very appropriate for retirees or conservative investors and are providing nice yields in today's ultra-low rate environment:
IGI went public in mid-2009 at $20 a share. If $20 is the December 2013 value, then the yield is closer to 4.4%; if $18 is the final value, the yield to maturity will be closer to 3.4%. My experience with previous "busted trusts" from BlackRock in the 1990s is that you rarely get impairments of more than 10%. IGI started out with a slug of corporate bonds trading at very rich yields only a few months after the credit crisis reached its nadir so this fund provides a bit of a "credit spread windfall" that may have been obscured by the trust structure. Even if IGI ultimately liquidates at $18, a 3.4% yield for a high-quality bond fund is not bad, and it is only a bit below that of fellow non-leveraged bond fund ICB.
The bonds in the portfolio have an average maturity of 11 years and a duration of 6.7 years. Investment grade bonds are 79% of the fund, with most of the remaining high-yield position invested in BB-rated debt, the safest junk tranche. IGI trades at a 1% discount to NAV and it pays a 5.3% current yield. Expect the distribution and current yield to fall over time as older higher-coupon bonds mature. Western Asset Management is a top-notch fixed income house, and I expect its portfolio managers and credit analysts to find plenty of opportunities to maintain the distribution at as high a level as possible consistent with investment-grade assets. The payout distribution should only be cut slightly going forward as the fund's holdings more closely approximate the new low-rate bond environment.
Utilities comprise 53% of the fund, with telephone bonds down to 5% in recent months. Financials and industrials are at 26% and 15%, respectively. I suspect the reduction in telephone bonds is a result of their sharp appreciation in recent quarters. 99% of the fund is rated investment grade, with 70% BBB-rated and just under 30% A-rated or above. Duff & Phelps management has been gradually phasing out the auction rate preferreds they had used previously to give the fund leverage.
Good sources of information for closed-end funds include the investment managers' own websites as well as CEFConnect.com (run by Nuveen, a big sponsor of such funds). Key metrics to focus on include leverage, credit quality, duration, and the percentage of high-yield assets, especially those B-rated or below. Default rates increase at an accelerated non-linear rate as you go from BB to B to CCC-rated debt, so take note. This is important because having higher investment-grade rated bonds like AAA/AA cannot offset lower-rated bonds in a "barbell" structure because of the much larger default and loss rates for lower-rated debt. It also means that junk-bond funds, which have large concentrations of B-rated and lower debt should generally be avoided except at market and cyclical bottoms.
Here's a very useful and easy way to see how your fund is likely to handle an economic downturn or another credit crisis. Punch up a price chart of the fund that encompasses the 2008-09 Credit Crisis, preferably going back to 2007 to see the previous price peak. You'll see every bond fund taking a big hit in late-2008 after the Lehman Brothers collapse. What you want to see is if the fund recovered in price in late-2008/early-2009 as the S&P 500 collapsed another 25%. If the bond fund achieved what I call "separation" and didn't break to new lows and/or actually rose in price, that's the sign of a bond fund with good overall credit quality and good fund management.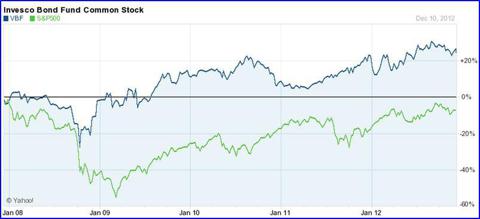 You can see that VBF rose sharply once credit markets began to price risk accordingly in late 2008. As the stock market fell in early 2009, VBF rose in price along with other investment-grade bond funds.
That is what you want to see in a bond fund, non-correlation to the stock market, not just a good yield. In these five funds, you get some of both.
Disclosure: I have no positions in any stocks mentioned, and no plans to initiate any positions within the next 72 hours. I wrote this article myself, and it expresses my own opinions. I am not receiving compensation for it (other than from Seeking Alpha). I have no business relationship with any company whose stock is mentioned in this article.
Additional disclosure: I have no positions in any of these bond funds but clients whose assets I advise/manage own them.