With the quarterly earnings season winding down, we at eChristianInvesting are taking this opportunity to look back at how internet content companies performed against expectations.
The Knot (KNOT), Answers Corp (NASDAQ:ANSW) and Bankrate (NYSE:RATE) were the clear winners of the quarter, as they delivered surprisingly good results despite the tough economic conditions, while Move (NASDAQ:MOVE), Tech Target (NASDAQ:TTGT) and Travelzoo (NASDAQ:TZOO) were the big losers, succumbing to the economic pressures and failing to live up to Wall Street's expecations.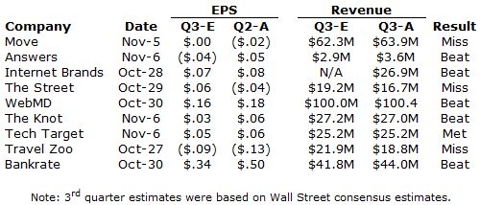 Move
The weakness in the real estate sector continues to persist and Move's shares have fallen in sequence. The company posted disappointing quarterly results although they did cite strong traffic growth at the network sites and particular on Realtor.com. The company seems to be making the right moves in order to get its cost structure inline to take advantage of a recovery in the real estate markets. The only question is how long they will have to wait for that recovery to come.
Performance: down 31% since reporting results
Answers
A surprisingly strong quarter in the midst of a very tough economic environment was a pleasant surprise for Answers Corporation. Answers.com revenue actually grew on sequential basis and investors are hopeful that this was the turnaround quarter that they have been waiting for. The company has already reduced costs and their streamlined business model allowed them to increase 4th quarter guidance to $4.1 – 4.5 million.
Performance: up 15% since reporting results
Internet Brands
Not surprisingly, Internet Brands (INET) posted results inline with analyst expectations. The company had stated on the last earnings call that they had strong visibility into its business for the remainder of the year. The company continues to execute its strategy of growing via acquisitions and completed 4 additional acquisitions in the third quarter. Outside of automotive e-commerce, the company appears to experiencing solid growth with traffic to their network sites up 45% in September.
Performance: down 2% since reporting results
The Street
One of the biggest disappointments of the earnings season was The Street. Revenues declined so badly that the company was forced to report a loss for the quarter. Most of the revenue shortfall came from the company's latest acquisitions – Promotions.com which contributed only $1 million in revenue after posting $3 million in the previous quarter. The company saw both a decline in total advertisers and in RPMs (revenue per thousand page views). The one bright spot is that turbulent financial markets are driving traffic to their sites with page views up 9% sequentially.
Performance: down 19% since reporting results
WebMD
WebMD (NASDAQ:WBMD) managed to post a slight beat for the quarter. Traffic to the WebMD Health Network continued to grow strongly with an average of 49.9 million unique users per month and total traffic of 1.14 billion page views during the third quarter, increases of 22% and 33%, respectively, from a year ago. The company also issued preliminary 2009 guidance calling for revenue growth of 11 – 20%.
Performance: down 7% since reporting results
The Knot
The Knot was definitely the biggest surprise of the quarter – easily surpassing analysts EPS estimates. The Knot has failed to live up to Wall Street's expectations in recent quarters which made this quarter's performance in the face of tough economic conditions all the more impressive. The company did note weakness in local advertising and lowered its full year revenue growth to only 5 – 7%.
Performance: up 27% since reporting results
Tech Target
While tech has held up better than many sectors, undoubtedly TTGT has been feeling the effects of advertisers cutting budgets. While they continue to provide high quality content that is attracting visitors to their network of sites, until the economy stabilizes and advertisers start spending freely again we see TTGT's business continuing to struggle. Our recommendation is a sell ahead of what is likely to be disappointing earnings results.
Performance: down 21% since reporting results
Travel Zoo
We predicted Travel Zoo to disappoint this quarter and they did in a big way. Revenues fell 6% (analysts were expecting revenues to grow 10%) as a weak economy negatively impacted the company's North American results. If there was a silver lining it's that the company recognizes the need to adjust its cost structure and is taking steps this quarter to do so. The company also appears ready to reduce their investment spending in Asia-Pacific and Europe (something we have been recommending for some time now).
Performance: down 31% since reporting results
Bankrate
Bankrate handily beat Wall Street's revenue and profit estimates. There performance was doubly impressive considering the unprecedented volatility that financial services companies have experienced in recent months. Bankrate has done an incredible job at monetizing their website traffic (which continues its strong growth patterns as consumers look to Bankrate.com as trusted resource for help and advice in this turbulent economic environment). The strong quarter also allowed RATE to raise their 4th quarter guidance prompting several analyst upgrades.  
Performance: up 11% since reporting results
Disclosure: Author holds a long position in TSCM, no positions in any of the other stocks mentioned.