Mosaic (NYSE:MOS) has acted much better recently after being a market laggard for most of the year. The company continues to pick up positive comments from analysts and given its cheap valuation could still have some more upside in the coming months.
Recent positives for Mosaic: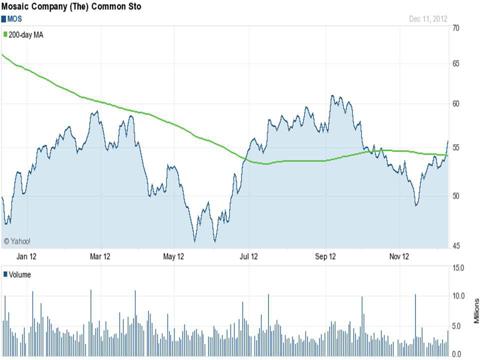 The Mosaic Company produces and markets concentrated phosphate and potash crop nutrients for the agriculture industry worldwide.
4 reasons MOS still has upside from $56 a share:
The twelve analysts that cover the stock have a median price target of $85 a share, 50% above the current stock price.
MOS is selling at just over 10x forward earnings, a discount to its five year average (13.1).
The stock is selling near the bottom of its five year valuation range based on P/E, P/CF, P/B and P/S.
MOS yields 1.8% and has quintupled dividend payouts in the last few years. The company paid an additional dividend of $1.25 a share in late 2009, so could be a candidate to announce a special dividend given how many other companies are doing so.
Disclosure: I have no positions in any stocks mentioned, but may initiate a long position in MOS over the next 72 hours. I wrote this article myself, and it expresses my own opinions. I am not receiving compensation for it (other than from Seeking Alpha). I have no business relationship with any company whose stock is mentioned in this article.