In early January of 2011, we highlighted a top secret candlelight dinner that was held at the White House where a deal was possibly made that China would raise the Yuan and the U.S. would devalue the dollar. At that time, we also predicted China would open banks right here in the United States. There was no fanfare or mainstream media coverage.
Since 2008, The Fed has fought the failures of some of the largest financial institutions such as Lehman Brothers, AIG, Washington Mutual and other corporate icons by creating massive bailouts, QE's and running up trillion dollar budgetary deficits due to a decade of being at war in the Middle East. Even today Bernanke is scheduled to make another announcement where he may expand the Fed's balance sheet to purchase long term treasuries.
China is concerned about potential inflation over the long term due to the intentional debasement of the US currency and the artificially lowering of interest rates by the Federal Reserve using tools such as Quantitative Easing or Operation Twist. Both sides reached a modus vivendi, where the Chinese would allow the appreciation of the Yuan and the devaluation of the dollar in exchange for access to the North American resource market and financial sectors. Now we see these predictions coming to fruition as CNOOC is taking over Nexen (NXY) and the Federal Reserve is allowing Chinese Banks to open on U.S. soil.
Please see my January 2011 article on the "Chinamese Twins" to fully understand why the Chinese yuan is continuing to move higher versus the U.S. dollar by clicking here.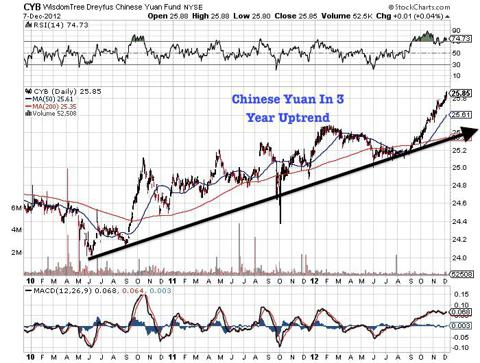 In the past three years the Yuan has steadily risen versus the greenback. China is now entering the American financial markets and there are rumors of making the yuan the global reserve currency. Now the Federal Reserve Bank is permitting Chinese Banks to open up right here on U.S. soil. These Chinese financial institutions have an abundant amount of declining US dollars to fund natural resource projects which are trading at historic low valuations. The Chinese need to diversify out of its enormous US debt and U.S. dollar position. Now may be the time to purchase resource companies whose underlying value is not represented in its price ahead of the Chinese.
One sector where we see a great amount of value is the uranium miners as the Chinese are going full speed ahead in building next generation nuclear reactors. The uranium spot price (OTCPK:URPTF) is just over $40, which is near the bottom of its three year range.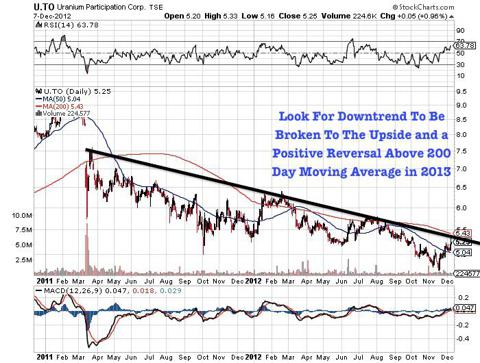 Uranium may represent a bottoming situation. Look for a reversal in the near term and break above the recent downtrend due to the following reasons.
1) 64 nuclear reactors are being built all over the world. A new reactor needs three times the amount of uranium than an operating reactor.
2) The world is already in a supply shortfall. Mine supply only provides 144 million lbs to a sector which needs 180 million lbs. This deficit is being filled by secondary supplies coming from Russia set to end in December 2013.
3) When the Russian HEU Deal ends, 24 million lbs will need to be made up for: 14% of world's supply.
4) Japan and Germany may start coming back online as electricity costs soar. Japan is updating 23 reactors. New elections are coming up on December 16th in Japan with the Pro-Nuclear party in a wide lead. Part of the party's platform is further monetary easing and promoting the restart of nuclear reactors.
There seems to be a perception that Japan and Germany which has cut back on nuclear following the Fukushima disaster could sell its surplus uranium into the market. The Russia HEU program where nuclear missiles were converted to nuclear fuel is set to expire by the end of 2013. This is about 24 million pounds of uranium supply that could be offset by Japan and Germany's excess supply.
However, it is unlikely that the Japanese and Germans will exit nuclear for one reason…soaring electricity costs which are crippling their industries and GDP.
The Japanese have just bought 23 hydrogen re-combiners from Areva to update nuclear reactors with new safety features. The fact that the Japanese are investing in nuclear shows that they are serious about turning reactors back on. Japan is headed into an election in December where the opposition party who is pro nuclear is leading the polls. Could this be the catalyst to spark a rebound in the spot uranium prices?
We will continue to follow this story in our free newsletter.
Disclosure: I have no positions in any stocks mentioned, and no plans to initiate any positions within the next 72 hours. I wrote this article myself, and it expresses my own opinions. I am not receiving compensation for it. I have no business relationship with any company whose stock is mentioned in this article.