Every now and then, an interesting stock pops into the Magic Formula that looks like an intriguing opportunity, but just carries too much risk to recommend as a MagicDiligence Top Buy. This post is about just such a stock that has recently entered the MFI screen. Since it requires some detailed due diligence, a full stock research report, similar to the ones provided for member picks is also available for review.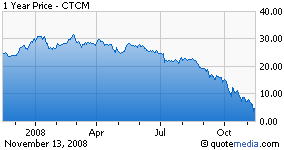 CTC Media (NASDAQ:CTCM) owns and operates two free television-broadcasting networks in Russia and a few surrounding, Russian-speaking countries. The CTC network is the largest, carried on nearly 400 stations and reaching close to 100 million viewers. CTC is targeted at the wide 6-54 demographic, providing entertainment programming similar to what is on U.S. networks but mostly Russian produced. CTC is the fourth largest TV network in Russia, and the largest that is 100% private owned. The top three are Channel One (51% owned by the state), Rossiya (100% state owned), and NTV (50% owned through a state-controlled company).
CTC launched another network, Domashny, in 2005. This is a more targeted network, focused on women ages 25-60, a coveted demographic for advertisers as they control the majority of household purchases. Domashny is carried by about 250 affiliates and it reaches nearly 70 million viewers. CTC Media believes that Domashny is the only network focused on the given demographic in Russia.
The main argument for this investment is the growth potential compared against the stock price. CTC Media has very favorable organic growth opportunities. Russian TV advertising spend has been growing at 40% annually over the past six years as the country continues its economic development. Still, the country lags behind former Soviet-bloc countries like Poland and the Czech Republic in advertising spending per-capita. This indicates that there is still a lot of upside, and indeed CTC grew revenues over 50% in the last quarter ended September 30. Analyst expectations are for 20% annual earnings growth over the next five years.
This growth is protected somewhat by the fact that Russian broadcast TV providers do not face the same kinds of alternative competition that exists in Western markets - at least not yet. Cable television, broadcast TV's main rival, is mostly non-existent in Russia. While state-owned TV has some competitive advantages in the form of a larger viewership and control of political and sporting programming, all of CTC's primary competitors embrace a "channel strategy," where they own and operate the bulk of their stations. CTC utilizes an American style strategy of affiliate stations, with a few strategic channels company owned and operated. This business model is much lower cost and requires less capital expenditures. CTC's profit margins are pretty fantastic - 42% operating margin, 22% free cash flow margin, and a 112% MFI return on capital number. These figures indicate a very efficient operating plan.
The most important characteristic of MagicDiligence stocks are a durable competitive moat that allows a company to maintain high returns on capital. Fortunately, media companies have some built-in moat characteristics. Channel bandwidth is limited, particularly on the VHF band that reaches more viewers. Owning a channel is a privilege only a limited number of competitors can match. Programming rights are another intangible benefit, particularly exclusive rights to popular programs, of which CTC owns several. While I wouldn't consider CTC a wide moat company, it certainly has protections against competition. Consider the U.S. broadcast network market, which is substantially similar to what it was 40 years ago.
Lastly, CTC Media is in good financial shape. The balance sheet shows $54 million in cash vs. slightly over $120 million in debt, about half of which is classified as short-term (due within a year). The company generates more than enough cash flow to cover interest and pay off the short-term debt. Historically CTC has not been a heavy user of debt.
So, compare all of these positive factors against a stock price that is incredibly cheap. Pick your metric... 34% earnings yield, 18% free cash yield, 4.5 price/earnings, 1.1 price/book, or 1.2 price/sales. Those are striking numbers when you consider that revenue is trending at 30% growth, at least, and operating margins are 42% and rising. To put the current valuation around $4 into perspective, to get this value in a discounted cash flow analysis you would have to assume that cash flows decline 15% a year over the next four years, and then never grow again. A more reasonable analysis, accounting for a massive slowdown, yields a fair value around $10. Assuming that Russia's market continues its past growth and CTC meets analyst targets of 20% growth, the stock could be closer to $20. That would be a five bagger from current levels. It's traded as high as $31 in the past year!
Now, there are major risks here that investors need to consider. Russia has serious economic and political risks. The country's GDP is 30% oil, and as everyone knows, crude prices have plummeted 60% since June. In a recession, advertising is a market that is hit hard, and advertising accounts for well over 95% of CTC's revenue. On the political side, Russia is a wild card. There is little history of private ownership or enterprise, and the state has a nasty habit of seizing businesses. Inflation is quite high at 15%, and the ruble is historically an unstable currency.
The Russian ad market also utilizes "middlemen," who sit between the advertiser and the network. CTC Media uses Video International, one of only two in Russia. Ads sold through Video International account for practically all of CTC's revenue. The problem is, Video International is consistently underperforming CTC's expectations, yet commissions contracts are difficult to negotiate, as the other "middleman" is NTV Media, a segment of competitor network NTV! So, CTC is in a difficult position here, and the deterioration of relations with Video International are a major risk to the company.
For MFI investors that are well diversified, risk tolerant, and can stomach daily 15%-20% moves, CTC Media could make an interesting position.
The CTC Media Research Report can be found here.
Disclosure: Steve owns no position in any stocks discussed in this article.