Federal Express (NYSE:FDX), the iconic transportation company credited for the birth of the overnight letter delivery business, reports its fiscal 2nd quarter, 2013, on Wednesday, December 19th before the market open.
Analyst consensus (per ThomsonReuters) is looking for $1.41 in earnings per share on $10.8 billion in revenues, for expected year-over-growth of -10% on earnings and +2% on revenues.
Fiscal Q2 '13 consensus estimates have been stable since FDX's last report in September.
The stock is up about 8% year-to-date, excluding the dividend.
In early October, 2012, FDX held their annual analyst love-in in Memphis which featured the long-anticipated detail on the Express restructuring. Express is 2/3rd's of FDX's total revenue, but just 30% of operating income today, so the segment remains a drag on FDX's financials and operations.
The issue through the years (as i see it) is dwindling volumes on Express packages. Here is a 12 year history of Express volume:
Period

US o/nite

box

US o/nite

envelope

Tot Us

Overnight

FY 2012
1146
586
1732
FY 2011
1184
627
1811
FY 2010
1157
614
1771
FY 2009
1127
627
1754
FY 2008
1151
677
1828
FY 2007
1174
706
1880
FY 2006
1203
713
1916
FY 2005
1184
680
1864
FY 2004
1179
667
1846
FY 2003
1176
679
1855
FY 2002
1170
699
1869
FY 2001
1264
757
2021
* average daily pkg vol (000's)
* Source: Federal Express StatBook (website)
While FedEx has been able to make up this shrinking volume issue in decent pricing and "yields" (profit per package), thanks to what is considered rational competition FDX and UPS (NYSE:UPS), the fact is Express continues to weigh on the overall business.
However, the October analyst meeting detailed the long-awaited restructuring of the segment, which is expected to generate a combined $1.7 billion profit improvement and cost savings initiative for the freight giant, or a little more than $3 per share in additional earnings. (Although this is my math, with the target date of completion scheduled for FY 2016, and this being the 2nd fiscal quarter of 2013, we can conclude that the initiative should generate an additional $1 per share per year in terms of the combination of additional profits and expense savings.)
On the brighter side, FDX's Ground and Freight segments are contributing nicely to combined operations as management deals with Express.
FDX Ground is 23% - 25% of total revenues but is now generating over 50% - 60% FDX's total operating income, as FDX Ground has steadily gained share from UPS since its launch in 2000. Ground has been a star so to speak, for the transportation giant, and is expected to have another decent holiday season.
One note of caution: Wal-Mart (NYSE:WMT) and Amazon have started to initiate same-day delivery (SDD), which should be a boon for the ground transport companies, but when I asked WMT who they were using, they responded "UPS." As SDD grows, I don't think FDX would want to ignore this potential new opportunity.
FDX Freight: just 12% - 13% of revenues, Freight was a drag on operating income until 2 quarters ago, when the division started contributing profitably to operations, and was 12% of operating income last quarter. In the last 16 quarters, per our spreadsheet, Freight has run at an operating loss in 9 of those quarters. Hopefully the turnaround that has started in Freight two quarters ago will stick. Our Freight data starts in late '08, but the last two quarters of operating income of $81 and $90 ml, has been the best two quarter's of profitably that we have modeled for the company.
Since late 2008, and over those 16 quarters, Freight has lost a cumulative $95 million in operating income.
FDX peaked at $120 per share in 2006, and hasn't been back to that level since. (See chart)
Trading at 6(x) cash-flow and 5(x) enterprise value (EV) to cash-flow we think FDX is one of the great bargains in the market within the industrial sector. However, the stock trades cheaply because of FDX's operating leverage, which is defined as the percentage change in operating income for a given change in revenues. FDX has an asset-intensive and high fixed-cost operation, and the stock really gets a kick when the economy is running at a high rate of GDP and output, which we are most certainly not at right now.
What would catalyze the stock (in our opinion)?
1.) Certainly a prolonged drop in jet fuel prices would help. A December 11th, 2012 report out of Deutschebank noted that jet fuel prices have fallen 13% since September 14th. Since 2003, fuel has ranged from 6% to 16% of FDX's revenues (internal spreadsheet) and last quarter was 11% or right in the middle of the 10 year range. The fuel surcharge helps mitigate this pressure, but given the recent sharp drop noted by Deutschebank, FDX actually benefits when the fuel surcharge is in place, and the price drops, since margins fatten as a result.
2.) An acceleration on GDP which result in an acceleration in volumes. Certainly Express would benefit, since that model works best when volumes are on the upswing. There is no mystery to higher leveraged businesses benefiting when running higher volumes over a fixed cost base.
3.) New initiatives like Amazon's and Wal-Mart's same-day delivery which opens new markets for the ground-based giants;
4.) Continued rational or measured competition: UPS and FDX have not had an all-out price war, which might be expected given the oligopolistic nature of the sector right now. DHL has supposedly exited the US market, although occasionally I still see their trucks. "Yields" or profit per package has been very much a bright point the last 10 years. FDX recently announced a series of rate increases for 2013, which I thought were in the 6% range.
If I had to pick one "preferred" choice among the above 4 factors, I think a prolonged acceleration in the US and global economy would benefit FDX quite nicely, even if crude oil prices spikes, since the fuel drag could be partially offset by the fuel surcharge. A sharp acceleration in GDP combined with a fall in crude would be a double-barreled catalyst for the iconic brand.
We are long the stock and would only add more closer to $80. We think FDX like much of the industrial sector will benefit from an improving China and Southeast Asia, but would benefit most from an improving US economy.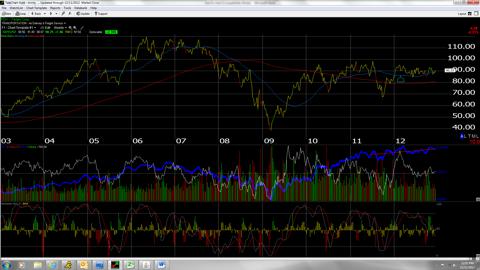 Disclosure: I am long FDX, WMT, AMZN. I wrote this article myself, and it expresses my own opinions. I am not receiving compensation for it (other than from Seeking Alpha). I have no business relationship with any company whose stock is mentioned in this article.