Starbucks is the world's largest coffee shop brand. Its operations encompass 55 countries. Starbucks employs over 149,000 people (as of Sept 15, 2012) and has a current market capitalization of $39.54 billion as of the close of trading on December 11, 2012.
The Starbucks name is so well-known that they don't even bother to put it on their own coffee cups anymore. The hey-day of Starbucks' rapid growth actually passed 8 years ago, although you wouldn't know it by watching the share price. Quarterly YoY Growth peaked out in Q3 of 2004 at a tremendous 33.4%, and has shown a trend of lower-highs since then, including into negative territory for the four quarters from Q4 2008 through Q3 2009, after rapid expansion that ended up eating into the company's margins. Even the largest coffee business on the planet is subject to the law of declining marginal utility.
Since then, McDonald's (NYSE:MCD) has entered the gourmet coffee market with it's McCafe brand, alongside all of the single-brew K-cup-style home systems like those marketed by Green Mountain Coffee Roasers (NASDAQ:GMCR), offering more choice to consumers as far as where they get their coffee, and all at a lower price point. Despite its huge worldwide presence and touted quality, Starbucks didn't even make it onto the 2012 Harris Poll EquiTrend Rankings of coffee brands.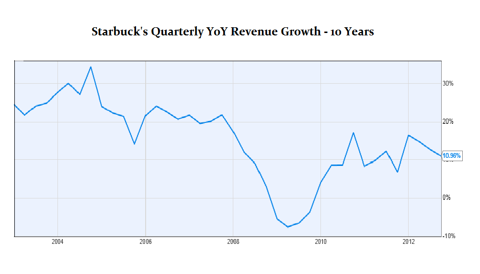 Since SBUX bottomed in 2008 at $7.06, we have witnessed a tremendous disconnect between fundamental performance and share price. The addition of a dividend has been enough to keep investors sticking it out, but Starbucks has run too far, too fast - so much so that the gap between its real value and its share price is showing a wide disconnect that has just started to narrow, similar to the disconnect in 2007.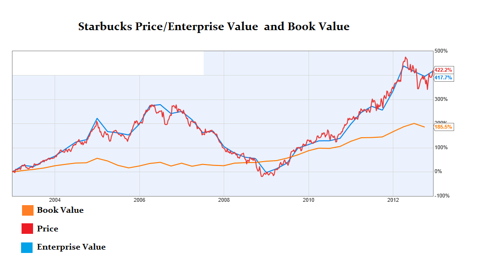 Tangible equity is dismal when compared to market cap. Net equity for shareholders sits at a meager $5.11 billion as of Q3 2012, against a market cap of just under $40 billion, meaning shareholders are paying 700% over tangible net value for a P/E of 29.69 (far above the average P/E of 17.9 in the Nasdaq 100) and a dividend yield of 1.60%, less than the current 1.66% 10-year treasury yield. Essentially, you have to believe the growth story, and believe it all the way (and in spite of the lower YoY revenue increases from 2004 onward), in order to justify a long position on SBUX at these price levels.
Starbucks has been on a tear for almost four years, increasing just over 875% off of its $7.06 low in 2008 to its peak in April 2012 at $62.00. Management, after closing 977 stores worldwide, and eliminating 18,400 jobs through 2008 and early 2009, has just announced major expansion plans going forward, including 3,000 new stores in the Americas, and thousands more total store renovations. At least half of this expansion will take place within the US.
All of this despite disposable consumer income that has been essentially flat since 2007 on an "inflation-adjusted" basis (using grossly under-reported inflation figures). Combining falling income with the temporary increases in consumer credit, which has become the main driver behind discretionary spending (outpacing US GDP growth - meaning it took more than $1.00 of credit to generate $1.00 in GDP increase), leads to a fairly harsh conclusion. Fundamentally speaking, Starbucks is a business whose main revenue source is customers using discretionary income to take advantage of the division of labor and purchase a cup of coffee for over 12 times the cost of whole bean home brewed coffee. A rational investor can hardly call the future "bright" for their business model, especially within the macroeconomic context of where over 50% of its expansion is going to take place. This becomes a stark reality for the retail investor when one looks at Starbucks' value.
On a traditional valuation level, Starbucks is very expensive. When compared to its other component stocks in the Nasdaq 100, it is overpriced by approximately 35-40% based on earnings and price to book value.
As such, I believe that Starbucks is a primary mid-term short-sell candidate. Current short ratio is at 0.90, meaning that less than one day's average volume would be enough to close out every short position on Starbucks stock. Virtually nobody is on the short side right now.
Optimism toward Starbucks is overblown within the sell-side industry as well. The lowest share price target among 25 analysts is $49.00/share, a mere 9% discount to its current price. The highest share price target is $65.00 - $3.00 higher than its high for the year, an increase of 18% from current levels, and a price that is over 9x tangible net equity. This would give investors a P/E of 35, and a dividend yield of 1.29% at its most recent $0.21 quarterly dividend, which was increased from 17 cents per share last quarter.
Technical Analysis
Starbucks stock has already taken a breather off of its highs for the year, shaving just under $9.00 off of its $62.00 high as of the close on December 11, 2012.
On a long term, monthly basis, Starbucks is just coming off of a heavily overbought state (monthly reading of 88 on Wilder's 12-month RSI at this year's high) and is exhibiting a classical internal divergence in long term Money Flow - after hitting heavy overbought on an earlier move, price makes a new high while internal technicals bleed off. This usually signals an impending mid-term trend change, just like we saw off the 2007 highs.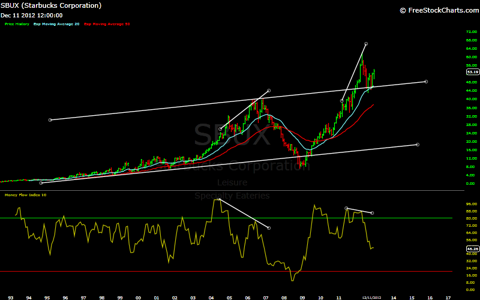 That large spread of roughly $9.00, or approximate 17% of the share price, between the 20month and 50 month Moving Averages will contract on a mid-term basis and usher in a correction and internal technical reset, just as previous instances of MA spread did in SBUX price history. Moving average spread was up to 19% between the 20 and 50 day MA during the 2007 topping process, which led to a huge decline of 82.4% in the 2008 bear market, and the MA spread of 21% in the 1999 top led to a decline of 52% in the share price.
A look at the weekly charts, below, shows not only a strong history of internal divergence predicting future price movements, but a similar price pattern to the 2007 top as well as similar weekly moving average behavior.
In 2007, a similar-patterned step down occurred that is a very close image of the most recent pullback (both circled), contracting the moving averages and making an initial attempt at a bearish cross - where shorter term moving averages cross under longer term moving averages, signaling the direction for near term momentum. The initial move failed and was followed by a final high that barely crested the previous high, then rolled over into a full trend reversal.
Just as SBUX rode its 20 day moving average beautifully in its bull market phases before the 2008 crash, so it has done after breaking back over those moving averages and showing a bullish cross price signal in mid 2009. The recent price action is the first time Starbucks has managed to close beneath its 50-day MA (Week of August 3, 2012) since the bullish cross in early August of 2009 - a 36 month technical bull trend in SBUX stock.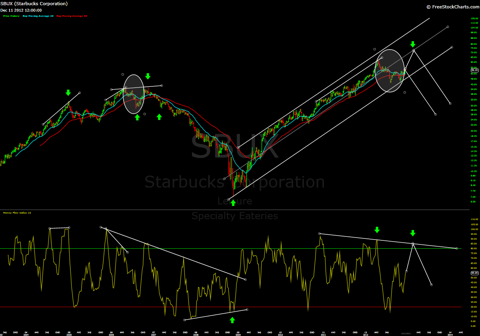 If the current market action is a similar fractal pattern in investor psychology (exhibited by price patterns) as the one that occurred in 2007, we can expect SBUX to eke out a slight new high some time in early 2013. However, a break to the downside of the lower channel line on strong volume would indicate a larger corrective move to the downside is already underway, and provide a very lucrative, high-probability short opportunity.
A new high off of this current move down should exhibit very similar behavior in, terms of price movement, to the highlighted move from 2007, (barely a new all-time high, followed by a sharp reversal) and collapsing internal measurements of technical strength. If this happens, expect significant downside is ahead.
If you have any questions, please post them in the comments section, or contact me over Seeking Alpha's message interface.
Full disclosure: I do not have any open positions in SBUX at this time. I will open up a short position on a break of the lower channel line, or upon completion of the alternate bull market move up to the mid-channel line and a reversal.
Disclosure: I have no positions in any stocks mentioned, but may initiate a short position in SBUX over the next 72 hours. I wrote this article myself, and it expresses my own opinions. I am not receiving compensation for it (other than from Seeking Alpha). I have no business relationship with any company whose stock is mentioned in this article.