If this is a mid-month Friday, it must be time for the preliminary Reuters/University of Michigan U.S. Consumer Sentiment Index. And, sure enough, it is. This morning's report showed a blip up in consumer confidence, fueled by expectations of lower inflation and even downright deflation.
More than a third of consumers surveyed—37%—expect flat or negative inflation in the coming year. Overall, the consensus inflation expectation dropped a full percentage point, to 2.9%, from the level reported in last month's survey.
And here's where the economic tires hit the road. Survey respondents, of course, are focused on that manifestation of inflation most important to them: price changes reflected in the Consumer Price Index (CPI).
We won't get the new batch of that government-supplied inflation indicator until next week. The most recent CPI reading, at 4.9%, seemingly tipped into disinflation from the previous month's 5.4% rate. Inflation wasn't killed off though. That 4.9% still represents a ratcheting up of prices from the 4% CPI registered six months before.
We keep track of inflation at Hard Assets Investor with a couple of metrics. On the morning the CPI is released, we publish our Breakfast Index, a price indicator based upon an average of eight commodities found on the typical breakfast table. Trends in commodity futures prices ripple through the wholesale market, measured by the Producer Price Index (PPI), eventually surfacing in the shelf prices of goods measured by CPI. Our Breakfast Index provides clues to potential trends in consumer prices.
At our last look, in October ("Putting The Squeeze On Inflation At Breakfast"), breakfast food futures prices had taken a 14% tumble over the preceding quarter: 
Breakfast Index (September 2008)
 

Commodity

 

Contract Month

 

30-Jun-08 Price

 

30-Sep-08 Price

3-Month Change (%)

Annualized Change (%)

Butter, AA

October '08

157.25 ¢/lb

168.00 ¢/lb

6.8

30.0

Pork Bellies (Bacon)

February '09

97.250 ¢/lb

93.750 ¢/lb

-3.6

-13.5

Sugar #11

March '09

14.62 ¢/lb

13.66 ¢/lb

-6.6

-23.6

Coffee

December '08

157.25 ¢/lb

130.45 ¢/lb

-16.8

-51.8

Milk, Class III

October '08

$20.02/cwt

$16.56/cwt

-17.5

-53.5

Cocoa

December '08

$3,162/tonne

$2,558/tonne

-19.0

-56.8

Wheat

December '08

$8.8175/bu

$6.8000/bu

-22.9

-64.3

Orange Juice

November '08

125.75 ¢/lb

89.20 ¢/lb

-29.1

-74.4

Average

 
 
 

-13.6

-38.5
We also found the backup in wholesale level inflation moderated in fall. The spread between the farm price and finished food price PPI subsets ratcheted down more than 5% since July. 
Producer Prices: Farm Products Vs. Finished Food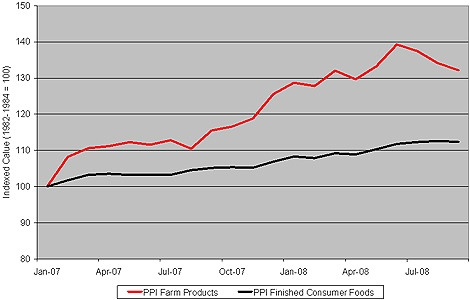 A broader and more immediate measure of purchasing power is taken by our Real-Time Monetary Inflation Indicator. Using gold as a monetary constant, we daily gauge the dollar's strength in the foreign exchange market to impute an annual inflation rate. Looking at inflation as a monetary phenomenon produces a rate wildly different from that indicated by CPI (see "Computing Inflation In Real Time" for background). Using this metric, we can see that the degradation of dollar purchasing power actually reversed in spring and has now declined to an annual rate of 7.7%. 
Monetary Inflation Rate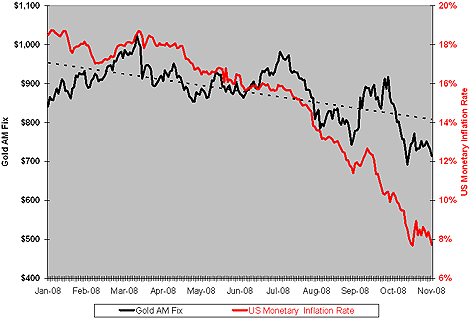 So far, there appears no base-building in the monetary inflation rate, but yesterday's 7.7% rate tested the level reached back on October 29.
The next few days leading into Wednesday's CPI release ought to be real interesting.