Companies under our radar screen in the data center and CDN sector closed mixed in November, after experiencing, as a group, strong declines in October, when all stocks but Telecity Group were in the red.
Post-earnings performance was also mixed, as most data center related stocks closed negatively after announcing Q3 numbers, and four companies only showed some sort of moderate upside.
Q3 2012 post-earnings performance
Here is a quick look at how each individual company performed after announcing Q3 earnings: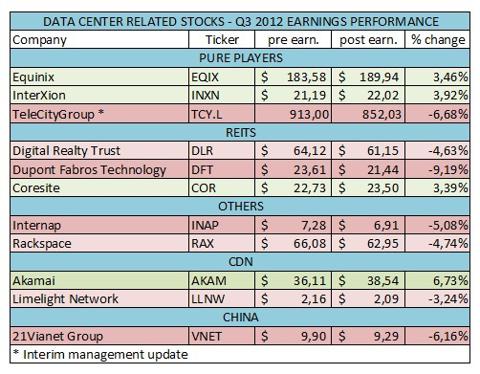 It is interesting to note that Equinix (NASDAQ:EQIX) has performed positively after earnings since Q1 2011, and that Akamai (NASDAQ:AKAM) remains the most volatile stock in the sector. Its recent 7% increase after earnings is actually the only time, since Q1 2011, that the company hasn't experienced a double-digit movement after announcing quarterly results.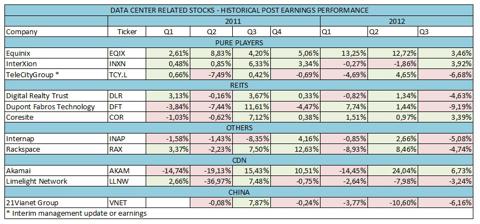 November 2012 and YTD performance
After suffering double-digit decreases in October, Digital Realty (NYSE:DLR), Equinix, Dupont Fabros (NYSE:DFT) and CoreSite (NYSE:COR) rebounded nicely in November. CoreSite, in particular, was the best performer in our small group of related companies, with an almost 13% increase. Internap (NASDAQ:INAP) and 21Vianet (NASDAQ:VNET) were among the worst performers, losing more than 10% in this month alone.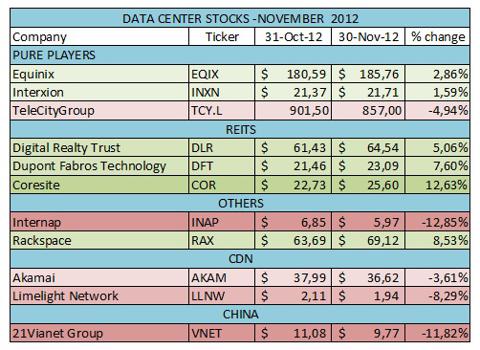 Year-to-date, several data center related companies show very strong performances, with network-neutral players delivering the most convincing gains as a group: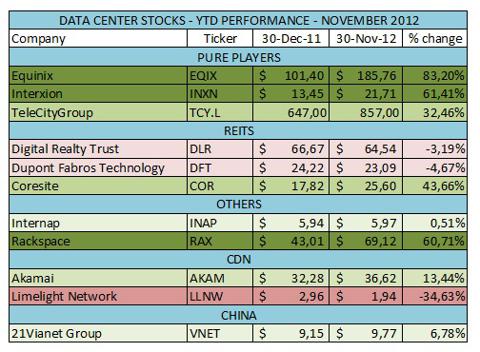 Turning our attention to REITs, it looks like wholesalers like Digital Realty and Dupont Fabros are underperforming because of recent concerns about their ability to sustain stable pricing for new projects and on renewals. When evaluating their performances it should be noted, however, that these stocks exited 2011 with good gains (+29.4% and +13.9%, respectively), and also distributed dividends to investors, unlike other companies under our radar screen.
Analysts like Jonathan Schildkraut, from Evercore, see these worries concerning pricing as road bumps that will be removed once competition from new entrants in the wholesale sector is reduced, as he explains in relation to Digital Realty:
We believe that with ample development capacity available in key markets, and DLR's relatively short lead time from construction to launch, the company is well positioned to benefit from an uptick in wholesale activity once excess capacity is fully absorbed, and the secular trend resumes its longer-term trajectory.
Conclusion
Data center related stocks experienced relative weakness in the last few months, after a very strong performance in the first half of the year. We believe the sector remains among the most interesting in technology, as secular trends like growing Internet consumption and cloud computing put most of these stocks at the intersection of strong customer demand and Wall Street's attention.
Disclosure: I am long EQIX. I wrote this article myself, and it expresses my own opinions. I am not receiving compensation for it (other than from Seeking Alpha). I have no business relationship with any company whose stock is mentioned in this article.