As it stands now, S&P 500 earnings (bottoms up using Bloomberg estimates) for the fourth quarter are expected to grow by 3.7% versus the fourth quarter of 2011. As shown, the estimate has been dropping on a weekly basis since the start of the fourth quarter. On October 5th, Q4 earnings for the S&P 500 were expected to grow 10.2%. Since then, the estimate has dropped 5.5 percentage points.
(click images to enlarge)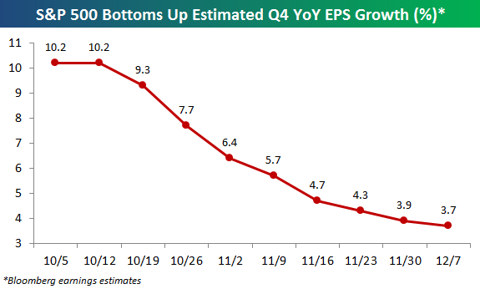 Six sectors are expected to see earnings growth in the fourth quarter, while four sectors are actually expected to see earnings decline. If it weren't for the Financial sector, which is the second largest sector of the market behind Technology, expected earnings growth for the entire S&P 500 would be close to flat. Earnings for the Financial sector are currently expected to grow 23.1% in Q4.
Industrials and Technology are the two sectors expected to see earnings decline the most in Q4 versus Q4 2011.