Yesterday evening, I came home to read an article on Seeking Alpha stating Waste Management (NYSE:WM), an owner and operator of waste landfills in the U.S., would likely have to cut its dividend. As a holder of Waste Management for both myself and my parents, I became really worried. And so, I'm on here to give it a careful look myself.
The article's author, Gregory Vousvounis, cited some statistics that, on the surface level, do look pretty grim:
(click images to enlarge)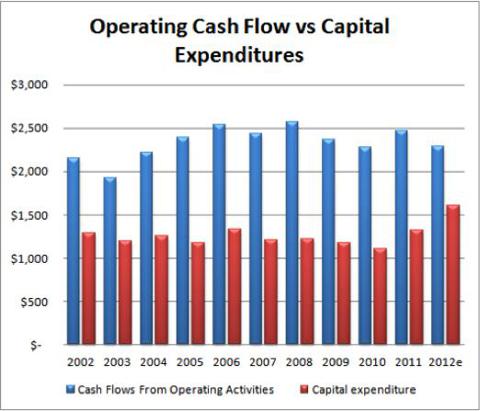 Data By Morningstar (original author did not provide URL link, but I am assuming it is to above premium report by Barbara Noverini)
To paraphrase the author, he correctly points out that high Capital Expenditures (capex) is normal, as this is a very capital intensive business. He is also correct that capex has risen in the last two years, while Free Cash Flow (FCF) has declined.
Looking below, we can see the dividend now looks unsustainable due to the decline in FCF. Pretty scary stuff.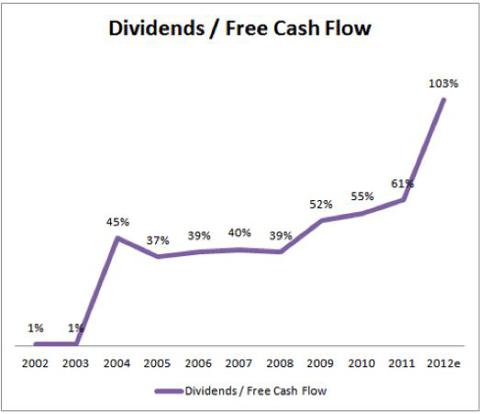 Data By Morningstar
This graph puts it in a way that illustrates a subsequent drop in Free Cash Flow: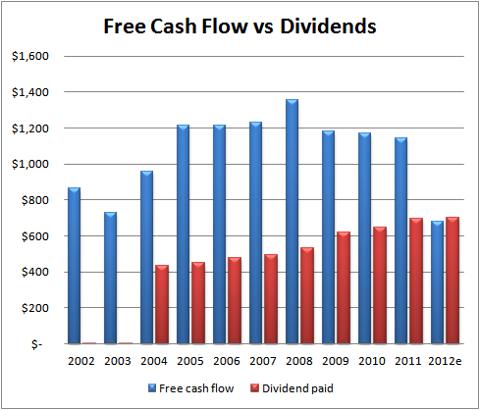 Data By Morningstar, same URL as above
These charts, taken without context, look like any dividend investor's worst nightmare. However, when taken in context, we will see that the situation is not as dire as it looks. I have three points to make:
1. Free Cash Flow Decline Primarily A Result Of Recycling and Natural Gas Commodity Price Decrease
As you can see from the above chart, year-over-year projected FCF has declined by about $500 million. That is consistent with management's comments in its most recent shareholder meeting. As it turns out, $300 million, or roughly 60% of the decline, is from commodity prices and tax increases, things which are largely out of their control:
Turning to cash flow. (...)$300 million in headwinds from commodity pricing and cash taxes and $200 million in additional capital.
James Fish, Senior Vice President of Eastern Group Operations, Waste Management 3rd Quarter 2012 Earnings Conference Call
Maybe WM's management should have seen commodity price drops coming and should have hedged better. I, for one, won't fault a landfill operator for not catching commodity price volatility. Interestingly, revenue would have increased 3.3% year-over-year had commodity prices been at their third quarter 2011 levels. Control what you can control.
2. Capex Increases Driven By Conversion Of Fleet To Natural Gas
On Gregory's article in the comments section, I mentioned how important capex guidance for 2013 would be for the dividend. In the Q3 call, management said they would not give specific guidance for that until Q4. From CEO David Steiner's comments, however, we can expect capex to remain the same. This initially worried me:
I would not expect us to see a dramatic change in CapEx next year. We are committed to changing over our fleet to CNG, and so we won't pull down that CapEx dramatically next year.
David Steiner, Chief Executive Officer, Waste Management 3Q 2012 Earnings Call
However, Steiner is willing to be flexible if the need arises:
But obviously, if environmental conditions change such that the earnings power isn't there because of changes in the economy, we certainly have the ability to pull that down a good $200 million to $300 million without affecting our business operations at all.
David Steiner, CEO, Waste Management 3Q 2012 Earnings Call
Assuming management pulled capex down $200 million with a flat FCF of $625 million (the Morningstar number is VERY conservative), we would have a new FCF of $825 million with a dividend of $637 million, a coverage ratio of 77%, giving plenty of room for even further commodity price drops. For reasons I will soon explain, I don't believe it will have to come to even this. Still, I interpret this as a possible last resort to save the dividend, should push come to shove.
Also, notice that the capex increase isn't a generic one. Almost all of it went to convert its fleet to natural gas fuel. Though the cost benefit from this may be at least two years into the future, I believe the cost savings from this will be substantial, and I am on board with Steiner's vision of a CNG fleet. It's worth the capex:
The increase in capital spending was primarily for fleet capital, of which 90% was for CNG (natural gas) vehicles.
James Fish, Senior Vice President of Eastern Group Operations, WM 2012 Q3 Earnings Call
3. Cost Savings Will Drive Cash Flow Higher in 2013
The reason I don't think Waste Management will have to reduce its capex is because of the cost savings that are being forecast by management. Price increases will add $70 million to next year's FCF, and cost savings through reorganization and acquisition synergies will add another $130 million. As CEO Steiner mentioned, this is completely independent of commodities:
Obviously, the first is our cost programs and pricing, and that should drive an incremental -- a minimum of $200 million straight to the bottom line. And so you'll see cash generation go up nicely. That's assuming that we get no benefit from commodities.
David Steiner, CEO, Waste Management 3Q 2012 Earnings Call
While Steiner didn't give exact guidance for 2013, he did estimate that FCF will be back over $1 billion:
But, yes. I mean, if you take the $800 million to $850 million that we're talking about this year, and you add that incremental $200 million that I'm talking about from cost and yield, it absolutely should be over $1 billion.
You may notice, also, that management's 2012 FCF estimates of $800 million are much higher than Morningstar's $625 million. In any case, if FCF is over $1 billion next year, that would put us at a coverage ratio of about 63.7%, assuming no dividend increase. This is right back to within the metrics of 2011.
Using Morningstar's numbers, ($625 million FCF + 200 in cost savings), we have a coverage ratio of 77%. I'd be OK with this number, too. Chances are 2013's FCF/dividend ratio will be somewhere between these two numbers.
It's Safe For Now
Could commodity prices continue dropping? Absolutely, although many believe there to be more upside than down at this point. Could the pricing increases for 2013 depress volume, and not add anything to the bottom line? It's possible. That would bring the coverage ratio into the high 80s. That's too close for comfort, but still safe. There are a number of moving targets in 2013 that could affect Free Cash Flow and sustainability of the dividend.
At the end, the author stated that only some external event, such as a housing market recovery, could reverse the "ugly situation" Waste Management is currently in. My opinion is different.
I don't believe that we need an external event to save this dividend. From my perch, Waste Management seems in control of its own destiny. The safety of next year's dividend lies more in management's execution of cost savings and pricing increases than anything else. Since they've executed well up to this point, I see no reason to doubt management's claims that it will add to the bottom line next year.
Disclosure: I am long WM. I wrote this article myself, and it expresses my own opinions. I am not receiving compensation for it (other than from Seeking Alpha). I have no business relationship with any company whose stock is mentioned in this article.