Trading biophama stocks before a catalyst event, if done correctly, can be a very profitable proposition. Some traders and investors who enjoy bringing more risk into play often times will hold through the actual catalyst event. While this does bring more risk into play, the reward from engaging in this can be a massive one. Today, I list a few small-cap companies and their respective catalyst events for traders to consider. I have included the stock charts with commentary for them to add further support as basis for these long side trades.
Ziopharm Oncology (NASDAQ:ZIOP) is a cancer biotech with pivotal P3 results expected during Q1 2013 for lead pipeline product, ZYMAFOS, in addition to several other compounds in early-mid stages of clinical development and another ongoing P3 trial for ZYMAFOS that began this past summer.
Yesterday,a Jeffries analyst lowered their price target for the company's stock to $4 from $7, cutting the stock from a buy to a hold. The Jefferies analysts wrote in Wednesday's note:
Downgrading to Hold from Buy on what we view as low likelihood of clinical & regulatory success for its lead drug palifosfamide in metastatic STS and SCLC. Based on our experts discussions, we are lowering our probability-adjusted success for palifosfamide in mSTS to 60% (vs. 85% previously) and in 1st-line SCLC to 40% (vs. 65% previously).
I think different opinions in the market are a good things for investors and traders to consider, but I also think there are some pretty poor opinions out there as well. This is why it is imperative for traders and investors to do their own due diligence, weigh each and every opinion equally, and make an informed decision.
With shares down sharply yesterday on a Jeffries downgrade from buy to hold, I believe a rebound is highly likely going into key Phase III results next quarter -- similar to the trade and recent move up in the share price of Oncothyreon (ONTY).
The company appears to have adequate cash into the 2nd half of 2013, so I do not believe dilution is a near-term risk. With the stock trading near 52-week lows, any dilution is much more likely to occur in 2013 at higher share prices.
Yesterday's knee-jerk selling might provide an excellent entry point for this potential catalyst trade.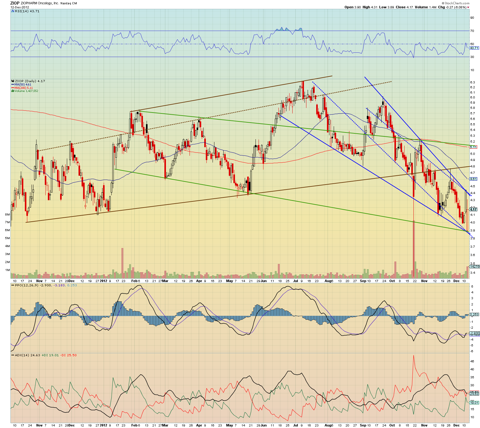 Because of some recent negative coverage, the stock price has been hit hard, but at its current price point, there are 3 major trendlines of support which are all intersecting at the same point. The blue down channel is too steep and should not sustain itself. I anticipate a snap back to the brown channel to $4.80, and perhaps even a test of the upper green channel resistance and 200 ma at $5.11.
Osiris Therapeutics (NASDAQ:OSIR)
Osiris expects to have data in hand (final data collection date for primary outcome measure) by the end of this year for the Phase III evaluation of Prochymal (remestemcel-L), which is an adult human stem cells treatment for resistant moderate-to-severe Crohn's Disease.
Also, the company expects data in Q1 of next year for Prochymal using adult mesenchymal stem cell therapy in patients experiencing their first heart attack. The double-blind, placebo-controlled trial has an enrollment of 220 patients from 33 leading clinical centers in the United States and Canada.
Back in July of this year, Osiris announced interim one-year results from its clinical trial evaluating Prochymal for the treatment of patients experiencing first-time acute myocardial infarction:
Cardiac MRI assessments were conducted for six months following infarct to evaluate cardiac remodeling. Patients receiving Prochymal had significantly less cardiac hypertrophy, as measured by cardiac MRI, compared to patients receiving placebo. Patients treated with Prochymal also experienced significantly less stress-induced ventricular arrhythmia. Cardiac hypertrophy and ventricular arrhythmia are indicators of pathological remodeling following heart injury and provide insight into the mechanism by which mesenchymal stem cells attenuate heart injury following a myocardial infarction. The mechanistic data is complemented by clinical data showing treatment with Prochymal resulted in a statistically significant reduction in heart failure. The trial also demonstrated that treatment with Prochymal was safe. There were no infusional toxicities observed in patients receiving Prochymal. Serious adverse events occurred with equal frequency in both treatment groups at 31.8%. To date, there have been 5 deaths in the trial, 2 in the Prochymal group and 3 in the placebo group.
At the time of the above announcement, the stock surged, hitting as high as $12.08 on July 10, 2012.
My catalyst trade basis for OSIR is based on prior announcements of positive data having a massive effect on the stock price. Stem cell technology might be the wave of the future in the biotech sector. Because of this possibility, companies like OSIR have seen large moves upwards in their stock prices.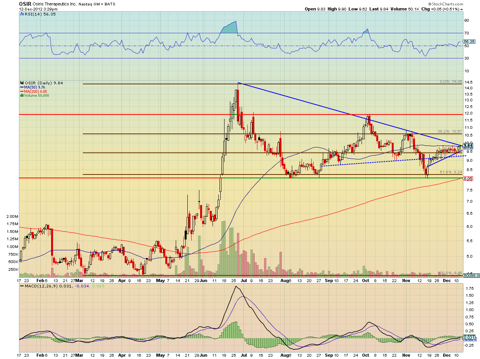 The MACD is trending upwards, and the chart indicates a short and mid term wedge formation. This is a bull signal for me as the chart indicates a potential move towards $10.75 - $11 -- in my opinion.
Ariad Pharma (NASDAQ:ARIA)
The positive news keeps flowing in on Ariad's lead clincial drug Ponatinib, and investigational BCR-ABL inhibitor. On Monday, Ariad announced the following updated molecular response data from its Phase I and pivotal Phase II trials of Ponatinib:
The data showed that 51% of chronic-phase CML patients in the Phase 1 trial achieved a major molecular response (MMR) with a median follow-up of 30 months, and 34% of chronic-phase patients achieved MMR in the PACE trial with a median follow-up of 15 months.
On Tuesday, The Atlanta Business Chronicle reported very positive news for Ariad:
An ongoing Phase 2 pivotal trial of a potential drug to treat certain types of leukemia which is being developed by Ariad Pharmaceuticals Inc. found a majority of the 444 patients enrolled are cancer-free after a year.

The Cambridge, Mass., drug company submitted a new drug application for Ponatinib to the U.S. Food and Drug Administration in July and has been granted priority review. A decision is expected by the end of March. Liza Heapes, spokeswoman for the company, told Mass High Tech that the company continues to follow the patients enrolled in the trial which formed the basis for the NDA, and presented 12-month results at the 54th Annual Meeting of the American Society of Hematology in Atlanta on Monday.

Ponatinib is an investigational BCR-ABL inhibitor which targets patients who have already received extensive treatment who have resistant or refractory chronic myeloid leukemia (CML) or Philadelphia chromosome-positive acute lymphoblastic leukemia (Ph+ ALL). Heapes said that chronic myeloid leukemia is responsible for approximately 5,000 of the new cases of leukemia reported in the U.S. every year - about 10 percent of the 47,000 men and women who will have been diagnosed with leukemia in 2012, according to the National Cancer Institute.
Ariad's stock price has soared over the last three years from about $0.45 to over $25 on mainly strong speculation surrounding Ponatinib's future success. Many feel Ponatinib will end up being a front line treatment in its class, while others feel the drug will be a 2nd or 3rd line treatment. Regardless, because the FDA approval date for Ponatinib is drawing closer, I expect both investors and traders to be placing large bets on FDA approval -- I would be shocked if Ponatinib fails to gain approval here.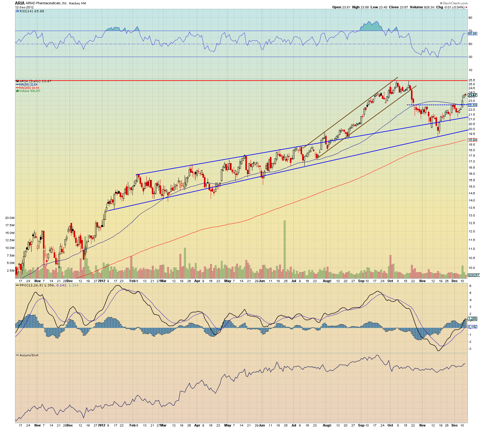 Ariad has been in an extended long term up trend for the last 3 years. Just when it seems the stock might have a strong sell-off, the price action reverses, normally rebounding sharply. The last dip in the price was the largest one it has seen in awhile. It's certainly possible we will see smaller dips as the Ponatinib approval date approaches, but I expect a catalyst trade price reaching at least $30 before the FDA approval date, provided the overall market does not crash.
Amicus Therapeutics (FOLD)
I've written a lot about Amicus lately, and many including myself, still feel rather confident that the 6 month Phase III data for its clinical drug designed to treat Fabry disease will meet its endpoints -- a positive result.
This is a potentially big catalyst for traders to make out very well on, provided the data turns out to be in fact, positive. The data is expected to be announced before the end of this year.
GlaxoSmithKline (GSK) owns about 20% of Amicus stock, so I believe this adds to the catalyst trade value here, as there is a good chance GSK would acquire the company. GSK's modus operandi with these small companies has been to engage in royalty partnership deals, buy roughly 20% of the company's stock support late stage clinical testing, then if successful, lever these companies at a discounted rate.
GSK's average price for its 20% stake in Amicus is around $5 a share. With the Amicus current market cap at $272.46M, and based on GSK's prior acquisition price-paid history of 100% offers for the target acquisition company's last closing price, it's my opinion the rest of the shares would go for around $12 - $14. Furthermore, on positive data, I expect a temporary price gap to around $10 a share, then the stock price settling in somewhere around $7.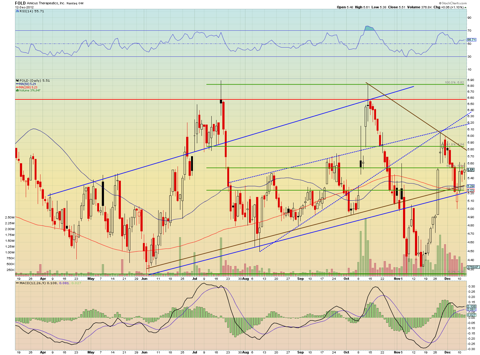 The chart seems to indicate a reversal to the upside is currently underway, and with the company already being undervalued, it's a good bet in my opinion that we will see $6 very soon. I noticed in the current 3rd wave trend of trading that the lows have been higher, and the highs have been lower, and I have drawn the lines in the chart above to represent this. The 6 month 011 Phase III data could be released any time before the end of this year, so traders should take note of this.
Disclosure: I am long OSIR. I wrote this article myself, and it expresses my own opinions. I am not receiving compensation for it. I have no business relationship with any company whose stock is mentioned in this article.
Additional disclosure: Disclaimer: This article is intended for informational and entertainment use only, and should not be construed as professional investment advice. They are my opinions only. Trading stocks is risky -- always be sure to know and understand your risk tolerance. You can incur substantial financial losses in any trade or investment. Always do your own due diligence before buying and selling any stock, and/or consult with a licensed financial adviser.