Contract drillers look to be in the midst a kind of golden age of productivity, driven in part by customer-supplier partnerships that have fundamentally altered the industry's approach to drilling new wells.
This is especially the case with onshore shale oil and gas plays, as terms such as "shale factory" and "shale manufacturing" are progressively popping up to describe the increasingly efficient and structured process by which the industry drills for and produces these plays.
By whatever name, the process clearly revolves around continuous improvement. And it is made possible by a brutally honest measurement of performance.
A Longer-term Perspective
The changing process has also allowed many operators to think more in terms of development across, rather than subject to, the commodity cycle.
This kind of longer-term perspective tends to be embraced particularly by larger customers, some of whom have entered the market relatively recently. And it's clearly making the industry more productive.
It's also helping to attract and keep more high-quality professionals, who in the past have been turned off by the segment's hire-and-fire, boom-and-bust reputation. Thus, it's no surprise that EnergyPoint's ratings show onshore contract drillers' abilities to apply lessons learned and continually improves to be on the rise.
Chasing H&P
The leader in the onshore drilling segment via EnergyPoint's independent customer satisfaction surveys continues to be Helmerich & Payne (NYSE:HP). Several years ago, the company set out to change the value proposition for onshore drilling. The company now enjoys one of the strongest reputations in the oilfield within any segment for its ability to help customers reduce the time it takes to drill their wells.
But H&P's completion is not standing still. As we've written about previously, Nabors Industries (NYSE:NBR) is showing signs of turning itself around as a new CEO refocuses the company on a smaller set of core businesses. Unit Drilling (NYSE:UNT) also seems to have found a rhythm that's working for it and its customers.
We also note that Precision Drilling (NYSE:PDS) recently announced that it intends to retire dozens of older generation rigs, while upgrading others. This is a good move, as it will improve the quality and consistency of its fleet at a time when customers are looking for higher and more predictable performance from suppliers.
Finally, we continue to believe that North American land drillers as a group will be considered must-haves if and when international shale development begins take hold. It may take a while, but the size of the prize is large enough to justify conversation and consideration.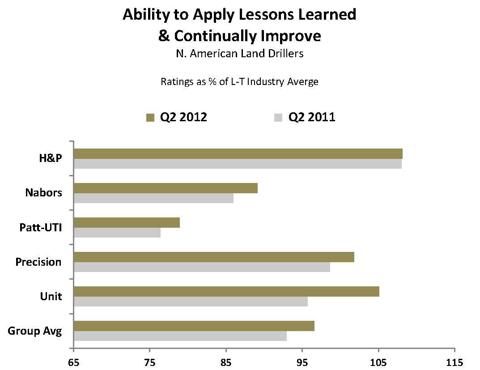 The Bountiful Offshore
Like the onshore segment, offshore drillers and their customers have a lot to be excited about concerning the direction of their business these days.
With healthy crude prices showing nice resiliency, seafaring drillers continue to rack up eye-popping day rates from relatively satisfied customers. To be sure, operators don't pay $600,000+ a day over multiple years for services that they believe are going to fall short.
As we have written about before, offshore drilling contractors have led the industry in providing value to customers. However, the segment's success with customers to date does not let the contractors off the hook in terms of continuing to show improvement. Customers contract with drillers for multiple years for many reasons, one of which is the expectation that drillers will apply the lessons learned and continue to improve their performance over the life of the contact.
The good news is that, taken as a group, offshore drillers continue to earn high marks from customers for their ability to learn and improve over time. Noble Drilling (NYSE:NE), Ensco (NYSE:ESV), Rowan Drilling (NYSE:RDC) and Diamond Offshore (NYSE:DO) all currently stand out with customers in this area.
We hasten to add that contractors' improvement has as much to do with understanding and meeting customer needs and expectations via ongoing interactions between organizations as it does in the actual drilling of wells.
If the Macondo incident has taught the industry anything, customers and suppliers need to be on the same page. In a lesson writ large, fit has never been more important.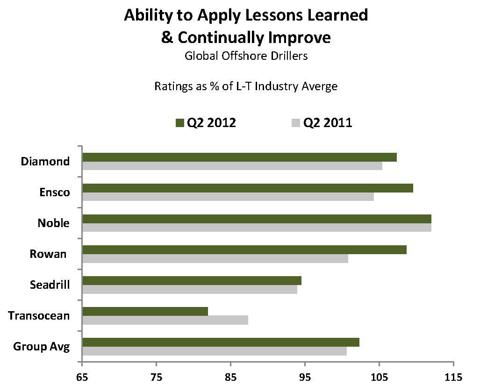 Is A Shift Toward Standardization Next?
As in the onshore market, most offshore contractors have used the stability and visibility provided by longer-term contracts to upgrade their equipment, training and processes. It's been an important first step. Both contractors and customers are also going to have to come to a decision as to the value of standardization of rigs and rig designs, if not across the segment, then at least within individual fleets. Among offshore drillers, Ensco has embraced the notion of standardization most enthusiastically. It is clearly the leader in pushing the concept with customers.
If we are right about its operational and strategic value, we would expect others to begin to give if due consideration to the approach as well. It's certainly consistent with the tenets of total quality management; thus, it may very well be the next logical step in the evolution of the offshore drilling market.
Disclosure: I have no positions in any stocks mentioned, and no plans to initiate any positions within the next 72 hours.