With respect to oil and gas drillers, much of the talk recently has focused on Bakken operators. While this is arguably the most popular region of oil and gas development, there are other opportunities in other geographies outside of the Bakken that merit investment attention. One of these areas is the Permian Basin. There are numerous operators in this region, including but not limited to, Occidental Petroleum (NYSE:OXY), Apache Corporation (NYSE:APA), Devon Energy (NYSE:DVN), Pioneer Natural Resources (NYSE:PXD), and EOG Resources (NYSE:EOG), but the companies on our watchlist include Concho Resources, Inc. (NYSE:CXO), Cimarex Energy Co. (NYSE:XEC) and FieldPoint Petroleum (NYSEMKT:FPP).
Permian Basin-with a focused look on the Delaware Bone Spring
The Permian Basin is one of the oldest and most widely recognized oil and gas producing regions in the U.S. The Permian Basin covers approximately 86,000 square miles and encompasses 52 counties in New Mexico and Texas. From East to West, the play spans 250 miles and 300 miles from North to South. It is often oversimplified and mischaracterized as a singular play with homogeneous geology and stratigraphy. Unlike other "hot" oil plays such as the Bakken, the Permian contains greater geologic complexity, consisting of several unique sub-basins, each with its own unique characteristics.
Drilling in the Permian began in the 1920s. Over this time period, there have been many peaks and troughs with respect to production levels. Recently, several factors, including elevated oil prices and new technology, have led to a flurry of drilling activity in the Permian. Exploration and Production companies are now drilling deeper to add new zones, putting larger fracs, downspacing and now even drilling horizontally, which is drastically different from the shallow vertical drilling that was done in the past.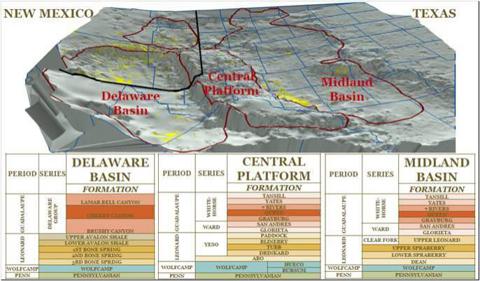 Production has jumped 49% to 1.29 million barrels a day since 2007, according to the U.S. Energy Information Administration. It may reach 2.3 million barrels a day by 2022, according to Bentek Energy LLC, an Evergreen, Colorado-based energy research firm.
The number of rigs operating in the Permian the week of June 29, 2012 reached 504 (compared to only 184 in the Bakken), the highest this year and nearly doubled the total from the same period in 2010.
Delaware Basin
The Delaware Basin is the western portion of the Permian Basin, separated from the more developed Midland Basin by the Central Basin Platform. The Delaware constitutes a roughly 10,000 square miles or 6.4 million acres extending from the southern New Mexico counties of Eddy, Lea and Chaves Counties southward into the western Texas counties of Culberson, Loving, Reeves, Ward and Jeff Davis.
The Delaware Basin is a multi-stacked play, prospective for multiple stratigraphic layers. Though the majority of Delaware activity to date has focused on the emergent Bone Spring, areas where operators are currently active boast 5-7 potentially commercial zones across a median 3,000 - 3,500' vertical section. While the hydrocarbon mix varies across the intervals, most of them are significantly oil weighted and yield high-BTU gas. As of January 2012, there were approximately 140 rigs operating in the Delaware Basin versus approximately 25 rigs running at the end of first quarter 2011.
The Bone Spring formation includes the three Bone Spring sands and similarly named carbonate sections, as well as the Avalon Shale, that sit between the shallower Delaware Sands and the deeper Wolfcamp. The combined gross column of the Bone Spring formation has a median thickness of ~2,500-3,500', with the formation getting thicker and deeper as it heads east, until it disappears quickly into the Central Basin Platform.
Rising costs have been an issue of contention for operators in the Delaware Basin. Much of the cost pressure stems from the rapid growth of the rig count. The increased drilling activity in the Permian (and to an even greater extent, specifically in the Delaware) is hampered by the availability of infrastructure and available takeaway capacity. Pipeline and processing capacity are the two major factors that are constraining growth. Although operators may have ample running room, deep inventories and robust returns in the Permian, they can only produce what they can transport and market. In essence, development in the Permian is currently governed by takeaway.
The industry is currently working to alleviate short-term bottlenecks and initiate significant intermediate-term takeaway projects. Though infrastructure remains an upper bound to growth in the Delaware, the area is witnessing an expansion of oil-hauling capacity (currently consisting mainly of trucking) which ameliorated many operators' needs to curtail production during recent quarters. Longer term, there will likely be a concerted effort to expand on available capacity in the region, so that it may better capture the Delaware's rich returns.
Ventures like Southern Union's $235 million Red Bluff Project will enable the acceleration of activity in the Delaware. Red Bluff is a 200 MMcf/d natural gas processing plant with gathering, compression and treatment facilities and 60 miles of pipeline that will be able to handle 20,000 Bbls/d of NGLs from the Avalon, Bone Spring and Wolfcamp production of the Delaware Basin. Several other projects are also in the works, which should help further to alleviate the issue.
In West Texas, Occidental announced plans in November 2012 to build a 300,000 barrel-a-day pipeline with Magellan Midstream Partners LP that will be in service by 2014. Magellan and Sunoco Logistics Partners expect to finish separate projects adding 185,000 barrels a day of pipeline capacity out of the Permian by the end of the first quarter of 2013, expanding that to 425,000 by the middle of the year and 485,000 by early 2014.
Concho Resources, Inc.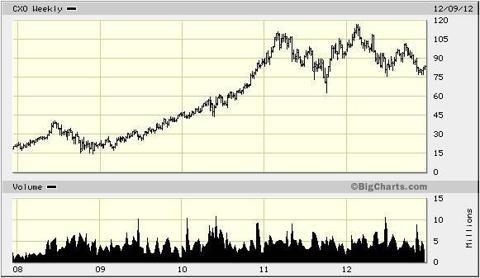 Concho Resources is a Midland, TX based mid-cap E&P operator player participating in the Permian Basin of Southeast New Mexico and West Texas. Concho is one of the premier Permian operators with positions in the New Mexico Shelf, Delaware Basin (where it primarily targets the Bone Spring formation and the Texas Permian, that offer a combination of conventional oil plays and unconventional liquids-rich shale plays. CXO is a pure Permian play with the Basin representing 100% of CXO's 386.5 MMBoe of estimated proved reserves at December 31, 2011, and 100% of the Company's 21.5 MMBoe production for the first nine months of 2012. The Company does have a diversified asset portfolio by having exposure to multiple high-return plays within the greater Permian.
Concho recently reported production growth of 24% in the third quarter 2012, but missed analyst expectations on both top and bottom lines. The stock may be oversold at currently levels, down approximately 23% from January 1, 2012 levels with a PEG ratio of 0.43. Concho is currently feeling the squeeze of surging output coupled with limited pipeline and refining capacity, which is creating a discount for Midland crude prices relative to spot prices in Cushing, Ok, where the U.S. benchmark crude is delivered. As indicated previously in this article, this is spurring plans to build new and expand existing pipelines. However, in the short-term, the risk is that this discount may cause smaller drilling programs.
Cimarex Energy Co.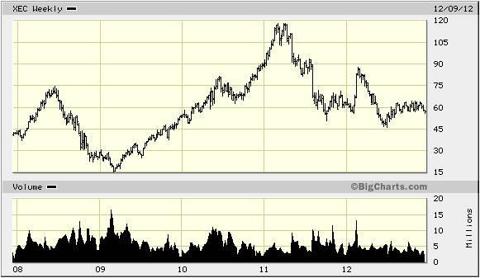 Cimarex Energy Co. operates is a Denver based E&P company that has built a substantial position in the Permian Basin. The majority of the Company's position falls in the Delaware Basin, though it also has a leasehold position in the Abo play in the Northwest Shelf. As of year-end 2011, Cimarex had 438,000 net acres in the Permian Basin, broken down between the New Mexico Bone Spring (65,000), Texas Bone Spring (35,000), Texas/New Mexico Unconventional (110,000-160,000), and Abo/Paddock (48,000). At December 31, 2011, its Permian proved reserves were 620.4 Bcfe and Permian production was 274.5 MMcfe/d.
As of September 30, 2012, the Company had drilled and completed 76 gross (42 net) Bone Spring wells with 30 day IPs averaging over 630 Boe/d. Average well costs were $6.5 million to $7.1 million. For the Texas 3rd Bone Spring wells in 2012, 30 day IPs averaged over 1,000 Boe/d with an average well cost of $7.5 million. The Company recently reported third-quarter 2012 oil production grew 23% to a record 32,456 barrels per day. Permian Basin oil production grew 42% to 25,000 barrels per day. Its financial results beat consensus estimates on both top and bottom line results.
FieldPoint Petroleum Corp.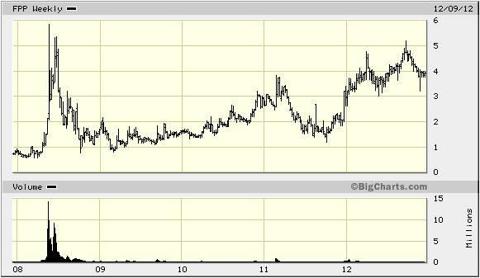 One of our favorite "under the radar" opportunities focused in this geographic region is FieldPoint Petroleum . FieldPoint Petroleum is a micro cap domestic oil and gas E&P company with operations in five states, with a concentration in Southeast New Mexico and West Texas and a focus in the Bone Spring Formation within the Delaware Basin. Its stock is down approximately 20% from January 1, 2012. As of September 30, 2012, the Company had varying ownership interest in 362 gross productive wells (102 net). FieldPoint's number one priority has been and continues to be increasing production, both organically by drilling on its existing leases, as well as through acquisitions. After production, the Company is focused on adding long life reserves, meaning reserves that have at least 15 to 20 plus years of life remaining. Over the next twelve months, the Company plans to drill one or two high-impact wells, with a product mix of approximately 70% oil and 30% natural gas.
The Company recently completed its second well in Lea County, New Mexico in partnership with the operator Cimarex. FieldPoint expects to drill its third horizontal well in Lea County, New Mexico in partnership with the operator Cimarex in the first half of 2013. FieldPoint has or will have approximately a 43.75% interest in these wells, Cimarex has or will have a 37.5% interest in the wells, and third parties have the remaining 18.75% interest. These wells typically have 500-700 Boe/d IP rate, have a 30 day average production rate of 600 Boe/d, and 360,000 BOE Estimated Ultimate Recoverable (EUR) over their life. As mentioned above, the cost of this well will be fully covered by FieldPoint's existing cash flow.
Another potential well opportunity over the next 12 months is in a leasehold that the Company has an ownership interest in and Concho Resources is the operator. This leasehold is in the Abo play and currently has two producing wells with at least one additional PUD. FieldPoint has approximately a 44% working interest and a 29% net revenue interest in the existing producing wells and would have the same interest in additional wells drilled in that leasehold.
FieldPoint is in its ninth consecutive year of profitability and positive cash flow. Due to its positive cash flows from operations, the Company has been able to maintain a very strong balance sheet with lots of dry powder, with a current ratio of 2.1. Debt levels over the past couple of years have remained flat to stable, and the Company has increased cash on hand over that time frame. According to FieldPoint management, it will have sufficient cash flow to meet all of its CAPEX requirements over the next 12 to 24 months without having to tap the debt or equity markets. However, the Company has covered its bases when it recently filed a shelf registration statement, allowing it to access the capital markets should the need arise.
FieldPoint's biggest challenge is competing for oil and gas leasehold properties with companies who have much greater resources than FieldPoint. These resources are becoming increasingly scarce everyday, creating inflationary pressures on lease prices. Despite these challenges, the Company has enjoyed success in its acquisition strategy and will maintain patience and strict underwriting discipline to avoid overpaying for reserves and properties. With respect to hedging commodity prices, the Company was hedged during the last six months of 2011 with a floor of $85 and a ceiling of $102.50. For the year ending December 31, 2012, the Company has been hedged with a floor of $95 and a ceiling of $110. FieldPoint management believes that oil prices have bottomed and that global demand from China, India and coupled with greater domestic demand will lead to higher energy prices over the next 12 to 24 months.
Overall, the Company has been very successful at executing its strategy as evidenced by over nine years of profitability, a compelling statistic in any industry given the economic turmoil over the past decade. The Company only has approximately 8 million shares outstanding (with 42% of total outstanding share held by insiders-94% of which is held by CEO Ray Reaves) and only approximately 4 million in the float. Based on its most recent quarter-over-quarter growth rate of 32.7%, the Company' shares trade at a PEG ratio of only 0.8. Based on a PV-10 value of $25.9 million as of 12/31/2011 (which will likely increase in its next 10K), FPP shares only trade at an 18% premium on a market cap basis.
Disclosure: I have no positions in any stocks mentioned, and no plans to initiate any positions within the next 72 hours. I wrote this article myself, and it expresses my own opinions. I am not receiving compensation for it. I have no business relationship with any company whose stock is mentioned in this article.