Fiat SpA (FIATY.PK) is a multi-national, Italy-based holding company that designs, manufactures and sells cars, car components and production systems through its subsidiaries. Vehicles are sold under the familiar brand names: Fiat, Lancia, Alfa Romeo, Fiat Professional, Abarth, Ferrari, Maserati, Chrysler, Dodge, Jeep, Ram Truck and SRT. Fiat SpA operates in the car component industry through subsidiaries Magneti Marelli, Teksid, Mopar and Fiat powertrain Technologies, and in production systems with Comau. According to its website, Fiat Spa has been active in the publishing business since 1926, when it formed Editrice La Stampa to own and operate the Turin daily newspaper La Stampa, which was founded in 1867. In 1980, the Group founded Itedi (Italiana Edizioni SpA) under which it consolidated all of its publishing and communication activities previously carried out through 14 separate companies. Fiat SpA also engages in reselling of advertising space through Publikompass SpA.
The figure below shows the four-year price performance of Fiat SpA compared with the U.S. Automobile Manufacturers sub-industry, Ford (NYSE:F), the S&P500 and the MSCI Italy Index.

(Image Source: Charles Schwab)
The Italian equity markets have not experienced the same recovery as the U.S. after the financial crisis of 2008-2009 due to the European debt crisis, which started in early 2009. In fact, the figure below shows that Italy's economy is currently in a recession, with the last five quarters showing negative GDP growth. The GDP growth of the United States is also shown for comparison.
(Image Source: tradingeconomics.com)
(Image Source: tradingeconomics.com)
Ford has greatly outperformed the Automobile Manufacturers sub-industry following the U.S. market recovery in 2009. However, Fiat SpA failed to achieve the same recovery, even losing close to 50% of its share price in late January 2011 when Ford announced a bad quarterly report and declared a slowdown in European sales. In total, Fiat SpA has lost more than 75% of its share price over the past four years.
In the rest of this article I'll shed some light on why I believe Fiat SpA has been unfairly punished by the European debt crisis, and why there is upside potential for its shareholders.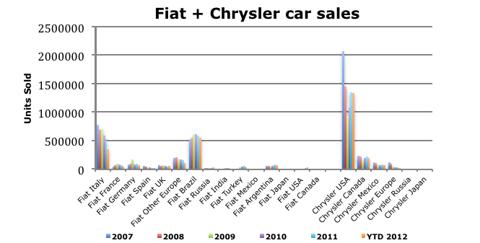 (Data Source: carsitaly.net)
The majority of Fiat's (excluding Chrysler) car sales are in Europe and Brazil (note: LCVs not included). In June 2009, Fiat acquired management control and approximately 20% of Chrysler, steadily increasing ownership to 62% in mid 2012. From 2007 to 2011 Fiat's total European car sales fell by 30% (assuming combined units sold: Fiat + Chrysler starting in 2009). However, the vast majority of Chrysler car sales are in the U.S., allowing Fiat to mitigate its European losses. Furthermore, according to the YTD 2012 data, European and Brazilian declines in sales appear to be slowing. Chrysler USA sales for 2012 also appear to be reaching an all-time high since Fiat began acquiring ownership.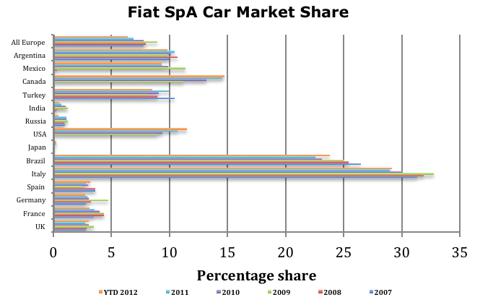 (Data Source: carsitaly.net)
Fiat's market share (including Chrysler starting in 2009) has dwindled in Europe since 2007, but again appears to have hit a point of inflection in 2012. In fact, this is the case for the majority of Fiat's markets.
Previously, it was shown that since 2008, Ford outperformed the S&P500 by 50%, while Fiat underperformed it by 75%. To examine this discrepancy, the figures below show a fundamental analysis comparison for both companies. Also included are Volkswagen (OTCPK:VLKAY), Toyota (NYSE:TM), Honda (NYSE:HMC), GM (NYSE:GM) (which are part of the Automobile Manufacturers sub-industry), and Nissan (OTCPK:NSANY), Peugeot (OTCPK:PEUGY), and Mazda (OTCPK:MZDAY). Any YTD metrics relative to 2007 use a multiplying factor of 2/3 times the 2007 value, since only three quarters have passed in 2012.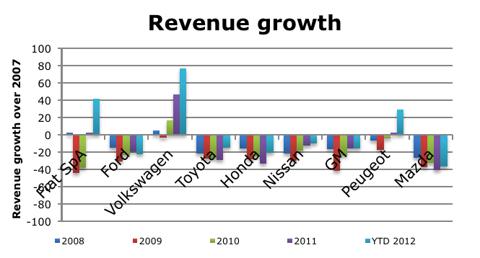 (Data Source: Charles Schwab)
On January 2, 2011, Fiat SpA demerged its truck manufacturing, construction and agricultural equipment to form a separate company, Fiat Industrial SpA. Therefore, in 2009 and 2010 the graph shows a misleading sales decline for Fiat due to the demerger and the exclusion of discontinued operations from total revenue. Without the demerger, the revenue growth for these years is: -13% and -2%, respectively. The acquisition of Chrysler didn't impact Fiat's top line until mid 2011, since prior ownership was less than 50%. Ultimately, the acquisition of Chrysler has enabled Fiat to use growing North American sales to shield against a poor European economy.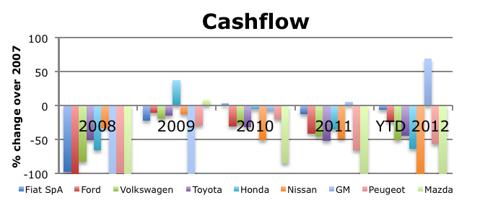 (Data Source: Charles Schwab)
Following 2008, Fiat was able to recover cash flow to pre 2008-2009 crisis levels very quickly compared with the other companies. One exception is GM, which after going bankrupt in mid 2009, has been able to steadily grow its cash flow. As a side note, 2007 was the last year GM had positive cash flow before going bankrupt.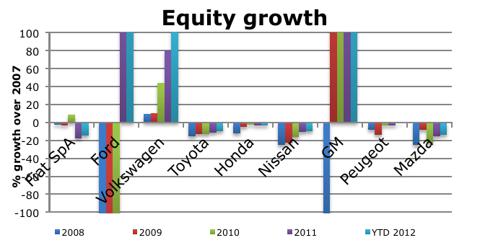 (Data Source: Charles Schwab)
Fiat's equity growth was largely undamaged by the 2008-2009 financial crisis, even growing a bit in 2010. For 2011 and 2012, discontinued operations from Fiat Industrial SpA caused a reduction. Across all companies examined, 2012 has brought YOY increases in shareholder equity.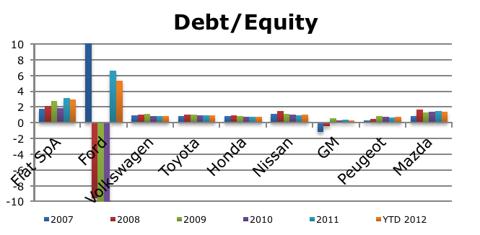 (Data Source: Charles Schwab)
The current debt-equity ratio for the automobile manufacturer sub-industry is 3.76; Fiat is at approximately 2.96. A few examples are: Ford at 5.34, Honda .71, Toyota .89 and Volkswagen .80. In fact for a few years, Ford had a negative ratio due to negative shareholder equity. There is a growing concern among investors about Fiat's ballooning debt levels, which are attributed to slow European sales. However, with Fiat's market share growth, hints of a turning point in world automobile sales, and Fiat's interest in acquiring all of Chrysler, debt appears to be an issue that could slowly disappear.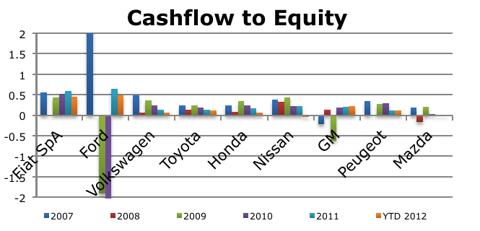 (Data Source: Charles Schwab)
The bottom line (net profit) margin for the automobile sub-industry is 13.75%. Fiat is around 2.77%, Toyota 1.98%, Volkswagen 9.92%, Honda 2.79%, and Ford 14.83%. This is largely due to the majority of Fiat's revenue coming from compact cars and the European debt crisis:
"We continue to see consumers trading down to smaller vehicles," said Ford's president of the Americas region, Mark Fields, at the Barclays Capital 2012 Global Automotive Conference on Wednesday. "Less trucks, more small cars and those vehicles have smaller margins." Fiat's dependence on compact cars, and its unwillingness to close European plants, which are running at a small fraction of capacity, has hurt margins. Fiat's reason for the latter is that it doesn't want to lose market share in Europe, noting it doesn't expect to generate net income there until the 2015 timeframe.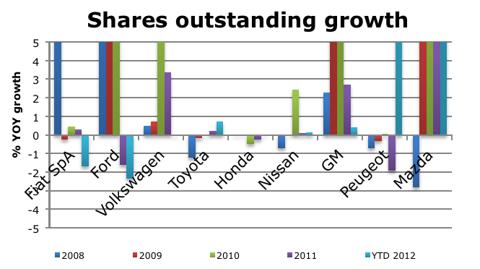 (Data Source: Charles Schwab)
In recent years Fiat SpA has been buying back common shares, with diluted common shares outstanding falling. Ford has a similar story, with other companies like Mazda (OTCPK:MZDAY) and Peugeot (OTCPK:PEUGY) growing shares recently. The price to cash flow of the companies can be used to determine which are trading at a discount.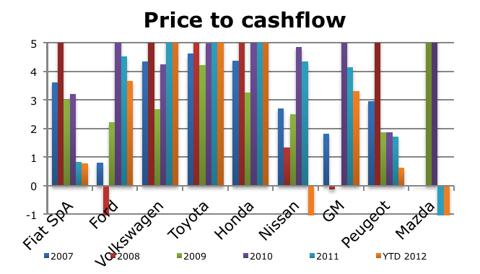 (Data Source: Charles Schwab)
Except for Peugeot, Fiat SpA has the lowest price to cash flow, suggesting that the current stock price is trading at bargain levels. In fact Fiat's price to cash flow is much lower than the majority of the companies. Combined with the analysis from the previous metrics, I believe Fiat is a solid company, with a very promising future growth but it has been unfairly tarnished by the European debt crisis. Through the acquisition of Chrysler, Fiat has been able to avoid much of the fallout from European sales declines.
In recent news, Fiat debuted its all-new 500e model at the 2012 LA Auto Show. The compact car is powered by a 111-hp (83 kW) electric motor and floor-mounted lithium-ion battery pack that provides up to 80 miles of range (100 miles in the city) and a top speed of 85 mph. Fiat estimates that the 500e will boast 108 mpg-e combined, making it one of the most efficient cars on the road. Launch is expected early next year and only in California, for the time being. Fiat also debuted the 500L at the auto show, a larger version of the 500 that sports five doors.
Fiat and Chrysler CEO Sergio Marchionne also recently announced that European factories operating below capacity are to remain open and will be refocused toward premium brand production and jeeps, which offer higher margins. Up to 15% of those cars will be exported to the United States and China. With this plan, Marchionne wants to bring the Alfa Romeo and Masserati brands to the United States.
Disclosure: I am long FIATY.PK. I wrote this article myself, and it expresses my own opinions. I am not receiving compensation for it (other than from Seeking Alpha). I have no business relationship with any company whose stock is mentioned in this article.