Some stocks fall into the category of what I term "Least Common Multiple Stocks" -LCMS. I call them that because they are positioned to fundamentally support a segment without being or becoming the halo stock of the segment. They provide the best measured upside potential and downside protection required for informed risk taking. They support growth but do not grow as fast as the companies they support. On the downside, their positioning and contractual terms allow a runoff period for contracts to expire before the plunge. The stocks they support act as early indicators of their performance giving investors a signal that the market rarely provides. Market Leader (NASDAQ:LEDR) falls into one of these categories and it is poised for growth once the glut of foreclosed properties clears out of the market and the gremlin of the fiscal cliff is in our rearview mirrors.
Market Leader is an LCMS as described above. It is a facilitator in the real estate sector providing services that make participants more productive. It has been referred to as a Bloomberg and Google (NASDAQ:GOOG) of the of real estate sector primarily because of its systems and platform approach to gathering and selling information. This approach matches the trend of obtaining information on ubiquitous mobile devices and of companies emphasizing paperless technologies that are accessible in and out of the office.
The Company
Market Leader is an online technology, systems and solutions company for real estate professionals in the US and Canada. It provides subscription based end-to-end solutions that handle key processes in real estate management for brokerages, franchises, realtors, buyers and sellers. It manages lead generation platforms (www.kwkly.com), consumer websites (RealEstate.com) that reach buyers and sellers, a social media portal that targets real estate professionals (activerain.com ), industry benchmarking and best practice training for its customers. Its current customer base (Keller Williams & Century 21) demonstrates that it appeals to leading real estate companies that are willing to pay for its systems and solutions. In addition to its core subscription based customers its websites give it access to millions of future home buyers and sellers while providing free information to the information they seek.
The Bull
In lieu of traditional customers like Century 21 and Keller Williams which are private we will use publicly listed homebuilders (Pulte (NYSE:PHM), KB Home (KBH), D.R. Horton (DHI)) as indicators of the health of the real estate sector. Market Leader has returned 28.32% over 3 months, 39.96% over 6 months, 135.12% YTD and 153.12% over 1 year.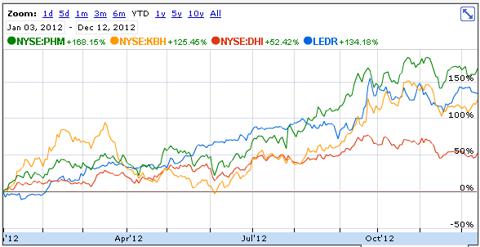 Revenue grew by 39% from 2010 t0 2011 driven by successful adoption of acquisitions and a change in its business model from being a lead generator to a software-as-a service business. The amount of real estate professionals that use their platforms grew from 19,000 to 100,000 primarily due to a tie up with Keller Williams Realty on a national basis. The current ratio of 3.5 ensures that the company is able to meet short term obligations as it completes integration of acquisitions in the last 2 years and link up the capabilities of its different platforms. To support the continuous technological enhancements that are its key differentiator of its solutions it spent 24% of total revenue on technology and product development which is a 53% increase over the previous year. Total sales and marketing expense also grew by 16%. The 16% growth is about 23% lower than overall revenue growth which if maintained bodes well for a company that is aggressively expanding into new areas.
The Horns of the Bull
(Metrics below from Scottrade)
The challenges and risks facing the company cannot be minimized. The net loss attributable to basic and diluted shares was $(0.56) in 2011 and $(0.58) in 2010. The ROA was -25.24%, ROE -30.46% and ROI was -29.96%. It also had an operating margin of -25.30% and a net profit margin of -25.27%. Sales are projected to be at -16.89% in 5 years.
From a strategic perspective the risks of bigger rivals creating proprietary products especially with software-as-a-service solutions is significant. As their customers get bigger their preference for in-house solutions to protect their practices heightens. This is a huge risk for Market Leader as its success could actually cannibalize growth.
Seasonality of the segment and the fact that a portion of the revenue is driven by visits to their sites puts them in the crosshairs of companies like Google or Microsoft (NASDAQ:MSFT) which could develop similar capabilities to drive eyeballs to their sites. These risks are exacerbated by low switching costs and the fact that entry is based on expertise more than prohibitive capital outlays.
Conclusion:
Opportunity is not pretty and this is not a low hanging opportunity even though the payoff has been great so far. The recovery of the real estate sector has been driven mostly by new home construction and a high number of applications for building permits. Existing homes on the other hand are still adequately supplied with foreclosed homes and short sales slowing down recovery momentum. This in turn has affected the ability of Market Leader's core customers to spend on new services. Revenue growth from the new segments is expected to continue into 2012. If the company develops, protects and differentiates its key tools with patents it could become an attractive takeover target. The company has filed papers with the SEC to raise up to $50M with debt or equity. The upside comes from the following factors:
The company has the right business model to match future trends and drive growth
Its core customers are not back to pre-crisis levels and there could be a surge in demand when they do
It has proven that is understands the platform with the development and adoption of its tools
It has potential to raise significant other revenue from its online portals with Ads and analytics
I expect the company to raise capital and dilute the shares in the near term which will cause prices to drop. The drop in price should provide a buying opportunity. Once the effects of dilution are factored in the stock should quickly adjust and grow as the real estate sector continues to recover.
Disclosure: I am long LEDR. I wrote this article myself, and it expresses my own opinions. I am not receiving compensation for it (other than from Seeking Alpha). I have no business relationship with any company whose stock is mentioned in this article.