E. I. Du Pont De Nemours and Company (DD) is a diversified chemical company operating in more than 80 countries. The company's segments include agriculture, electronics and communications, industrial bioscience, nutrition and health, performance chemicals, performance coatings, performance materials, safety and protection and pharmaceuticals. With DD's continued product innovation, diversified product portfolio, and successful market penetration, DD's earning power will be continued for a long time and will be a great long-term holding for cash flow investors. However, bullish investors need to be cautious before the U.S. fiscal cliff is settled while DuPont is cutting its spending.
Recent Highlights
As reported on Dec 12, 2012, DuPont's CEO Ellen Kullman said in an interview that the Company will spend less on capital projects next year than initially planned due to uncertainty about the U.S. fiscal cliff. As stated by Kullman, "Consumers will hold back until the fiscal cliff is resolved. It's not about politics anymore. It's about the country. It's about reducing our debt. It's about making a viable economy long into the future." Kullman further addressed, "The biggest concern is not that they don't avert the cliff, but that they put forward a plan and never execute, or don't execute in a way that addresses the debt," she said. "Because otherwise you're just going to run up against that debt ceiling constantly."
On Dec 11, 2012, DD announced that its Board of Directors had authorized a share repurchase program for $1 billion of the Company's common stock, which is expected to be completed in 2013. The new buyback program will be backed by the proceeds from the divestiture of the company's Performance Coating business. The company struck a deal with private equity firm Carlyle Group to divest its performance coatings business for $4.9 billion in cash. The transaction is expected to be closed by the first quarter of 2013, subject to necessary approvals. As reported from Zacks, "DuPont intends to sell the business to better focus on accretive businesses including agriculture and nutrition, bio-based industrials, and advanced materials. These businesses are expected to provide higher growth and margins over the long term and help achieve the company's target of compound annual growth rate of 12%." DuPont also provided its outlook for 2013 with expected earnings increasing in the low- to mid-single digits range and sales in the low-single digits. All segments are expected to perform well, except the performance chemical segment, whose margins are expected to go down by 6 to 7 percentage points.
On Dec. 4, 2012, DD was named for a second consecutive year to the Thomson Reuters Top 100 Global Innovator. As reported from 4-traders, "DuPont has recently opened eight Innovation Centers around the world to provide an environment for collaboration with customers, government, academia and business partners. The goal is to connect its global customer base with DuPont's 9,500 scientists and engineers to accelerate the introduction of new products and applications." DuPont's strong innovation will continue and is backed up by its wide portfolio of patents. As stated by Thomas Connelly, executive VP and chief innovation officer for Dupont,
"Throughout our history, DuPont has been awarded more than 37,500 patents. Today, innovation requires that we put our patents to work, collaborating with our customers and anticipating growth trends in key markets."
Analysts' Calls and Earnings Estimate
On Dec. 12, 2012, DD had its "neutral" rating reaffirmed by JPMorgan Chase with a $46.00 price target. Analysts at Jefferies Group also reiterated a "hold" rating on DD with a $48.00 price target. On Nov. 5, 2012, analysts at Zacks downgraded D from a "neutral" to an "underperform" rating with a $40.00 price target. Lastly, Piper Jaffray also downgraded shares of DD from an "overview" rating to a "neutral" rating with a $51.00 price target, down from $53.00.
In the past 90 days, the EPS estimate for the current quarter had declined from $0.51 to $0.07. The EPS estimate for next quarter had also dropped to $1.50 from $1.73 in the same period. Analysts now expect the full year EPS of $3.29, which was down from $4.23 as expected 90 days ago. The EPS estimate for 2013 was also decreased to $3.70 from $4.54 (90 days ago), as seen from the chart below.

Source: Yahoo! Finance
Fundamental Overview and Technical Analysis
By using the data obtained from MorningStar, DD's key stats will be compared to its competitors in the chemicals industry, including Dow Chemical Co (DOW), Monsanto Company (NYSE:MON), and Eastman Chemical Company (NYSE:EMN). DD had a higher revenue growth of 6.7 (3 year average), as compared to the average of 4.2. However, DD's EPS growth (3 year average) of 18.7 was trailing the industry average of 20.6. DD achieved higher operating margin of 9.9%, ttm, and net margin of 7.7%, ttm, comparing to the averages of 9.2% and 5.0%, ttm, respectively. DD also generates stronger ROE of 28.1, ttm, comparing to the average of 15.1, ttm. However, DD has a higher debt-to-equity of 1.0, as compared to the average of 0.80. DD is currently undervalued with a P/E of 13.7, comparing to the average of 18.4.
DD closed at $44.30 with a 1.40% gain on Dec. 12. The volume of 9.79M is 62.35% higher than the 30 day average of 6.03M. In the past 52 weeks, DD had been trading in the range of $41.67-$57.50. DD has a beta of 1.46. The MACD (12, 26, 9) had been showing a bullish sign for DD since Nov. 20, 2012 and the MACD difference continued to diverge again since Dec. 9. The momentum indicator, RSI (14), is showing an increasing buying momentum at 56.25. DD is currently trading below its 50-day MA of $45.18 and 200-day MA of $48.52. The next major resistance will be its 50-day MA, followed by $46.65, the R2 pivot point. DD is short-term bullish but is approaching its major resistance.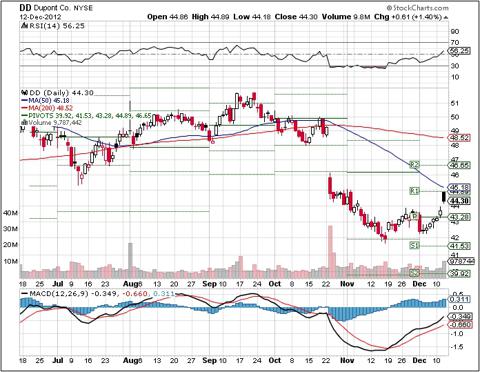 Source: StockCharts.com
Options Play
DD is expected to generate strong cash flow continuously. However, with the upcoming U.S. fiscal uncertainty and global economic concern, as DD is also cutting its spending, it will not hurt for bullish investors to wait and see or at least establish the positions gradually. A credit put spread will be reviewed for investors who would like to gain some upside potential with a limited down side risk, while having the plan to acquire the stock at a lower cost as the worst case scenario.
Short April 20, 2013 Put at the strike price of $40.00 for the credit of $0.83
Buy April 20, 2013 Put at the strike price of $35.00 for the cost of $0.30
The maximum profit is $0.53, and the maximum risk/margin requirement is $4.47 ($5 loss - $0.53 credit received). If DD closes above $40.00 on April 20, 2013, 11.86% return on margin will be gained. If DD falls below $40.00 upon options expiration, DD stock will be acquired at $39.47 per share, which is 10.9% less than the current price of $44.30. The projected annual dividend yield will be 4.36% based on the acquisition cost of $39.47 and the projected dividend of $0.43 per quarter.
Note: All the prices are quoted from the closing of December 12, 2012 and all calculations are before fees and expenses. Investors and traders are recommended to do their own due diligence and research before making any trading/investing decisions.
Disclosure: I have no positions in any stocks mentioned, and no plans to initiate any positions within the next 72 hours. I wrote this article myself, and it expresses my own opinions. I am not receiving compensation for it (other than from Seeking Alpha). I have no business relationship with any company whose stock is mentioned in this article.