F5 Networks (NASDAQ:FFIV) could be worth looking into as a quality high growth play whose stock has had a rough year. Shares of F5 Networks have fallen 12.25% YTD to $92.18, and 32.67% since F5 Networks closing high on April 3rd of $138.06.
Company Description
Below is a quote of the description of the operations of F5 Networks: "F5 Networks Inc. is a leading provider of integrated Internet traffic and content management solutions designed to improve the availability and performance of mission-critical Internet-based servers and applications. The company's products monitor and manage local and geographically dispersed servers and intelligently direct traffic to the server best able to handle a user's request. The products are designed to help prevent system failure and provide timely responses to user requests and data flow." [Zacks.com Company Description]
F5 Networks Fundamentals
Right below, I have summarized some important common financial ratios and information that I will use to estimate a fair value for shares of F5 Networks, as well to compare F5 Networks to the networking industry as a whole. There are six tables from F5 Networks Trefis Page, the first page shows the individual divisions of F5 Networks and there percent of the stock price they are estimated to account for. The second and third tables show a breakdown of the projected growth of the top two divisions of F5 Networks. The fourth is the projected total revenue of F5 Networks broken down by division. The fifth table is the projected total cash flow of each division of F5 Networks.
Current Price: $92.18
Trailing 12 Months EPS: $3.50
Current PE Ratio: 26.34
Expected Earnings Growth: 20.17%
PEG Ratio: 1.31
Divisions
Below is a chart that breaks down F5 Networks by its separate divisions and comes up with an estimate of what all their businesses are worth. F5 has two major business divisions, which are application delivery network, and installation and consulting services. As you can see from the second chart below, F5 Networks is projected to gain market share in its largest division, which is currently about 26% and is expected to grow that share to between 34%-38% by 2019. The third chart below shows F5 Networks second largest business is also growing, and is projected to grow its revenues from around $600 million currently to over double to $1.4 billion by 2019.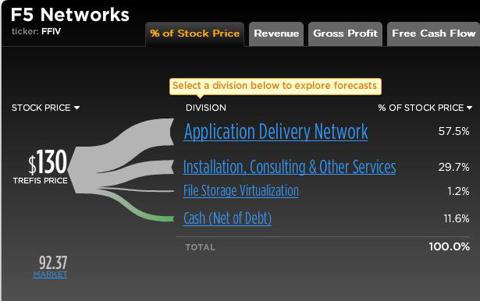 Application Delivery Network Market Share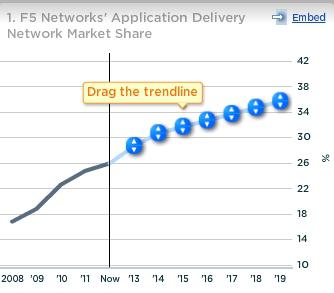 Installation Consulting and Services Revenue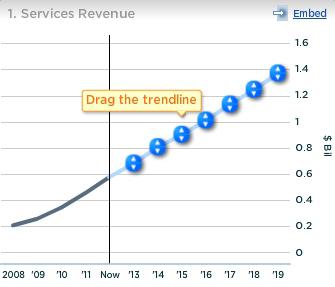 Revenue
The chart below shows the total revenue of F5 Networks for the 4 years and a projection of the revenues by division in the future. From the chart below, you can see that even during the great recession, revenue actually grew, not by much but it did grow, which is something not very many companies can say. The projected revenue in 2019 is almost 3 times that of current revenues, which is astounding growth.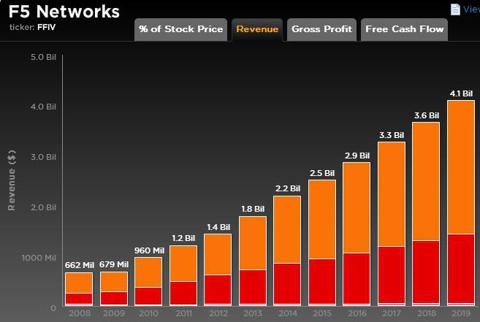 Cash Flow
The chart below shows the projected cash flow of F5 Networks by division over the next 7 years. As the chart below shows, F5 Networks free cash flow is expected to more than double in the next 7 years. At the end of the last quarter F5 networks had $532 million in cash & equivalents [Yahoo Finance Key Stats], and with the projected free cash flow, F5 Networks strong cash position I expect will continue to grow. F5 also has no debt, so free cash flow can go towards growing its businesses, researching and developing new technologies, and buying back shares.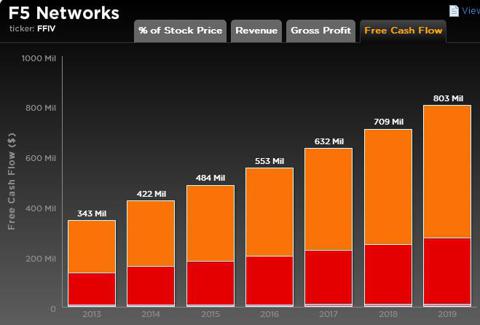 Valuing F5 Networks
Method 1: Discounted Cash Flow
For the discounted cash flow calculation of the value of F5 Networks per share, I used the DCF calculator from Moneychimp.com. For my assumption I used the EPS, and expected growth rate for there respective inputs below, and for the return on the benchmark index I used the YTD return for the Technology Select Sector SPDR ETF (NYSEARCA:XLK), instead of the S&P 500. The results, which are shown below shows that the estimated fair value of shares of F5 Networks, is $71.82/ Share. This is significantly lower than its current price of $92.18, but I did expect the price to be lower because of the expected growth for 5 years being 20.17%, then dropping to 1% after that which is very unlikely but I like to be conservative. For example, if the growth rate was 20.17% for the first 5 years, and dropped to 5% for the years after, the fair value using the DCF calculator would be $106.14. That price is higher than the current price, so it just depends on how conservative your projections are, and in my case I wanted to be extremely conservative, so that is why I used 1%.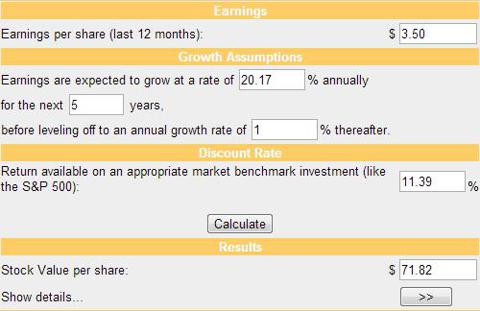 Method 2: Industry PE ratio
For this method, I looked at the F5 Networks PE ratio of 26.34 and compared it to the average PE ratio for the iShares S&P North American Technology-Multimedia Networking Index Fund (NYSEARCA:IGN), and according to the Ishares ETF website the average PE ratio is 25.00. So if F5 Networks were to trade at the same multiple as the rest of its peers, the fair share price of would be 25.00 *3.50= $87.50. Like the DCF above, using this method shows that F5 Networks is currently overvalued as compared to its industry.
F5 Networks Technical Situation
The chart below is a two-year daily candle chart of F5 Networks. The chart of F5 Networks shows that the stock has been in a long-term sideways channel for the last two years. The chart also shows that over the last seven months F5 Networks has been in a strong downward channel, and is currently towards to top end of the downward channel. Therefore, I would expect F5 Networks to trade down to around the $76-$80 level by the end of the year, if F5 Networks follows it channel lower. However, if F5 Networks broke above the upper line of the downward channel the next level of resistance would be at around $105.
Guidance and Analyst Recommendations
On October 24th when F5 Networks reported earnings the stock fell over 10% because earning were light because of higher than expected taxes in addition to lowering guidance for the first quarter of 2013. The reaction to the earnings miss and lowered guidance was bearish, two firms downgraded there rating on the stock, and four firms reiterated there rating but they all lowered their price targets, which is shown in the table below. [FFIV FinViz Page]

Quote 1: "These higher than anticipated tax rates had an impact of approximately $0.06 to GAAP EPS and $0.05 to non-GAAP EPS." [F5 Transcript]
Quote 2: "F5 Networks Inc announced that for first quarter of 2013, it expects revenue target of $363-$370 million with a GAAP earnings target of $0.86-$0.88 per diluted share and non-GAAP earnings target is $1.14-$1.16 per diluted share. According to I/B/E/S Estimates, analysts are expecting the company to report revenue of $373 million and EPS of $1.20 for first quarter of 2013." [Reuters Article]
Important Developments
I scanned through the last Quarterly earnings transcript of F5 Networks and found some valuable information, that in addition to the underlying fundamentals lead me to believe F5 Networks a great growth play going forward.
Stock Buyback
F5 Networks during last quarter purchased $50 million worth of its own shares. The average price for shares they bought back in the last quarter was $97.29, so I would think with shares in the low $80's at the beginning of the current quarter and having $180 million remaining in authorized buybacks, I would assume F5 Networks would have continued buying back shares during this quarter. The $180 million remaining in authorized buybacks represents about 2.41% of the current market cap of F5 Networks. [180,000,000 / 7,460,000,000= 2.41%]
Quote: "In Q4 we repurchased approximately 514,000 shares of our common stock at an average price of $97.29 per share for a total of 50 million. Approximately 180 million remains authorized under the current share repurchase program." [F5 Transcript]
Fiscal Cliff
F5 states in the quote below with out actually saying fiscal cliff, which affected its larger customers decisions on spending for new products from F5 Networks. Therefore, I would expect more of the same this quarter the current quarter, with larger customers slowing or reducing spending. This coupled with the higher than expected tax rate is why I believe F5 Networks missed its estimates the last quarter and has a chance to do in the current quarter as well.
Quote: "We also recognize that our short-term visibility continues to be limited by the macroeconomic uncertainty which caused many of our customers to slow or reduce spending in the second half of fiscal 2012, particularly in the case of larger million dollar plus type opportunities." [F5 Transcript]
Market Expansion and New Products
In the last quarter, Cisco (NASDAQ:CSCO) announced it would not be continuing its operation of its ACE, and that Cisco has $200 million in sales per year. Therefore, if F5 Networks follows through on picking up that business from Cisco it could have a positive impact on the earnings of F5 Networks. In addition to the Cisco news, I think the more promising news going forward from the third quote below is the release of major new products. As the quote three states, it has been four years since the last product refresh cycle, and with F5 releasing new products like the industries first application delivery firewall, and products that help companies build off cloud computing architectures, F5 Networks has a huge opportunity going forward.
Quote 1: "Lastly, we see a very real market share opportunity with the recent announcement from Cisco to cease development of its ACE product line and we are being very aggressive in our efforts to capture this opportunity." [F5 Transcript]
Quote 2: "Cisco is doing roughly 200 million of run rate per year in ACE sales."
Quote 3: "During the next two quarters, we will be delivering our largest appliance refresh in four years. Our next release of TMOS includes a number of new security and service provider offerings as well as products to enable cloud architectures. For example, we will be releasing the industry's first application delivery firewall, ADF that integrates Level 3 to Level 7 security including the loss prevention and unique application fluency to prevent sophisticated application attacks." [F5 Transcript]
Quote 4: "At the same time we are anticipating a very positive reception to the new products and platforms that we will be introducing in fiscal 2013. Throughout the year, we are rolling out a powerful lineup of new hardware platforms, software products and significant performance increases to our virtual products that will drive new and increased growth for F5." [F5 Transcript]
Closing thoughts
There are a few concerns I have as outlined above the valuation is somewhat stretched as shown the two valuation methods above. Therefore, with the stretched valuation, coupled with the fiscal cliff having an impact on the customers of F5 Networks, and shares of F5 being in a downward technical channel, I would expect F5 to continue seeing some weakness in the short term until the fiscal cliff issue is resolved. However, in the long-term the underlying fundamentals look very strong going forward with F5 Networks largest division expanding its market share in a growing industry, and F5 Networks second largest division expected to more than double revenues over the next seven years, the future for F5 Networks looks very bright. In addition, the new product refresh cycle and innovative new products from F5 should continue making F5 a strong growth company going forward. As my title poses the question of which will win, the underlying fundamentals or the valuation, I believe in the long-term, the underlying fundamentals will win, but it might be a rough ride in the short term.
Disclosure: I have no positions in any stocks mentioned, and no plans to initiate any positions within the next 72 hours. I wrote this article myself, and it expresses my own opinions. I am not receiving compensation for it (other than from Seeking Alpha). I have no business relationship with any company whose stock is mentioned in this article.