Deluxe Corp. (DLX) raised its outlook for the year in its third-quarter report, which was also its seventh straight quarter with a positive earnings surprise. Strong estimate revisions after the report helped this business products and solutions provider achieve a Zacks #2 Rank (Buy). Moreover, Deluxe's dividend yield of 3.30% makes the stock quite attractive for investors.
Deluxe Reports Impressive Q3
On October 25, Deluxe reported third-quarter earnings of 85 cents per share, exceeding the Zacks Consensus Estimate by 6.3% and topping last year's performance by 9.0%.
Revenue grew 6.5% from last year, due mainly to a 14% increase in small business services. This was partially offset by weakness in both financial services (down 2.8% year over year) and direct checks (down 8.1% year over year).
Operating profit jumped 11.0% year over year to $72.7 million, with the operating margin expanding 70 basis points (bps) from the comparable prior-year quarter to 19.2%.
In addition to the strong earnings growth, Deluxe's current dividend yield is 3.30%.
Positive Outlook for Fiscal 2012
The impressive earnings prompted Deluxe to raise its fiscal 2012 outlook. Revenue is now expected between $1.508 billion and $1.515 billion, compared with the prior outlook $1.490 billion to $1.510 billion. Earnings are expected between $3.43 and $3.50 per share, instead of $3.30 to $3.45.
The Zacks Consensus Estimate for 2012 advanced 2.1% over the last 60 days to $3.47 per share, while the Zacks Consensus Estimate for 2013 increased 2.3% to $3.61.
Historically, the stock price has been consistently below earnings estimates, reflecting the fact that the stock is still undervalued.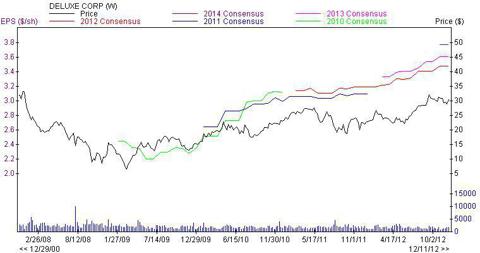 Valuation
Deluxe shares are currently trading at 8.8X forward earnings, a discount to the industry average of 14.7X and the S&P 500 average of 15.8X. This indicates that the stock is undervalued.
Moreover, Deluxe's Return on Equity (ROE) of 50.0%, Return on Investment (ROI) of 17.4% and Return on Asset (ROA) of 12.3% are all better than the industry averages. Furthermore, its price/earnings growth (PEG) ratio of 1.4 is lower than the industry average of 2.5.
Deluxe Corporation, through its industry-leading businesses and brands, helps financial institutions and small businesses better manage, promote and grow their businesses. The company uses direct marketing, distributors, and a North American sales force to provide a wide range of customized products and services.
Read the full Snapshot Report on DLX (email registration required)