On December 12th it was announced by the Federal Reserve it will expand its pre-existing asset purchase program by buying $45 billion a month of Treasury securities starting in January to spur the economy. These purchases will be in addition to $40 billion a month of existing mortgage-debt purchases. When the Fed buys up MBS and various other types of mortgage-debt it tends to hinder the progression of the Mortgage REIT sector, and as a result such things as profits and dividends suffer. In this article I wanted focus on one agency-based Mortgage REIT which has not only cut its dividend but may be faced with the enduring task of changing its investment strategy.
Hatteras Financial (NYSE:HTS) operates as "an externally-managed mortgage real estate investment trust (Mortgage REIT). It invests securities guaranteed or issued by the United States Government or by United States Government-sponsored entities, and the Federal Home Loan Mortgage Corporation." (Yahoo Finance)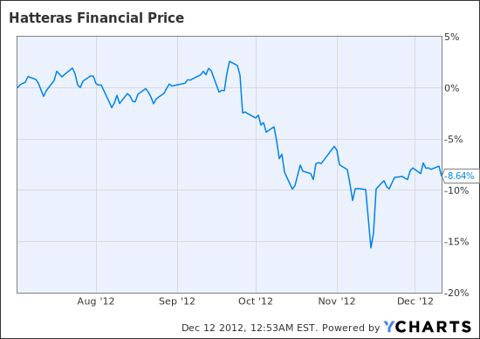 Companies in this sector are able to offer shareholders a very generous dividend yield because of a several considerable factors. First of all, a company that is set up as a REIT must legally pay most of its earnings (up to 90%) to its shareholders in the form of a dividend. (I personally like the idea of reinvesting these dividends, but that's just me). When it comes to the dividend of Hatteras potential investors should note that on December 11th, the company announced a 12.5% in its quarterly dividend and now carries a 10.5% yield ($2.80).
Many of the firms in the agency-based Mortgage REIT sector have the ability to use leverage in an effort to enhance quarterly and annual returns. Such a strategy allows Hatteras Financial, and other names like Annaly Capital (NYSE:NLY) and American Capital (NASDAQ:AGNC) borrow money at low rates and then invest those borrowed funds into investments that offer much higher yields.
Since companies in this sector pay a high percentage of earnings out in the form of a dividend, a drop in earnings can quickly lead to a dividend cut. Ever since the Federal Reserve announced plans for QE3, mortgage rates have been dropping and that makes consumers more likely to refinance. This can lead to lower profits for mortgage REIT companies like Capstead, as mortgages at higher rates are replaced with ones at lower rates and that can lead to a dividend cut. Capstead and a few other REIT stocks recently cut the dividend and that has led to a buying opportunity.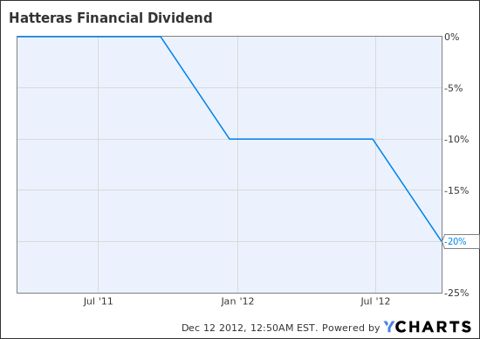 HTS Dividend data by YCharts
Hatteras had been paying 80 cents a share per quarter in dividends, but recently cut the payment to 70 cents, due largely in part to pressure the yield curve has faced over the last few months. One strategy many REIT investors tend to employ is the idea of buying these types of investments during periods in which shares are off 5% - 10% in hopes that they will not only benefit from the dividend distributions but take advantage of the growth potential that could occur during an upswing as well.
How can potential investors of Hatteras thrive in an environment that is saturated by Fed spending? They need to take a page out of Annaly's book and consider an acquisition that will enhance a strategy built on the basis of diversification. When it comes to some of the bigger Mortgage REITs such as Hatteras near-term acquisitions could be a possibility. Smaller, non-agency firms such a Chimera Investment (NYSE:CIM) or Newcastle Investment (NCT) offer non-agency-based assets, and although seemingly disproportionate to current holdings every little should help in an environment in which the Fed acts as a pseudo-Mortgage REIT.
Though no official plans to acquire either have been announced, both non-agency-based Mortgage REITs would offer off-setting assets that may boost the bottom line numbers for a company like Hatteras, especially since the Fed has increased its mortgage spending through 2013.
Disclosure: I am long AGNC, NLY, HTS, CIM, NCT. I wrote this article myself, and it expresses my own opinions. I am not receiving compensation for it (other than from Seeking Alpha). I have no business relationship with any company whose stock is mentioned in this article.