VIX - Market Sentiment:
On Thursday, S&P futures traded in a crazy tight 5 handle move prior to the US stock markets ringing the opening bell. The markets tried to digest the FOMC meeting minutes and release announcing yet more stimulus measures. Yesterday's announcement initially sent the Gold ETF (NYSEARCA:GLD) and Silver ETF (NYSEARCA:SLV) moving higher but today both metals were slapped back down as the euphoria began to wear off. For those who follow me and my trades on twitter know I'm more than likely going to take a 100% loss on my 2x Silver ETF (NYSEARCA:AGQ) as I should have sold it yesterday up 60%. The market continues to burn off the NYMO oscillator. A quick check on this confirms with a reading in the 20's, confirming the market is neither oversold nor overbought.
The spot CBOE Volatility Index (VIX) again showed the way climbing from the lows of 15.71 touching a high of 16.67 before moving lower again to finish the day. Volatility ETF (NYSEARCA:VXX), 2x ETF (NASDAQ:TVIX), and alternative 2x ETF (NYSEARCA:UVXY) initially ripped higher as front month volatility buyers stepped up but then faded into the close. Large premiums were taken home yet again today as 4.2M in net calls were bought and 1.0 in net puts were bought. This is more than likely short calls and puts being closed looking for the next big trade. Just as in yesterday's sonar report (here) the big trade again was the 17, 18, 21 trade outlined yesterday this time done 20K times each.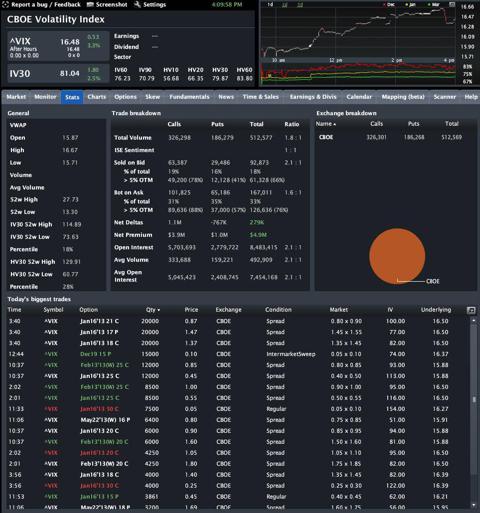 Statistics and Screenshot Provided By LiveVol
VIX futures are below.
Yesterday
· December VIX futures 16.08
· January VIX futures 17.05
· February VIX futures 18.03
Today
· December VIX futures 16.40
· January VIX futures 17.23
· February VIX futures 18.23
Options Paper:
The market continued to have weak volume yet again as just under over 14.75M contracts traded on the day. Led again by dividend stealing MM's the biggest single option volume today was Sirius (NASDAQ:SIRI) which traded almost 1.5M contracts. Following SIRI, the usual subjects S&P ETF (NYSEARCA:SPY), Apple (NASDAQ:AAPL), NASDAQ ETF (NASDAQ:QQQ) and Russell ETF (NYSEARCA:IWM) rounded out the day accounting for 4.5M of the remaining contracts. Not quite in the top but still on heavy volume were stocks Research in Motion (RIMM), Facebook (NASDAQ:FB), and Bank of America (NYSE:BAC).
A long hated name of mine - Hewlett Packard (NYSE:HPQ) - has been on the sonar in recent weeks for unusual OTM call buying. Today the bulls took no doubt about it as they gobbled up almost 12K of the December 15 strike calls for .19 causing volatility to spike in early trading. This is simply a bet HPQ will continue to run higher north of 15 prior to December expiration next Friday. Although it will be interesting to see where these calls end as more than 38.7K of the contracts traded today with only 16.9K open interest. The true test will be tomorrow when open interest adjusts to see how many of these were held overnight and how many were just pumped and dumped into the CNBC Fast Money Halftime report. Options activity was more than 130% of average daily volume with calls outnumbering puts 1.7 to 1.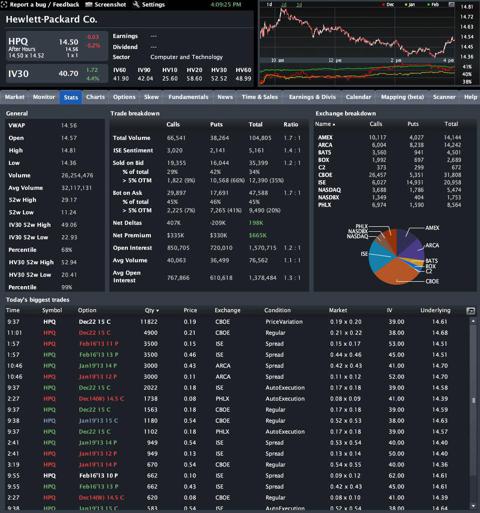 Statistics and Screenshot Provided By LiveVol
Another follow-up on my note from my sonar report on Monday yesterday (here), I mentioned OIH call buying. OIH traded down today with the majority of other commodity names but it appears the bulls continue to believe this will rally. The 39 puts are now being sold in blocks and the January 39 calls continue to overall be bought. Although I have no position in this name I am looking to potentially get into some calls if the volatility will come down a point or two. Keep this name on your radar as a breakout or breakdown could be building.
Popular ETFs and equity names with bullish/bearish paper:
Bullish Option Flows - ISE and % OTM calls bought on offer
Baxter International (NYSE:BAX) 76%
MBIA (NYSE:MBI) 71% of the 22K calls bought on ask
Japan ETF (NYSEARCA:EWJ) 66% follows Yen ETF (NYSEARCA:FXY) puts so this makes a ton of sense.
Andarko Petro (NYSE:APC) 65% of calls bought heading into earnings
Tempur Pedic (NYSE:TPX) 54% of calls bought as stock ripped higher
Bearish Option Flows - ISE and % OTM puts bought on offer
McGraw-Hill (MHP) 99% - Part of dividend steal appears to be delta neutral but keep an eye on it
NII Holdings (NASDAQ:NIHD) 85%
Pulte Homes (NYSE:PHM) 81%
Pfizer (NYSE:PFE) 63% of the 8.2K puts look rolled forward
Disclosure: I am long AAPL, AGNC, AGQ, APC, KERX, KOS, MTGE, PG, PSX, SNDK, VHC, and I am short DB, FSLR, FXE, LYV, SPY.
Trades today: Trimmed DB and FSLR shorts
I wrote this article myself, and it expresses my own opinions. I am not receiving compensation for it (other than from Seeking Alpha). I have no business relationship with any company whose stock is mentioned in this article.
Disclaimer: The opinions in this document are for informational and educational purposes only and should not be construed as a recommendation to buy or sell the stocks mentioned or to solicit transactions or clients. Past performance of the companies discussed may not continue and the companies may not achieve the earnings growth as predicted. The information in this document is believed to be accurate, but under no circumstances should a person act upon the information contained within. I do not recommend that anyone act upon any investment information without first consulting an investment professional as to the suitability of such investments for his or her specific situation.
Disclosure: I have no positions in any stocks mentioned, and no plans to initiate any positions within the next 72 hours. I wrote this article myself, and it expresses my own opinions. I am not receiving compensation for it (other than from Seeking Alpha). I have no business relationship with any company whose stock is mentioned in this article.