China's announcement to spend $2.1 billion on solar energy upgrades has bolstered the Guggenheim Solar ETF (NYSEARCA:TAN), along with the Market Vectors Solar Energy ETF (NYSEARCA:KWT). The rally occurred just one week following a previous uptick within the sector after the China Development Bank had pledged a $1 billion investment in JinkoSolar (NYSE:JKS).
"While the proliferation of environmentally friendly solar power is undeniably a laudable goal, the economics and feasibility of the proposed technologies remains questionable. Some argue that these technologies need to be pursued at any cost, but the reality of today's economic climate is that speculative financing is scarce and that fossil fuels are no longer at stratospheric levels," Abraham Bailin wrote for Morningstar.
Year-to-date, KWT and TAN have lost about 42%. KWT has gained 8.5% since China's announcement, and TAN is up 10%. Trading volume within both funds has surged to three times the regular activity.
China exported around $26 billion worth of solar power components to the eurozone last year. Chinese-manufactured solar products account for 65 % of the global market, and dominate Europe in terms of exports. Officials in China's renewable energy industry reported that the country will have about 40 gigawatts of solar power up and running by 2015, reports UPI.
While Chinese investment in the sector is positive, a long-term run up within the industry will take time to materialize. Solar stocks have been through tough conditions and must unwind debt, consolidate and have time to bolster their balance sheets. Some analysts say that the recovery within the sector is a plus, but only the strongest companies will survive. For a long-term investment, the solar industry still needs time to recoup, reports Benzinga.
Guggenheim Solar ETF
(click image to enlarge)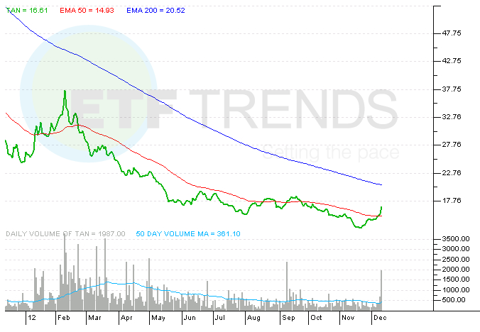 Tisha Guerrero contributed to this article.
Disclosure: I have no positions in any stocks mentioned, and no plans to initiate any positions within the next 72 hours. I wrote this article myself, and it expresses my own opinions. I am not receiving compensation for it. I have no business relationship with any company whose stock is mentioned in this article.
Additional disclosure: Mr. Lydon serves as an independent trustee of certain mutual funds and ETFs that are managed by Guggenheim Investments; however, any opinions or forecasts expressed herein are solely those of Mr. Lydon and not those of Guggenheim Funds; Guggenheim Investments; Guggenheim Specialized Products, LLC or any of their affiliates.