We recently analyzed and evaluated Best Buy's (NYSE:BBY) recent quarterly results and needless to say Best Buy has a long way to go before it regains the momentum that it previously held during the last decade. In an attempt to recreate the beautiful symphony of sales and profit growth that Best Buy enjoyed from 2003-2008, BBY's Founder and Former CEO Richard Schulze has been floating the idea of acquiring the 80% of BBY that he doesn't own as part of a potential leveraged buyout in partnership with a consortium of private equity investors. Schulze first floated the idea of buying out BBY at $24-26/share in August, three months after he was forced out as Chairman by BBY's board in the wake of the Brian Dunn scandal. Many analysts expected BBY's Interim CEO George Lawrence Mikan III (grandson of Minneapolis Lakers basketball legend George Mikan) to replace Dunn as CEO but the board ended up hiring Hubert Joly away from Carlson instead. According to the Star Tribune, Hubert Joly had close ties to Former BBY CEO Brad Anderson and Brad Anderson is Dick Schulze's right-hand man and protégé. After months of rumors and speculation, Schulze had a "hard deadline" to make a bid by Sunday December 16th, 2012 and is expected to make a fully financed offer to purchase Best Buy by the end of the week and Schulze is expected to present a bid that is worth $5B-$6B.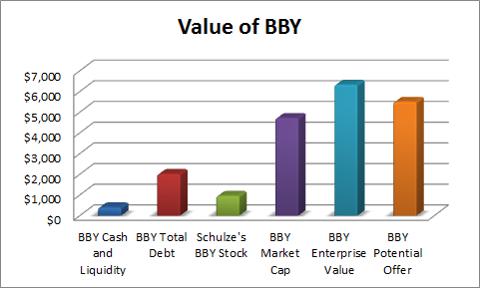 Source: Morningstar Direct and the Star Tribune
BBY's share price had declined by 33% since we began covering it back in August and while we were concerned about the deteriorating fundamentals of the company, we did not ignore the potential for a deal by Dick Schulze and his group. The market is somewhat pleased that Schulze is potentially presenting a formal bid and it bid Best Buy's shares up by 15% on December 13th, 2012. Schulze originally outlined a $24-$26 per share bid for Best Buy during the summer however Best Buy's sales slump and margin compression in 2013 has resulted in its stock price sagging as well as the expected price that Best Buy's shareholders could realize from a potential deal. As recently as November, there was speculation that BBY would be acquired by Schulze and his group at about $18/share to $20/share. With the recent news that Schulze is looking to present a potential bid of $5B-$6B, that represents a per share bid of $15-$18 per share for the company, which represents a decline of 30%-38% relative to the initial proposed bid outline price in the summer.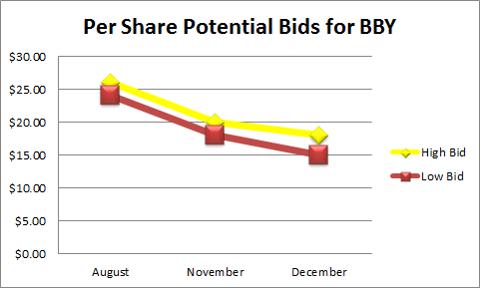 Sources: StreetInsider and the Dallas Business Journal
Deutsche Bank analyst Mike Baker expected that a potential deal for Best Buy would have been financed by 30% equity and 70% from debt, which would include Best Buy's current net debt of $1.6B. Because Schulze owns 20% of Best Buy's outstanding shares, we would not expect Schulze to require much in terms of additional equity financing. Schulze was originally given a 60 day period around the beginning of September to perform due diligence, with a 30 day extension if good faith progress was being made. The most notable private equity firms within the Schulze group included Cerberus, Leonard Greene & Partners and TPG Capital. Schulze's top two advisers include Best Buy's former President Al Lenzmeier and his protégé Brad Anderson. Schulze requested the 30 day extension from the original deadline of Mid-November to see how Best Buy's holiday numbers would hold up.
Best Buy's board may not necessarily accept a bid from the Schulze group even if Schulze presents a bid on Friday. Best Buy's board could reject the offer and under the original negotiating terms between the two parties, Schulze can make a second offer in January if the board rejects his initial bid and a source close to Schulze is expecting the board to reject Schulze's initial bid.
In conclusion, we like the fact that Best Buy has been beaten down so badly that it was getting cheaper by the hour. While we have no illusions that Best Buy's share price has been beaten down due to the deteriorating fundamentals at the company, we believe that investors can't be so focused on fundamentals that they can't take a fair and balanced look at extraordinary events such as a potential bid by a company founder. We think that Best Buy's best course of action would be to accept a bid that Schulze and his group put together and to let Best Buy be Dick Schulze's problem.
Disclosure: I have no positions in any stocks mentioned, and no plans to initiate any positions within the next 72 hours. I wrote this article myself, and it expresses my own opinions. I am not receiving compensation for it (other than from Seeking Alpha). I have no business relationship with any company whose stock is mentioned in this article.
Additional disclosure: Additional disclosure: This article was written by an analyst at Saibus Research. Saibus Research has not received compensation directly or indirectly for expressing the recommendation in this article. We have no business relationship with any company whose stock is mentioned in this article. Under no circumstances must this report be considered an offer to buy, sell, subscribe for or trade securities or other instruments.