I am constantly buying wedding gifts. It seems like every time I check my mail, another wedding invitation is waiting for me. As a veteran wedding gift shopper, I have my routine down pat. My biggest piece of advice is to shop early to ensure that you have plenty of gift options to choose from. Understanding your choices is important, so the first thing I do is check out the couples' registries online.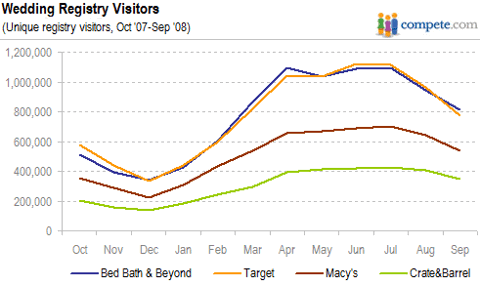 Above is wedding registry traffic for a subset of the "Top Places to Register," according to brides.com. Corresponding with the most and least popular months for weddings, registry traffic peaks in the spring and summer and crests in the winter. In July 2008, over 1,1700,000 people visited one or more of these registries, compared to only 367,000 people in December 2007. Bed Bath & Beyond and Target are the most visited registries on this list. This finding is not surprising given that from a gift giver's perspective, these retailers carry a large selection of affordable and practical items (think toaster oven and sheets).
So you have done your research and figured out your price range, the next major step is to actually purchase a gift.

On average, 10% of shoppers made a registry purchase. Crate&Barrel is the front runner of this group with a whopping 14% conversation rate.
Given that people looking at wedding registries are browsing on a very specific mission, it is not surprising that most retailers have a higher registry purchase rate than their general purchase rate, which is an average of 5% of visitors. It is extraordinary, however, just how much more likely registry visitors are to purchase when compared to general retailer visitors.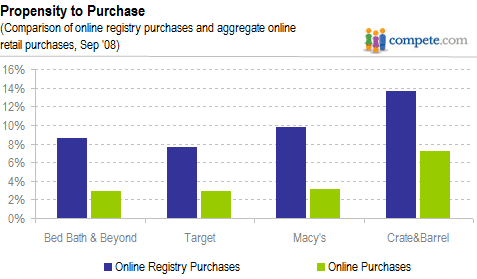 Shoppers are 2-3 times more likely to make an online purchase when shopping for a wedding present than for other purposes. That means that if retailers increase their popularity among registrants, they are likely to see an increase in online purchases.
My closing advice to everyone is if you are in the market for a wedding gift, it pays to shop now. Many retailers are offering free shipping on select purchases from now until the end of the holiday season.