Considering Thursday's down day in the overall markets, Celsion (NASDAQ:CLSN) continued to gain ground ($8.83/share) on new calls exceeding current levels going into January 2013. Exuberance over what ThermoDox may represent (a multi-billion dollar market) could surpass hotly contested double digit estimations for this low 36M common share firm.
As a backdrop, here's a quick look at Celsion's bullish chart. Upward buying pressure is building on decreasing volume. Are long-holders taking a position? MACD looks extremely bullish.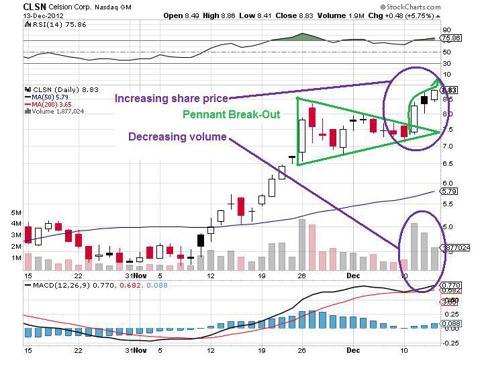 But there is more than this chart. Six other potential catalysts could be announced ahead of the HEAT phase III results expected in January 2013. If any of these additional catalysts happen first, the push towards double digits could come sooner rather than later.
For example, Celsion could report a(n):
1. Positive update on its ongoing ThermoDox-breast cancer study
The DIGNITY phase II trial is ongoing and Celsion reports:
Clinically meaningful responses were observed, including a target lesion response rate of 45% without local progression (complete response 9.1%, n=1/11, partial response 36.4%, n=4/11). The study found that 50 mg/m2 is the acceptable Phase 2 dose, as determined by independent review. Based on these results, Celsion is continuing into a Phase 2 study, to include additional clinical research sites.
Any day now Celsion could announce that the phase II study is in motion. This would be a bullish event.
2. Positive update on the advancement of its ThermoDox-bone cancer study
In a collaboration with Royal Philips Electronics (NYSE:PHG), Celsion announced that a phase II trial would happen in the 2H of 2012. Here's what that news release stated:
the U.S. Food and Drug Administration (FDA) has provided clearance to initiate a clinical study supporting a joint development program for Celsion's ThermoDox® combined with Philips' Sonalleve MR-HIFU (MR-guided high intensity focused ultrasound) technology for the palliation of painful metastases to the bone caused by lung, prostate or breast cancers. The companies expect to initiate a Phase 2 study in this indication in the second half of 2012.
Any day now Celsion could announce that this phase II study is moving forward. This would be a bullish event.
3. Expanded global partnership of ThermoDox in advance of HEAT phase III results
It is well known that European and Asian regulatory authorities will follow the FDA's recommendation. In this case, I suggest following the unfolding story in China. While a partnership may not be announced until after HEAT phase IIII results, this represents a lucrative market opportunity for Celsion. Looking back, Celsion increased its HEAT phase III study size to be positioned for the Chinese market. The footprint for this is foreseen here in this May 2012 event:
Celsion Corporation... has signed a long term commercial supply agreement with Zhejiang Hisun Pharmaceutical Co. Ltd. (SSE Code: 600267), a leading pharmaceutical company in China, for the production of ThermoDox®, Celsion's proprietary heat-activated liposomal encapsulation of doxorubicin. Hisun is one the largest manufacturers of chemotherapy agents globally, including doxorubicin, and a leading manufacturer for multinational pharmaceutical companies, through partnerships such as the $295 million Joint Venture with Pfizer, signed in February 2012.
Any day now Celsion could expand upon this strategic initiative. It intrigues me that Pfizer (NYSE:PFE) is mentioned as if Celsion may be brokering a much longer-term relationship. This would be a bullish event.
4. Positive update on the advancement of its ThermoDox-metastatic liver cancer study in collaboration with the University of Oxford
Notice the timeline ("late 2012") of this announcement:
Celsion's heat-activated liposomal encapsulation of doxorubicin, in combination with ultrasound-guided High Intensity Focused Ultrasound (HIFU) to treat metastatic liver cancer. The early phase clinical study is being finalized and will require approval from a local Ethics Committee. Treatment of the first patient is targeted for late 2012.
An earlier clinical study can be traced here. Clearly Celsion is in a position to move forward. This too would be a bullish event.
5. Further expansion of its clinical targets for ThermoDox
Here's one of the most amazing facets of Celsion ThermoDox story. The company over the last decade has only expanded its medical targets suggesting that the multi-billion dollar market is a significant opportunity. Take a good look at Celsion's clinical pipeline and you will see how ThermoDox has expanded into multiple clinical targets.
Should Celsion expand ThermoDox's clinical targets, it would be viewed as a bullish event.
6. The possibility of buying out the firm in advance of ThermoDox HEAT phase III results
I see this as the least likely scenario, but it warrants mentioning. The history leading up to ThermoDox's technology is not a market secret. You can rest assured the potential acquirers are doing whatever they can to gain an edge going into January 2013.
The notion that mega-giant pharmaceutical firms are happily twiddling their thumbs waiting along with the rest of the market for HEAT phase III results is a fairyland tale. For example, Teva's (NYSE:TEVA) commitment to medical devices could make Celsion's ThermoDox technology a unique fit (See: "Celsion To Open The Door For Medical Device Companies Following Its Success"), then there the firms like Bristol-Meyers-Squibb (NYSE:BMY) that need the infusion of a new technology winner. After all, Celsion's ThermoDox in hepatactic cancer has Orphan drug status ensuring to the purchasing firm years of market protection. One wonders if the Novartis' (NYSE:NVS) and Sanofi's (NYSE:SNY) of the world will be able to wait. Clearly, if buying out Celsion is announced, it would be a very bullish event.
Risk Factors & Summary Analysis
Unlike some biotechs, Celsion seems astute at informing the investor community of corporate activities. However, there are some risk factors that should be used as a counter-balance to potential catalysts:
Should the company enter into a capital-raising event that dilutes shareholders ahead of the HEAT phase III results -- especially since the company has stated it wouldn't do that -- that would most likely spark a share price retreat in advance of news.
Should an unforeseen negative event stemming from the company's expanded clinical pipeline be announced, it could undermine Street's confidence in ThermoDox's technology.
Should the HEAT phase III results fail to achieve the primary end-point, it will be devastating to the company's share price.
While the first two risk factors seem less likely to happen, I am on record ("A Reasoned Case For Celsion's ThermoDox") that I expect the HEAT phase III trial to be a success (However, investors are strongly warned that results will not be known until Celsion publishes the results. I could be wrong and I weigh my own position day-to-day.). Thus, the risk remains.
But that aside, I am waiting for Celsion to move like Sarepta (NASDAQ:SRPT) did especially since the multiple billion dollar potential of ThermoDox, if successful, would be a sales market global valuation game-changer. Obviously, the higher the share price goes, the potentially greater the fall, but it could also be argued that at $8.83/share, Celsion is a bargain should the HEAT phase III results be a success. I continue to like the story here enough to contradict my fiscal cliff cash bearishness in order to catch what I foresee could be an incredible bullish ride. I maintain a very bullish call with a $20/share potential upside prior to HEAT phase III results.
Disclosure: I am long CLSN, CVM, QCOR. I wrote this article myself, and it expresses my own opinions. I am not receiving compensation for it (other than from Seeking Alpha). I have no business relationship with any company whose stock is mentioned in this article.
Additional disclosure: Investors buy and/or sell at their own risk. This article is for entertainment purpose only and offers zero individual advice. You are duly warned and obligated to seek the advice of a licensed market professional. 'Long' for me is until I sell and I do not 'short' stocks. I may sell any stock at any time. Recently I added to my position in CLSN.