In its most recent conference call, Seadrill (NYSE:SDRL) CEO Fredrik Halvorsen discussed the recent selling of assets that is currently underway. There have been questions of whether or not it was done for investment purposes or dividend sustainability purposes. Surely shareholders would not want to see assets being sold to fuel such a high dividend. They would rather see substantial revenues and growing cash flows to pay such a lofty yield, which is currently around 9%. Let's look a little deeper into this spin-off to see what it means for us.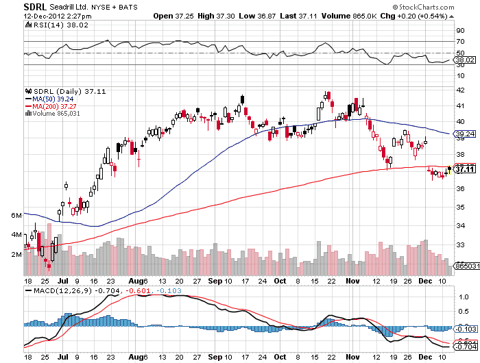 Source: Stockcharts.com
The sale, which involved Seadrill's tender rig fleet being sold to SapuraKencana, a Malaysian based oil and gas company, will be for a reported $2.9 billion. This sale would effectively give SapuraKencana the world's largest tender rig fleet. The deal would also double Seadrill's stake in SapuraKencana to 13% by receiving $350 million in SapuraKencana shares. Through the first three quarters of the year, the tender rig division has accounted for $556 million in total operating revenues, including $183 million in Q3, when it had a 98% economic utilization rate.
This sale has become a hot debate in some of Seeking Alpha's comment sections on whether or not this sale will end up being in the best interest for the company. After all, with such a high economic utilization rate, the sale will clearly hurt Seadrill in the short-term with the lost income from the tender rigs. But Lukas Daul, an analyst covering the company thinks that Seadrill is selling out on top. He had this to say on the matter:
They are selling a division at a full price and there's a clear advantage of selling a business if you can achieve a full price. It's been a fantastic run since they started and they [will] pull out on top.
Essentially, Daul is implying that the tender rig division is in the past and that while it still generates money now, it is not the future of offshore drilling. He seems to think that Seadrill unloaded the fleet at the perfect time and in his words, is pulling out on top. This might not be too far from the truth, with Seadrill looking to use the funds to push ultra-deepwater drilling, which have daily rates in the $550,000 to $650,000 range. Holversen said this in the most recent conference call:
All funds received for the sale will be used to fund future growth in Seadrill in either the ultra-deepwater or the jack-up markets, this could again be organic or it could be through M&A. The transaction establishes the strong player in the Asian oil services markets and will increase the cooperation between Seadrill and SapuraKencana.

The ultra-deepwater market continues to show a strength primarily from an increase in demand from Africa and the Gulf of Mexico and daily rates have now steadily increased to the range of $550,000 to $650,000 range somewhat depending on location and the contract duration.

Oil companies are exploring deep water depths and more technically demanding well construction techniques. Again this leads our customers to emphasize more on modern rigs with greater load capacities and we expect this trend to put further pressure on supply in the coming years.
Now, investor concerns regarding the short-term effects of the lost tender rig revenues is legitimate. Seadrill certainly will feel a pinch from this and it may come in the form of a reduced dividend -- though they will not pay one until June 2013, excluding any special dividends. Of course, this is not definitive but just something to consider. Below are the operating incomes for Seadrill's floaters, jack-ups and tender rigs:
Floaters: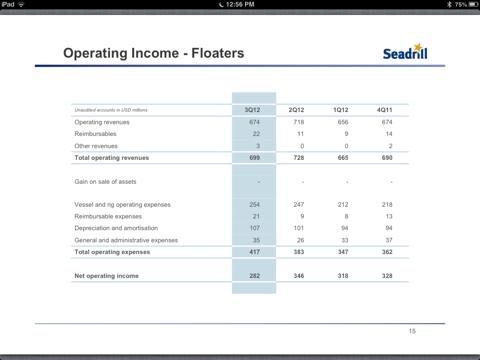 Source: Seadrill
Jack-ups: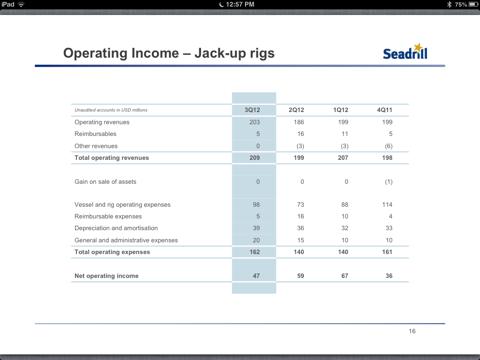 Source: Seadrill
Tender Rigs: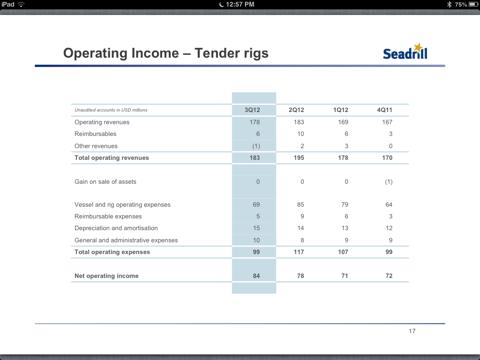 Source: Seadrill
In the third quarter, floaters generated $699 million in total operating revenues and jack-ups generated $209 million in total operating revenues, while tender rigs only generated $183 million in total operating revenues. With more jack-ups and ultra-deepwater fleets under construction for future drilling, this will certainly make up for the absence of the tender rigs division by generating far more revenues in the future. The pinch from the tender rigs will be expected, but down the road, the sale should generate more money for Seadrill.
John Fredrikson, the company's largest shareholder, went on to say, "net proceeds from the transaction will be redeployed as equity to aggressively grow our deep-water fleet and also open up for significant new investment in the jack-up sector." That's a good thing to hear considering that floaters generated over 3.8 times the revenue that the tender rigs did last quarter, while the jack-ups generated 1.14 times the tender rigs revenue.
With three new ultra-deepwater rigs beginning in 2013 and four in 2014, Seadrill has positioned itself well for both unloading its tender rigs division and expanding its true money maker for future success. To summarize, while this sale may pinch Seadrill in the short-term, I think it will help substantially increase future revenues growth and cash flow in a high growth area.
Disclosure: I am long SDRL. I wrote this article myself, and it expresses my own opinions. I am not receiving compensation for it (other than from Seeking Alpha). I have no business relationship with any company whose stock is mentioned in this article.