Refiners, some more than others, rode the wave of the WTIC-Brent spread (see chart below) to new heights during 2012. Since distillates have continued to mostly trade at world market prices, and since those prices had more in common with the necessary costs to produce these products using benchmark crude prices more akin to Brent prices, such has meant increasing margins for those U.S. refiners that could refine their whole, or part, of the production using WTIC-priced inputs.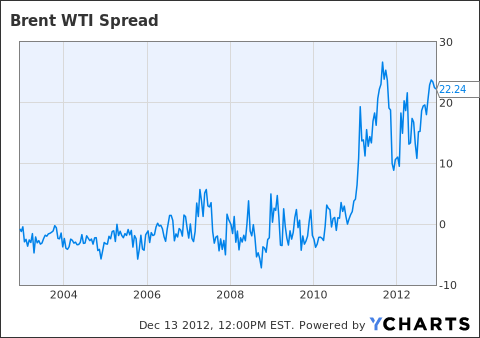 Brent WTI Spread data by YCharts
This phenomenon was particularly helpful for HollyFrontier Corporation (NYSE:HFC) and Western Refining (NYSE:WNR), but it also helped Valero (NYSE:VLO), Tesoro (TSO) and Phillips 66 (NYSE:PSX).
At this point, however, two risks are rising. These risks are …
The crack spread has narrowed recently
Even taking into account WTIC, the crack spread has recently seen a significant deterioration, as can be seen below (Source: Bloomberg).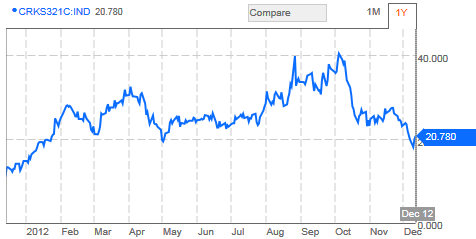 This deterioration is not yet in the refiners' estimates. For instance, HollyFrontier Corporation has hardly seen any recent deterioration of earnings estimates: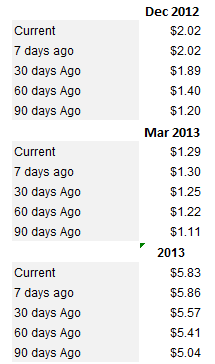 As such, it's likely that this spread compression has not yet been factored into the stocks, most of which have been rallying nonstop.
The spread between WTIC and Brent is always at risk
Worse still, not only has the WTIC-based crack spread narrowed, but the same has also hit the Brent-based crack spread, which fell steeply and sits at a low level (Source: Bloomberg)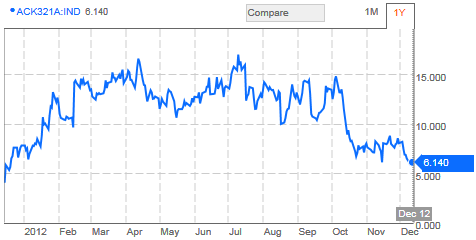 Now, WTIC is not going to price lower than Brent forever, and as 2013 starts, the Seaway pipeline, which was reversed during 2012 to alleviate excess supplies in Cushing, is now predicted to increase capacity almost 3-fold, from 150k bpd to 400k bpd. Not only that, but a twin is also being planned to expand capacity to around 850k bpd by mid-2014. As this capacity comes online at some point, WTIC will once again be arbitraged to price at about the same as Brent, as was the case historically. When that happens, the crack spreads between WTIC and Brent will normalize, implying lower crack spreads overall.
Conclusion
The refiners have been very favored by the WTIC/Brent spread, especially those like HollyFrontier Corporation and Western Refining which could refine a larger proportion of WTIC-priced crude. This has led to higher crack spreads that would otherwise have been enjoyed. However, recently even WTIC crack spreads have narrowed, and there's the chance that at some point these crack spreads will converge to Brent crack spreads, which have also narrowed and are rather low. These two risks do not seem to have yet affected the earnings estimates on the refiners so they stand to have an impact on the share prices.
I am not saying these should be shorted, as the Fed's moves make shorting hard, but care should be taken by those long these shares.
Disclosure: I have no positions in any stocks mentioned, and no plans to initiate any positions within the next 72 hours. I wrote this article myself, and it expresses my own opinions. I am not receiving compensation for it (other than from Seeking Alpha). I have no business relationship with any company whose stock is mentioned in this article.