General Electric (NYSE:GE), the legendary American institution, founded in 1878 by Thomas Edison, is in deep trouble. Its PR machine has been in constant spin mode as the company sinks deeper into despair. It is one of the few companies in the U.S. that still retains a AAA rating. Considering Moody's and S&P's track record, rating companies and financial instruments, that AAA rating is not worth the paper it is written on. One look at GE's balance sheet will convince you they do not deserve a AAA rating. AAA companies do not need to take the desperate actions that GE has taken in the last few months.
click to enlarge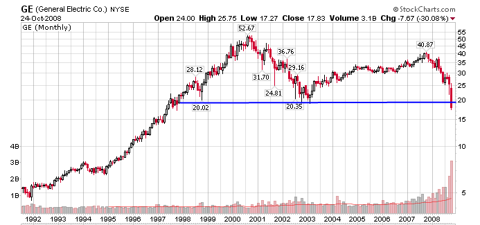 Source: Mike Shedlock
The virtual crash in its stock price indicates that there is something seriously wrong with GE. The stock reached $53 at its peak in 2000. It closed below $17 this past week, the lowest level since the mid-1990s. CEO Jeffrey Immelt, who took over from icon Jack Welch in 2001, has made his mark by managing the company to a 68% decline in its stock price. You will not see anyone on CNBC take a hard look at GE's financial statements or ask the CEO tough questions, because Mr. Immelt signs their paychecks. While shareholders have taken a bath, Mr. Immelt, a Harvard MBA, raked in $72.2 million of compensation between 2002 and 2007. A company that is known for its pay for performance mantra evidently does not hold its CEO to the same standards.
The first signs of cracks in this global institution appeared in April 2008. GE has met their earnings projections consistently for decades. It is widely known that they are masters of "legal" earnings manipulation. Accounting rules allow for wide discretion in reserves and estimates. GE Capital has always been a black box within the larger company. GE does not provide detailed financial information about this division. This lack of detail has allowed GE to use this division as its backstop for meeting earnings estimates. During a better than expected quarter, they take extra reserves and have the quarter meet estimates or beat by one cent. During a down quarter, they use those excess reserves to meet estimates. The GE Capital division would also sell liquid assets at the end of a quarter to guarantee smooth sailing. This earnings management had lulled analysts and stockholders into being complacent regarding GE's business.
In mid-March Mr. Immelt confirmed publicly that GE would meet earnings expectations of $.50 to $.53 per share for the quarter ending March 31. With 2 weeks left in a 12 week quarter, Mr. Immelt was confident in their results. When GE reported earnings of $.44 per share in early April, the world was shocked. The stock, which had reached a yearly high of $37, dropped 16% to $31. Knowing that GE always has excess reserves to manage their earnings, with only two weeks left in the quarter, made the magnitude of the earnings miss beyond belief. Former CEO Jack Welch went on CNBC and said, "I'd be shocked beyond belief, and I'd get a gun out and shoot him if he doesn't make what he promised now. Here's the screw-up: you made a promise that you'd deliver this, and you missed three weeks later. Jeff has a credibility issue." Mr. Welch is absolutely right. Jeffrey Immelt has no credibility left. His excuse was, "We had planned for an environment that was going to be challenging...[but] after the Bear Stearns event, we experienced an extraordinary disruption in our ability to complete asset sales and incurred marks of impairments and this was something that we clearly didn't see until the end of the quarter." A top CEO should have a better handle on his business.
The next daggers into Mr. Immelt's credibility occurred in late September and early October. On September 25, with the stock trading at $25.50, Jeff Immelt lowered GE's earnings guidance, suspended its $15 billion stock buyback plan and declared they needed no outside capital. He reaffirmed their commitment to maintaining a AAA rating with these actions. One week later he convinced Warren Buffett to invest $3 billion in the company by paying him an annual dividend of 10% while granting him warrants to purchase $3 billion of common stock at $22.25. It then sold $12 billion of additional shares at $22.25 to the public. These were not the actions of a company or CEO that is in control. AAA rated companies do not have to pay 10% interest rates. Credit default swaps protecting against GE Capital default traded as if GE is a junk bond credit.
The issuing of $12 billion in common stock at $22.25 per share is an act of extreme desperation and brings into question whether GE has a lucid strategy. How can investors have confidence in a company that bought back 97 million shares for $3.1 billion at an average price of $31.69 in the first nine months of 2008, and then issued $12 billion worth of stock at $22.25 in October? Not only did they buyback $3.1 billion of stock in 2008, but they also bought back $27 billion of stock in the prior three years at an average price of $36.46. This is a twist on the old saying, buy high and sell low. If Mr. Immelt was not so focused on trying to beat short term earnings goals by wasting $30 billion of cash on share buybacks, he wouldn't have had to beg Warren Buffett for $3 billion last month at very poor terms from GE's perspective. A CEO is responsible for preparing their company for a worst case scenario and should never risk the company in an attempt to meet short term goals. Mr. Buffett may have made one of the few mistakes of his glorious investing career. He has lost $762 million on his investment in 1 ½ months, a return of -25%.

Most people know GE as an industrial conglomerate that makes light bulbs, appliances, and jet engines. Their advertising agency has positioned GE as a "green" company with an advertising campaign called "Ecomagination", stressing wind power, hybrid locomotives, and environmentally friendly products. The truth is that GE should have an ad campaign called "Bankomagination". GE is a bank disguised as an industrial conglomerate. GE Capital is a division of GE, which truly dominates the results of this company. GE Capital has three subdivisions (GE Commercial Finance, GE Money, and GE Consumer Finance). In 2003, GE Capital generated $5.9 billion of GE's $17 billion of profits, or 35%. By 2007, GE Capital was generating $12.2 billion of their $29 billion of profits, or 42%. Being a bank during the boom years of 2004 to 2007 did wonders for GE's bottom line. Being a bank now is a rocky path to destruction.

GE Capital is enormously leveraged to consumers throughout the world. It issues credit cards for Wal-Mart, Lowe's, IKEA, and hundreds of other retailers throughout the world. GE Capital provides private label credit card programs, installment lending, bankcards and financial services for customers, retailers, manufacturers and health-care providers. It also owns 1,800 commercial airplanes and leases them to 225 airlines worldwide. GE Capital provides credit services to more than 130 million customers — like retailers, consumers, auto dealers and mortgage lenders. Their financial products and services include a suite of offerings, from credit cards to debt consolidation to home equity loans. GE Capital has also been a huge benefit to the industrial side of the business. GE Capital provides financing for customers that buy GE power turbines, jet engines, windmills, locomotives and other big ticket items. The crucial question is whether the people and companies who received loans from GE Capital can pay them back. GE's future is highly dependent on the answer to this question. 
The AAA rating of GE allows GE Capital to borrow funds at lower rates than all banks in the United States. Their cost of capital has been 7.3%. Losing that rating would be disastrous to GE Capital. Between 2002 and 2006, GE Capital did what most other banks did and levered up. Their ratio of debt to equity rose from 6.6 to 8.1, while profits quadrupled. GE Capital jumped into the subprime mortgage market in 2004, buying WMC Mortgage. It sold it in 2007, after racking up losses of $1 billion in 2007. It also unloaded a Japanese consumer lending company at a $1.2 billion loss in 2007. It is clear that risk management has taken a back seat to profits at GE Capital. GE Capital's profits plunged 38% in the 3rd quarter, the main reason for GE's earnings miss. Analyst Nicholas Heymann of Sterne Agee wrote: "Investors now understand that GE uses the last couple weeks in the quarter to 'fine-tune' its financial service portfolios to ensure its earnings objectives are achieved. It turns out it really wasn't miracle management systems or risk-control systems or even innovative brilliance. It was the green curtain that allowed the magic to be consistently performed undetected."  
Egan-Jones, an independent rating agency, calculates that GE is levered ten-to-one, a more conservative and higher number than the company's eight-to-one figure. Cofounder Sean Egan believes that, depending on the off-balance-sheet holdings, actual leverage could be still higher. His firm rates the company single-A. Looking at GE's Balance Sheet between 2003 and today, clearly shows a deteriorating situation. Long-term debt grew from $172 billion in 2003 to $381 billion by the 1st quarter of 2008, a 121% increase. Their long term debt to equity ratio grew from 68% to 77%. Short-term debt grew from $157.4 billion in 2003 to $218.7 billion in the latest quarter, a 40% increase. The 70% increase in profits between 2003 and 2007 were undoubtedly juiced by the use of prodigious amounts of debt. Stockholder's equity is at the same level as 2004. With cash of only $59.7 billion and short-term debt of $218.7 billion, the freezing up of the credit markets has put GE at major risk when trying to rollover their debt.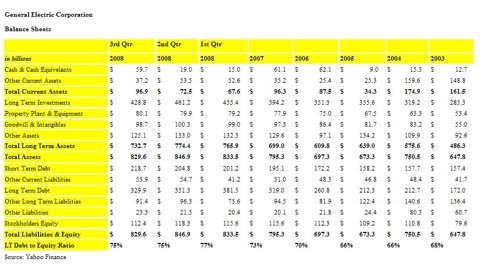 All indications point to a company in trouble. Mike Shedlock, a brilliant financial analyst, recently quoted an insider at GE Capital. "Sales personnel are not allowed to make any more loans this year, and are being told to try to get their customers to pay off their loans. All prepayment penalties are waved for closing loans and GE Capital is about to launch a new incentive scheme for the salespeople that makes it worth their while to get their customers to agree to participate." This sounds like the actions of a company desperately trying to pay down debt. The risks and unknowns for this company are many:
GE announced plans during the summer to sell its lighting and appliance business. It expected to get $5 to $8 billion for these divisions. It has found no buyers.

GE announced that it wanted to sell its private label credit card business, with $30 billion of outstanding receivables. It is not surprising that no buyers have appeared, knowing that many of these receivables are owed by subprime borrowers. GE does not provide bad debt figures for these portfolios.

Paying Warren Buffett 10% on preferred shares when their cost of capital has been 7.3% is a sign of intense stress.

GE has $74 billion of commercial paper outstanding that rolls over every few days. GE was rumored to not being able to rollover this paper. They are now utilizing the Fed's short-term funding facility. This is a sign of weakness.

GE holds $53 billion of off-balance-sheet assets that are pieces of securitized debt, some of which are hooked to interest rate swaps with counterparties that are now troubled. The value of these assets is a complete unknown, but is likely to worth far less than $53 billion.

GE's recent 10Q had the following disclosure: "GE Capital has exposure to many different industries and counterparties, and routinely executes transactions with counterparties in the financial services industry, including brokers and dealers, commercial banks, investment banks and other institutional clients. Many of these transactions expose GE Capital to credit risk in the event of default of its counterparty or client. In addition, GE Capital's credit risk may be exacerbated when the collateral held by it cannot be realized upon or is liquidated at prices not sufficient to recover the full amount of the loan or derivative exposure due to it."

Much of GE's debt is covered by credit insurance. This insurance is virtually worthless, as the credit insurers have collapsed.

GE has $43 billion of long-term debt maturing by June 30, 2009, with another $38 billion due by December 31, 2009. The terms for refinancing this debt will be much worse than the previous terms.

GE convinced the U.S. government to insure $139 billion in debt for GE Capital using the new FDIC program. Why does a AAA company need a government guarantee?

Rumors of a dividend cut have been swirling in the business press. GE spokesmen have guaranteed the dividend only through 2009. Many other banks have promised no dividend cuts in the last year, only to cut dividends a month later.

The most hazardous unknown for GE is the global recession that will likely ravage the company in 2009. Their five main businesses (Technology Infrastructure, Energy Infrastructure, Capital Finance, NBC Universal and Consumer & Industrial) will all be under severe stress in 2009.

Technology Infrastructure is dependent on airline and military spending. Airlines are struggling just to survive and conserve cash. The Obama administration is likely to reduce military spending dramatically.

Energy Infrastructure is dependent on wind, oil and gas companies. With the spectacular decrease in oil prices, these companies are massively cutting capital budgets. Financing for large projects has dried up.

Capital Finance is dependent on consumer credit, commercial lending & leasing, and real estate. This division will be overwhelmed by a tsunami of deleveraging in 2009. Consumers will be defaulting in record numbers and commercial real estate has just begun to implode.

NBC Universal is reliant on advertising revenues from companies and consumer spending on entertainment. Every company in America will be reducing their advertising budgets in 2009 and consumer discretionary spending is collapsing.

Consumer & Industrial is dependent on consumer's spending money on appliances. A housing collapse has led to collapse in appliance sales, which will continue in 2009
The future does not look bright for GE. A perfect global storm will hit GE in 2009. GE is like a giant supertanker loaded with debt that is in danger of being swamped by this perfect storm. A GE collapse would not bring good things to life. It would bring about the mother of all bailouts.
Disclosure: None