Facebook (NASDAQ:FB) is a social media, technology company that would typically not be viewed as a potential value-play stock. It's a high-growth, high-risk stock that growth investors typically would chase, but not value investors. However, just because Facebook is not a typical value-play type of stock, it does not mean that it doesn't deserve the same thorough fundamental analysis performed on value stocks. This article attempts to do the same deep-dive analysis on a high growth company, Facebook. I will summarize my opinion on whether Facebook is indeed a value play at the end of the article.
Current Valuation
As shown below, FB currently trades at 10.1x 2013E TEV/Revenue, 43.1x 2013E P/E, and 5.4x P/B. A few things to highlight first regarding FB's financials and valuation: a) Because Facebook issues a large amount of stock compensation to retain employees (a lot of tech companies do the same), we need to include share grants/restricted stock units/stock options into the fully diluted shares outstanding. If we fail to include these options/restricted stock, we would have calculated market cap of $60bn instead of $77bn, and incorrect 2013 P/E of 33x instead of 43x. b) For FB, Wall Street analysts look at Adjusted EPS (adding back stock compensation expense) instead of GAAP EPS. This is actually okay to do, as long as we penalize Facebook for the stock compensation expense by including the stock compensation in the fully diluted shares outstanding, as referenced in point a) above.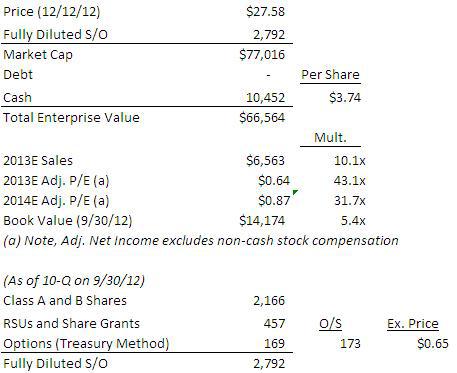 Value investors typically would not go near any stock with such high valuation multiples (Value investors typically look at TEV/Sales below 2-3x depending on revenue growth and margins of the company, P/E below 12x, and P/B below 1.0x). Nevertheless, let's keep digging and see if there are justified reasons for supporting the high multiples of Facebook, such as revenue growth potential or margin improvement.
Revenue Growth Potential
Many investors that are long FB will point to the tremendous revenue growth potential of Facebook's platform. And there is a lot of truth to that. As of Q32012, Facebook had +1 billion monthly unique visitors ("MAUs"). That's right, that would be billion with a "b". The next largest social sites are Twitter (+200mm users), LinkedIn (LNKD) (+100mm users) and Google+ (NASDAQ:GOOG) (+100mm users). As for time spent, Facebook has over 6 hours per user per month, compared to just 40 minutes for Twitter, 30 minutes for LinkedIn, and less than 10 minutes for Google+. As a result of these impressive statistics, Wall Street currently projects that Facebook will grow revenues at 30% a year for the next 5+ years. Wall Street also projects that FB can maintain adjusted net income margins close to 30% a year.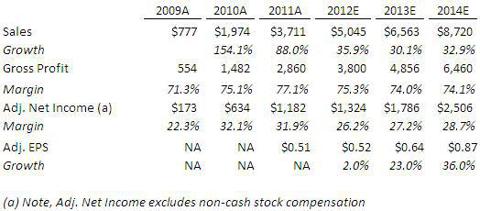 Now are these assumptions on revenue growth and net margins reasonable? One way we can sanity check is to look at a similar tech darling, Google, and see what they have done historically. When GOOG went public on August 18, 2004, GOOG had revenue approximately the size of FB's revenue now ($3 billion sales in 2004) and GOOG market capitalization at the time of the IPO was $23 billion (5.8x forward revenue multiple). From 2004 to 2011, GOOG was able to achieve an average revenue growth of 45% and maintain an average NI margin of 24%. When compared to Google, FB's revenue growth and margin assumptions begin to seem not as outrageous.

Note that while FB and GOOG have similarities, they are different companies and compete in different advertising segments. FB revenue is derived from display advertising and social gaming payments. GOOG revenue is primarily search advertising, along with online video advertising (YouTube) and most recently mobile handsets (Motorola).
Advertising Industry
Facebook's revenue is 86% advertising revenue as of 3Q12. Total Global Advertising Market is over $550 billion (according to IDC), with the United States comprising 30%, or $175 billion. Within the U.S. Advertising Market, the segments are the following: Television (33%), Newspaper and magazines (22%), Internet (16%), Direct Mail (12%), Radio (9%), Directories (4%), and Outdoor (4%). As you can see, traditional media such as television/radio/newspaper still command most of the Ad Dollars in the U.S., with Internet only comprising 16% market share, or around $36 billion a year (but Internet will continue to take market share from traditional media over time).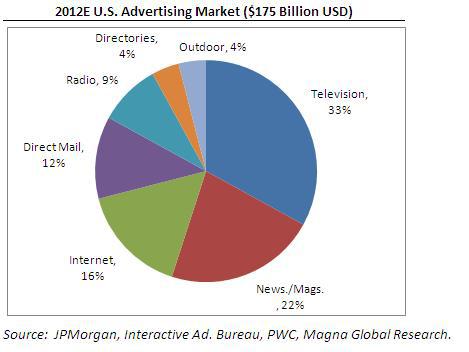 Now let's breakdown Internet Advertising into its sub-segments: Search (45%), Banner (26%), Video (7%), Rich Media (5%), Sponsorship (4%), Classifieds (8%), and Lead Generation/Emails (6%).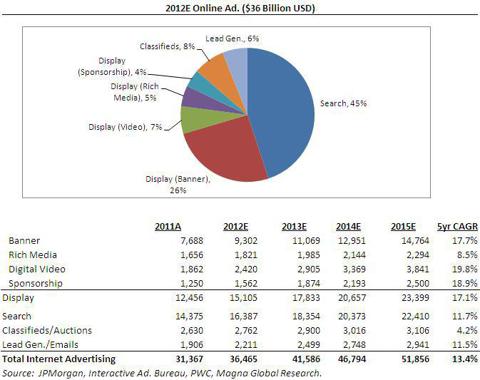 As shown, Search is the dominant sub-segment within Internet advertising, and Google controls 67% of the Search market in the U.S. (note, Google's revenue is only 45% from the U.S.). Facebook competes in multiple sub-segments within Display including Banner, Rich Media and Sponsorship.
One observation from studying these Ad industry projections, is that for Display (the segment Facebook competes in), the five year growth expectation is around 17%. Remember that Facebook is projected to grow revenue +30% a year, which means Facebook will grow above industry growth rates. They can also enter new business opportunities or new segments to grow revenue, which we will talk about later in the article.
Geography
Facebook's MAUs by geography comprise of the following: United States (19%), Europe (25%), Asia (27%), and Rest of World (27%). If you look at revenue instead of users by geography, it's more skewed toward the United States: US/Canada (50%), Europe (31%), Asia (11%), and Rest of the World (8%).

Given the diverse mix of Facebook's 1 billion MAUs around the world, compared to current concentration of revenue from the U.S./Canada/Europe, another way for Facebook to achieve the +30% revenue growth is to accelerate monetization of their international users (note, ad dollars less in other countries than U.S. and Facebook blocked in China which is a huge missed opportunity).
Business Model
Advertising (86% of Revenue): Facebook generates ad revenue selling Display advertising on Facebook's website and more recently on their mobile platform. Advertisers pay for ad products (either directly or through ad agencies) based on the following: Cost per Impression (CPM) multiplied by Number of Impressions/Clicks. For 2012 as an example, CPM is around $0.21 per 1,000 impressions, multiplied by 19 trillion ad impressions for the year: $0.21 / 1,000 x 19 trillion = $4 billion USD revenue.
Payments/Others (14% of Revenue): Facebook started Facebook Credits in July 2010 to allow users to transact on FB Platform and began charging a 30% fee to program and game developers. Of the total payments collected by Facebook, approximately 55% is from Zynga (NASDAQ:ZNGA). Note, Zynga's stock price has been punished lately, due to concerns over the social/casual gaming growth story. However, Facebook Credits has the potential to extend to other forms of eCommerce over time, such as music, video, gifts, etc.
Below is a breakdown of revenue projections based on drivers of revenue. For Ad revenue, you can see that the revenue growth will need to come from CPM annual increases of 5-10%, and more importantly annual Ad Impressions increasing by +20%. Ad Impressions can increase through for following examples: a) increased international user penetration, b) increase time spent per user (more time to see more ads), or c) more ads on the screen (probably won't happen given focus on user experience, and migration to mobile with smaller screens).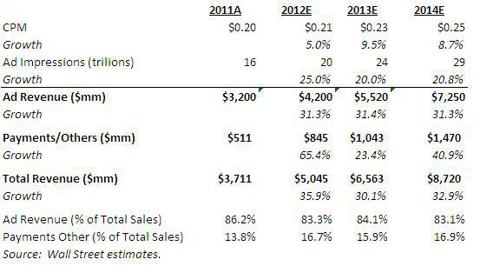 Mobile (60% of MAUs)
Facebook has had tremendous growth in mobile, with over 60% of users or 604mm MAUs (as of 3Q12) logging into Facebook through mobile, and 126mm MAUs logging in solely through mobile. Furthermore, 3Q2012 mobile revenue was 14% of total ad revenue, or $150mm for the quarter compared to $80-90mm expected by Wall Street. This is up from essentially no real mobile revenues at the beginning of 2012.
Mobile is both an opportunity and a risk. Mobile is the latest trend in tech; however, because of the smaller screen size of mobile phones and tablets (smaller area to place ads), investors are concerned of how effective can FB monetize its mobile users. Furthermore, mobile is still new and unproven, and advertisers may be less willing to pay for mobile ads, or will pay a lower CPM for mobile than for desktop ads. As shown below, effective CPM is 5 times lower on mobile than desktop. Nevertheless, Facebook did surprise Wall Street with the effectiveness of their mobile monetization in Q32012.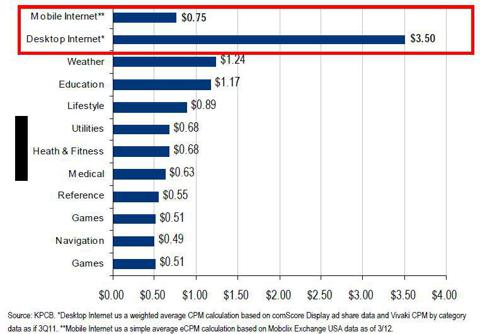 New Revenue Opportunities
Charge 3rd Party Companies for Connecting to Facebook: Facebook is the largest social network in the world with 1 billion users. Many 3rd party companies (including LinkedIn, Twitter, etc.) rely on integrating with Facebook to leverage their massive user information database, and help seamlessly pull over and connect you with your existing network of friends and family. As of June 2012, more than 10mm apps and websites have integrated with Facebook, and Facebook could begin demanding revenue sharing deals with these other companies.
Other Payment Opportunities: Facebook has many other opportunities in lifestyle related applications including music, video and possibly dating. Spotify has 22mm MAUs on Facebook in May 2012 (AppData). The top 10 data apps on Facebook have 38mm MAUs.
Search Ad: Given the possibility to integrate user data into search results, going after the search ad market could be interesting for Facebook. However, note that Google dominates search with nearly 70% market share, with Microsoft Bing and Yahoo controlling the remaining search market. It's unlikely that Facebook would compete with these giants in a sector they have little experience in.
Discounted Cash Flow Analysis
To determine if FB is under or overvalued at current levels, let's do a very basic discounted cash flow ("DCF") based on current Wall Street assumptions on revenue growth of 30% and net margins of 30%. For simplicity, let's assume adjusted net income approximates free cash flow. Let's also assume a year 5 exit multiple of 30x P/E and a discount rate of 15%. By the way, I'm using a higher discount rate because high growth stocks imply high risk, which implies you need a high discount rate or return to justify you taking on that risk. Also, note that I'm aggressively giving FB an exit multiple of 30x P/E, which really is giving FB a lot of credit for continued high earnings growth after year 5. Based on these base assumptions, we get to a price per share of $29.89.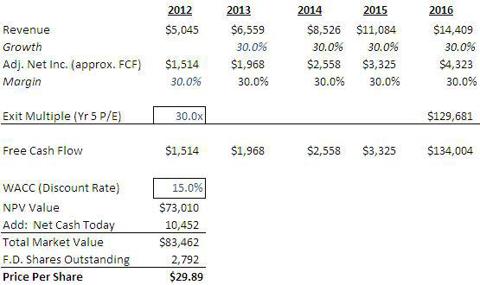 As mentioned throughout this article, there may be some difficulties in achieving some of these assumptions, including the +30% revenue growth rate due to a) need to grow display revenue above industry projections, b) need to grow ad impressions at +20% annual rate, c) concerns over mobile opportunity, d) uncertainty of which new revenue streams will succeed, etc. What is helpful to do is to perform a sensitivity analysis around these key assumptions: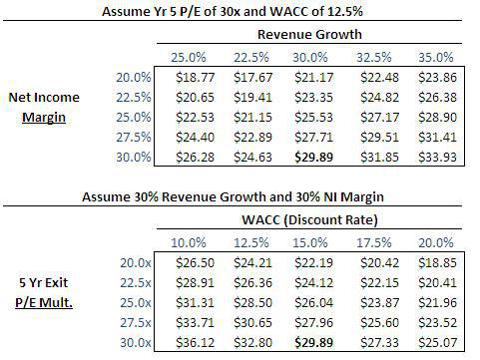 Conclusion (Fairly Valued at Best, Possibly Over-Valued)
Facebook is the #1 social network in the world and it's still early in its opportunity to fully monetize its +1 billion monthly active users. There is no question that Mark Zuckerberg has built a revolutionary social platform that truly has helped connect the world. However, when looking at the fundamentals and the sensitivity table shown above, Facebook seems quite fairly valued at today's prices. If anything, there may be potential downside risk to the stock, if Facebook fails to hit 30%+ annual revenue growth for the next five years, or fails to maintain net income margins around 30%. As a value investor, you can still find value in growth stocks (i.e.: Price-Earnings-Growth below 1.0x), however in this case, Facebook does appear to be fully priced and potentially over-valued (if they fail to meet growth expectations).
Finally, a few qualitative issues that you should also consider:
Lock-Up Expiration
What is lock-up expiration? Basically, when a company goes public (NYSEARCA:IPO), they typically only sell or float 15-20% of the shares of the company at that point of time. The rest of the shares are then "locked-up" for a period of time (anywhere from 6-18 months after the IPO) to prevent too many shares flooding the market at the time of the IPO (bankers are concerned too many shares selling at the same time would depress the stock price; remember the basics of economics of Supply and Demand, too much supply will depress prices).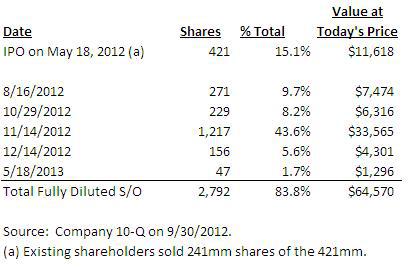 On November 14, 2012, nearly 44% of total shares (or $33 bn at today's price) became unlocked and available to sell into the markets. By the end of 2012, over 82% of all of the company's shares (or $63 bn out of total market cap of $77 bn) will be unlocked and available to trade in the public markets. As long as there are enough willing buyers and legitimate demand for all of those shares worth $63 billion (at today's prices), then this will not be a major concern. Nevertheless, it is something to keep in mind.
Zuckerberg's Majority Voting Rights
At the time of the IPO, it was disclosed that because Mark Zuckerberg controlled 57% of the total voting rights of the Company, due to a) his Class B shares have super voting rights (10 votes for each Class B share vs. only 1 vote for each Class A share) and b) voting agreements with certain shareholders that effectively allows Mark to control their votes. Since the IPO, the Class A and Class B share counts have changed. Below is a table that attempts to calculate Mark's current voting rights (around 58% of total voting shares):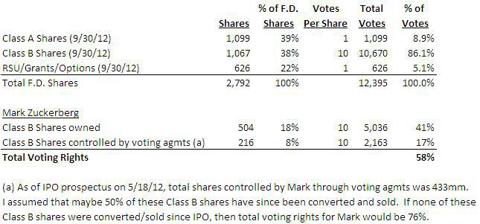 Disclosure: I have no positions in any stocks mentioned, and no plans to initiate any positions within the next 72 hours. I wrote this article myself, and it expresses my own opinions. I am not receiving compensation for it (other than from Seeking Alpha). I have no business relationship with any company whose stock is mentioned in this article.