As reported today by the Wall Street Journal:
Alcatel-Lucent SA has secured a €1.6 billion ($2.1 billion) debt financing deal with banks that the money-losing telecom-equipment company hopes will buy enough time to return the company to profitability, according to people familiar with the matter.

Barring a last-minute snag, Alcatel-Lucent plans to announce the new financing package with Credit Suisse Group and Goldman Sachs Group Inc. on Friday morning, these people said.

The funds will mostly be secured by the Paris-based company's U.S. assets, namely a portfolio of patents from the company's storied Bell Labs research arm and a valuable data-networking business.
As I wrote in a previous article, the company does not need that much money to solve its future liquidity needs. Any announcement towards a resolution on this front, should dissolve any bankruptcy fears that the market may have and should be very rejuvenating for Alcatel-Lucent's stock.
As per the company's Q3 report, Alcatel-Lucent (ALU) has a total of 4.7 billion euros [$6.1B] in cash, cash equivalents and marketable securities. At the same time, it has a total of 10.7 billion euros [$13.9B] in current assets. With current liabilities at 8 billion euros [$10.4B], it is still above water by about 2.7 billion euros [$3.51B] and does not face an immediate liquidity problem.
Total financial debt is 4.8 billion euros [$6.2B], so the actual financial gap, assuming all financial debt was payable today is: 4.8B euros (total financial debt) - 2.7B euros (difference between current assets and current liabilities) + 1.6B euros (current financing) = 0.5 billion euros [~$650M].
The total gap is not 100% closed but it covers most of what the company will need and lifts any bankruptcy concerns the market might have at the current time.
But since the company is still losing money and burning cash, it is not 100% out of danger. But current restructuring efforts that are ongoing as well as its new line of 7950 XRS core routers and the Telefonica deal, should provide a buffer until such time comes that restructuring efforts pay off.
In either case, this deal is positive anyway one looks at it. Shares were up 10% in Paris off the news.
On a technical note, not much has changed over the past few months. As you can see from the chart below (weekly time scale), the stock is trading very flat within a small range. However, assuming the stock also gets a 10% pop in NY today, the chart will be looking a little better.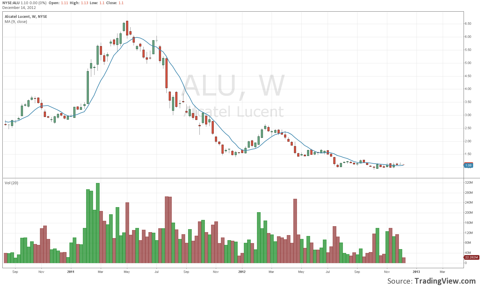 I reiterate my buy recommendation for the stock, for not only does today's financing deal lift any bankruptcy fears that the market might have for the moment, but also, ongoing restructuring efforts should change the direction of the company over the next 12 months. And if I am correct on this call, the potential for profit buying Alcatel-Lucent's stock at today's levels will be substantial.
Disclosure: I have no positions in any stocks mentioned, and no plans to initiate any positions within the next 72 hours. I wrote this article myself, and it expresses my own opinions. I am not receiving compensation for it (other than from Seeking Alpha). I have no business relationship with any company whose stock is mentioned in this article.