Northern American oil production is booming, thanks to both unconventional oil and the Canadian oil sands. One company that saw this coming and amassed a huge land base in both unconventional oil and the oil sands is Athabasca Oil (OTCPK:ATHOF).
Athabasca Oil has some lofty growth plans ahead of it and my valuation work shows that it already trades at a pretty steep discount to the value of its assets.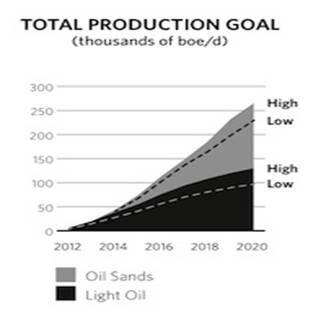 The above graph lays out the production plan for Athabasca Oil through 2020. From a standing start of no production this year, Athabasca is planning to hit 250,000 barrels a day of oil production by 2020. Half of that production will be oil sands, half unconventional light oil.
To do that, the company clearly needs to have a big asset base to develop. Athabasca Oil seems to already have that in place.
Athabasca Oil - The Assets
The Oil Sands Division: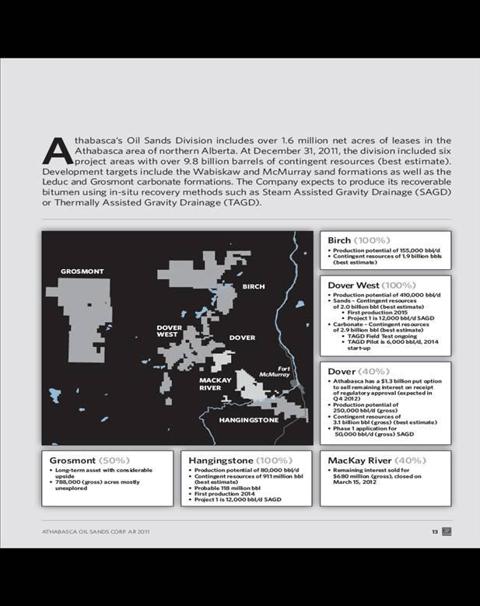 Tell me this company isn't the envy of State-Owned Oil Entities everywhere. Athabasca Oil, despite having zero production, is the largest lease holder in the oil sands.
Production Potential By Oil Sands Property
Birch - 155,000 barrels per day
Dover West - 410,000 barrels per day
Dover - 100,000 barrels (net) per day
Hangingstone - 80,000 barrels per day
Contingent Resources By Oil Sands Property
Birch - 1.9 billion barrels
Dover West - 4.9 billion barrels
Dover - 1.2 billion barrels
Hangingstone - 900 million barrels
Athabasca has locked up billions of barrels of oil sands resource. This resource is valuable today. As more and more development of the oil sands takes place this resource is going to increase in value as technologies and techniques improve allowing more oil to be developed economically from this sort of resource.
Current Status of Athabasca Oil Sands Projects
1) Hangingstone Project (100%) Owned
On March 31, 2011, Athabasca submitted an application to the Energy Resources Conservation Board (ERCB) and Alberta Environment and Water (AEW) for a 12,000 bbl/d SAGD project on its leases at Hangingstone, 20 kilometers southwest of Fort McMurray.
The first barrel of bitumen from this project is scheduled to be produced in 2014. To meet this timeline, several essential milestones will need to be met: regulatory approval, long lead procurement, well pad drilling and construction and commissioning of the central processing facility. The team, comprised of about 30 employees, has responded to the first set of supplementary information requests (SIRs). Upon receipt of regulatory approvals (expected in the latter half of 2012), the Company will start construction.
During the third quarter of 2011, Athabasca acquired 24,640 acres of neighboring oil sands leases at Halfway Creek for $53.6 million and now wholly-owns a total of approximately 136,000 acres. The central processing facility is being designed to process bitumen from the initial development area as well as the balance of the lease, in line with the Company's staged development strategy.
In 2011, the team worked on the front-end engineering and design and commenced the procurement of major, long-lead equipment (boilers, evaporators and pumps). During the 2011-2012 winter drilling program, the Company anticipates drilling65 core wells, 16 water source and disposal wells and expects to acquire approximately 160 kilometers of 2D plus 50 square kilometers of 3D seismic.
Athabasca's Hangingstone acreage has 911 million barrels of contingent resources (best estimate) plus 118 million barrels of probable reserves. A large portion of the asset remains unexplored. For Project 1, a total of 20 SAGD well pairs, plus an additional contingent five well pairs, are initially proposed to be drilled from five well pads. The McMurray Formation underlying the asset is a high quality channel sand with 20 to 25 metres of net pay. The Company's design steam-oil ratio for Project 1 is 3.5.
By 2014, the team is anticipated to be comprised of over 100 employees, including field operators, maintenance and administration personnel as well as support staff. Athabasca expects subsequent development projects will range from 25,000 to 40,000 bbl/d and believes the asset could support a commercial project of greater than 80,000 bbl/d at peak production.
2) Dover West Projects (100%)
The Dover West asset is located approximately 100 kilometers northwest of Fort McMurray and consists of a large, contiguous land base of 209,000 acres. It is a geologically unique area containing three primary bitumen formations, the McMurray and Wabiskaw oil sands above the Leduc carbonate reef. It contains the highest resource density of any of Athabasca's assets.
In 2011, Athabasca applied for and received regulatory approval to build a 64 kilometer road into this property. The first 50 kilometers are a joint venture between Athabasca and another operator in the area while the remainder is wholly-owned by the Company. The road is scheduled to be completed in the third quarter of 2012.
Part 1 of Dover West - SAGD in Sands
On December 2, 2011, Athabasca filed a regulatory application for a 12,000 bbl/d SAGD project with the ERCB and AEW. The first barrel of bitumen is targeted to be produced in 2015.
While progressing through the regulatory review process, the Dover West Sands team continues to work on the water exploration program and the front end engineering and design activities on the central processing facilities.
In 2012 and 2013, the team expects to continue the detailed engineering, procure the long-lead equipment and receive regulatory approval. Then the site preparation will start, construction on the central processing facilities should commence and the Company will begin drilling SAGD well pairs. First steam is anticipated in 2015.
The Company's oil sands in the area include both the McMurray and Wabiskaw formations which contain approximately 2.0 billion barrels of contingent resources (best estimate) that could support total area peak production rates of 160,000 bbl/d. The initial development area has the two formations stacked and Athabasca anticipates strategically drilling its SAGD well pairs to ensure there is significant heat transfer between the two oil sands formations.
Athabasca intends to commercially produce this asset using a staged development strategy. It anticipates submitting a second regulatory application for another SAGD project, of 25,000 to 40,000 bbl/d, in late 2013 or early 2014. First production of Project 2 could be in 2018 or earlier. The Company has started the necessary environmental impact assessment studies. Subsequent projects, also ranging from 25,000 to 40,000 bbl/d, may be applied for and built.
Part 2 of Dover West - Leduc Carbonates
The Leduc carbonate reef has a net pay of up to 100 metres containing approximately 17 billion barrels of bitumen-in-place and 2.9 billion barrels of contingent resources (best estimate). It is composed of ancient corals filled with bitumen, including a large number of bitumen-filled karsts (caves). The bitumen bearing portion of the reef was discovered through shooting and interpreting 2D and 3D seismic.
During 2011, Athabasca conducted two field tests in the formation. For the Steam Injection Test, the Company drilled a deviated well and injected steam to evaluate the potential for bitumen recovery using steam in this highly fractured, vuggy reservoir.
This successfully completed test proved steam remains a viable option to heat the bitumen. SAGD is the recovery method used by the independent reserve engineers in assigning contingent resources to the Dover West Carbonates.
The Company also tested an innovative recovery process called Thermal Assisted Gravity Drainage (TAGD), which uses conductive heating to warm the reservoir and mobilize the bitumen. For the TAGD Field Test, the Company installed electric heaters in two 250 metre long horizontal wells. Four observation wells were also drilled to monitor the reservoir response. After heating the formation for five months, the Company began bitumen production from the lower well. Results of this "proof of concept" trial are expected later in 2012. To date, there have been several encouraging results from this test.
Athabasca believes TAGD may be better suited than SAGD for the recovery of bitumen from the Dover West Carbonates. The potential benefits of TAGD compared to SAGD include no high volume water source requirements, simplified processing facilities, lower initial capital costs and better energy efficiencies as similar recoveries may be achieved at lower temperatures (approximately 140° Celsius using TAGD compared to approximately 260° Celsius using SAGD).
In October 2011, Athabasca filed a regulatory application with the ERCB and AEW for a 6,000 bbl/d TAGD Pilot and Demonstration Project to further evaluate the TAGD process. The pilot is expected to measure the recovery efficiency and energy balance from up to 42 tightly-spaced heater and producer wells. The Pilot and Demonstration Project is planned to evaluate up to six commercial demonstration TAGD well patterns.
Regulatory approval could be received in early 2013 with pilot start-up in late 2014.
The Company's timing of its first commercial development project in this formation is contingent on the performance of the TAGD Pilot and Demonstration Project. The first commercial project could be in operation as early as 2018. At peak production rates, the Leduc carbonate reef may support over 250,000 bbl/d.
3) Birch (100%)
The Birch asset, located 95 kilometers northwest of Fort McMurray, is the Company's largest, unexplored area covering approximately 470,000 acres.
Last year, the Company drilled 22 core holes to delineate the northern and western areas of its acreage and the initial results look promising.
The target oil sands formation has a net pay ranging from 20 to 28 metres. During the winter of 2011-2012, Athabasca proposes to drill an estimated 25 core holes, several water wells and acquire both 3D and 2D seismic to better evaluate its potential. This program is designed to support a regulatory application of 12,000 bbl/d to the ERCB and AEW to be submitted by the end of 2012.
Since only 10% of the land has been explored, the Company believes the remaining area may have significant commercial development potential. Athabasca could choose to preserve this asset for future development or use it in connection with other business development opportunities.
4) Grosmont (50%)
The Grosmont asset is part of Athabasca's long-term portfolio opportunities. It is one of Alberta's largest contiguous blocks of oil sands leases encompassing 788,000 acres. The Company has a net acreage lease holding of 394,000 acres at a 50% working interest.
Athabasca's third-party evaluators have assigned 739 million barrels of contingent resources (gross, best estimate) to this asset.
The Grosmont Formation has not yet been commercially developed by the industry, although several companies have dedicated personnel and resources to unlock its potential. Athabasca and its joint venture participant, ZAM Ventures Alberta Inc., currently participate in the Alberta Research Council's carbonate research program and continue to monitor industry activity.
5) Dover (40%)
The application for the 250,000 bbl/d (gross) Dover commercial oil sands project was filed on December 21, 2010 and Athabasca expects to receive regulatory approval from the ERCB and AEW during the latter half of 2012.
Unless Cretaceous (PetroChina (NYSE:PTR)) exercises its call option before this regulatory approval, this regulatory approval will trigger another 30-day window whereby Athabasca may decide to exercise its put option or Cretaceous (PetroChina) could resolve to use its call option.
If either party exercises its option, Athabasca will sell its remaining working interest to Cretaceous (PetroChina) for gross proceeds of $1.3 billion. If neither company uses its option, the two participants are expected to begin building the project.
The Dover application asked for regulatory approval to develop this project in four phases, with the first phase having a production capacity of 50,000 bbl/d (gross). Beyond advancing the regulatory process in 2012, the team also anticipates completing the field development plan and initiating engineering and design work of the first phase. The team is currently reviewing the timing of the first phase to allow for the incorporation of the design, construction and other operational knowledge from the MacKay River development into this project.
First production from phase 1 could be as early as 2016.
The Light Oil Division
Athabasca's conventional light oil strategy is to purchase the petroleum and natural gas (P&NG) rights to large parcels of land, drill exploratory wells to evaluate what the acreage holds, build infrastructure to support the discoveries and generate high value for the Company and its investors.
Light oil helps balance the Company's oil sands portfolio with short term, smaller-scale and less capital intensive projects. It offers Athabasca a natural hedge to any price volatility of condensate and natural gas and it enables the Company to control the size and pace of each development, based on global commodity prices.
Target formations in the Light Oil Division include the Montney, Duvernay, Nordegg and Charlie Lake. The Light Oil Division applies horizontal drilling and multi-stage fracture technology to these formations to produce light oil and liquids-rich natural gas.
Beyond solidifying its land position in 2011, Athabasca also commenced a 20 well exploratory drilling program initially focusing on the Kaybob and Simonette areas. Initial results are promising which led the Company to approve the initial development of the areas in December 2011 and to continue exploration in other areas.
Athabasca's target exit production rate at the end of 2012 is 8,000 to 10,000 boe/d. It plans to continue acquiring key acreage and seismic to enhance its ongoing exploration, appraisal and development drilling program.
By 2020 Athabasca expects the Light Oil Division to be producing 125,000 barrels of oil per day.
Detail of Athabasca Light Oil Properties (2011 Annual Report)
Simonette
The Company holds over 113,000 net acres in the greater Simonette area which includes Simonette, Waskahigan, Placid and Saxon.
Supported by over 400 square kilometers of 3D seismic, the Company spud 12 wells in the area during 2011. Seven of the wells were completed by the end of the year, including four Montney and three Nordegg.
The Montney results are very promising and with these results the Company proceeded to approve Simonette as its second Light Oil development area.
Approximately 140 sections (~90,000 acres) of the Company's greater Simonette land holdings are highly prospective for the Montney Formation, which suggests over 500 drilling locations at four wells per section. The 63 kilometer pipeline from Kaybob will run through Athabasca's Simonette asset and the Company plans on constructing a 10,000 bbl/d oil battery and 12 mmcf/d compression station in the area. The wholly owned infrastructure is anticipated to be fully operational in the third quarter of 2012.
Exploration - Duvernay
Over the Company's Light Oil land holdings, approximately 200,000 acres are prospective for the Duvernay Formation with over 20 metres of net pay thickness.
During 2011, the Company drilled and cored three vertical Duvernay wells to evaluate the reservoir quality and ultimate productivity of the formation on the Company's land. One of these wells was continued to a horizontal completion and results are expected in early 2012.
Exploration - Charlie Lake
Athabasca has completed drilling its first Charlie Lake horizontal well in the Grande Prairie area and was able to spud a second well by the end of 2011. The team anticipates drilling a third well in the first quarter of 2012 and all three wells will be completed by the end of March. If the wells meet the Company's economic hurdles, they will be produced using existing third-party infrastructure. The team will then evaluate if Athabasca should construct wholly-owned facilities. The Company holds over 105 sections of prospective Charlie Lake land.
Other Area of Interest
Athabasca has also acquired land in a new area of interest also in northwest Alberta and now holds approximately 500,000 acres of P&NG rights. The team is currently putting together an exploration program, expected to start in 2012, of these prospective new light oil and liquids-rich natural gas plays.
SUMMARY - Light Oil
Athabasca anticipates its Light Oil assets will generate significant production and additional reserves for the Company's asset portfolio. While its assets encompass large, contiguous blocks of land, it plans to focus its early light oil production to take advantage of the infrastructure it anticipates constructing in 2012. The Company expects greater upside from its exploratory and appraisal drilling in all its areas of interest. That means an increase in reserves, production, cash flow and income to the Company and its shareholders.
VALUATION - TWO PARTS (Oil Sands and Light Oil)
Value of the Oil Sands Properties
Below is a list of oil sands transactions that is slightly dated as it doesn't include 2011/2012 activity.
Comparable Oil Sands Transactions: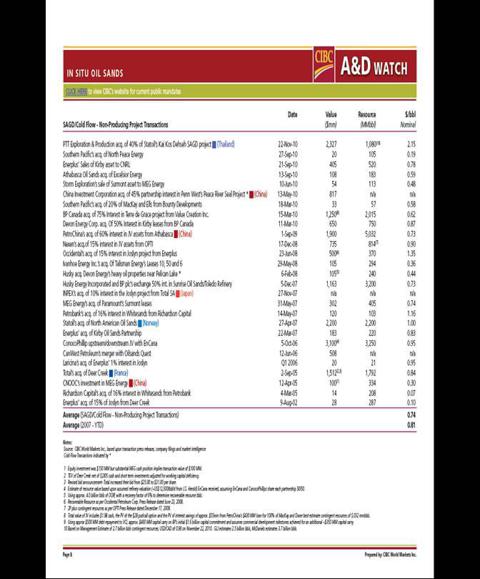 The average SAGD/Cold Flow Non-producing transaction was completed at $0.74 per barrel. Post 2007 the average transaction was completed at $0.81 per barrel.
Athabasca has 10.7 billion barrels of Contingent oil sands resource.
Using $0.74 per barrel as an estimate this would value Athabasca's oil sands resource as being worth $0.74 x 10.7 billion = $7.9 billion
On a per share basis that is $7.9 billion / 415 million shares = $19.07 per Athabasca share.
Value of the Deep Basin Assets
Encana (NYSE:ECA) just completed a Joint Venture with PetroChina on its Duvernay acreage. The Joint Venture price of $2.18 billion is for almost 50% of 445,000 acres in mainly the liquids rich gas portion of the Duvernay.
Rather than look at this on a per acre basis I'd rather look at this on a "per drilling location" basis.
Per the presentation slide below, Encana thinks it has 1,000 to 1,600 well locations in the Duvernay. If we take the middle of that, then that means that PetroChina paid $2.18 billion for 700 drilling locations.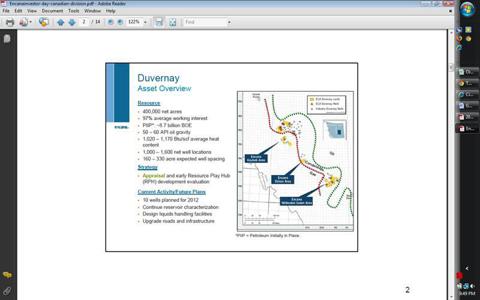 Athabasca meanwhile (see the slide below) estimates that it has greater than 500 Duvernay drilling locations at Kaybob and greater than 100 Duvernay drilling locations at Saxon/Placid. That is a very similar number of drilling locations to what PetroChina has purchased for $2.18 billion.
For the sake of simplicity, I will suggest that Athabasca's Duvernay acreage is worth $2.18 billion or $5.25 per Athabasca Oil share.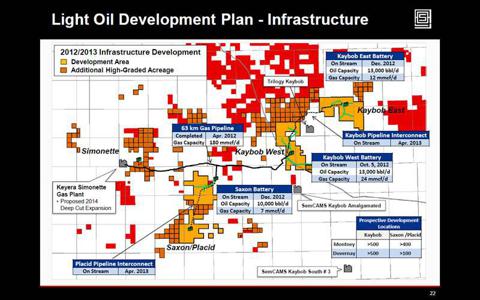 But on the slide above Athabasca also notes greater than 500 Montney drilling locations at Kaybob and greater than 400 Montney drilling locations at Saxon/Placid. If those locations are of a similar value to a Duvernay drilling location then the value of those locations would be well in excess of $2.18 billion. To be conservative I'll assume that the 900 Montney locations in total aren't worth any more than the 600 Duvernay locations, and value them at $5.25 per share.
That is $5.25 per share for the Duvernay, and $5.25 per share for the Montney which is $10.50 in total for the light oil division.
Sum It All Up
Estimate of Value of the Oil Sands - $19.07
Estimate of Value of the Light Oil Division - $10.50
Total Estimate of Value Per Share - $29.57
Current Share Price - $10.25
It looks pretty interesting. The company has no net debt, but is going to require a lot of capital to develop these assets. There has been letter of intent with respect to a Joint Venture signed (rumored to be with Kuwait Petroleum Corp.) on the Hangingstone and Birch properties.
Why is the market applying such a discount to what seems to be a fairly similar set of assets to value? That is always a hard question to answer.
I believe in this case the discount likely relates to the fact that this company needs to be invested in with a long term perspective. There is no catalyst that is going to force this value to be realized tomorrow.
With its massive oil sands landholding there is no way that the Canadian Government would allow this company to be sold. A Corporate transaction isn't going to create a value realizing event.
I like situations like this though. I'm perfectly happy to invest in a company like this and let time be my friend. As Athabasca grows production the stock price will rise.
Disclosure: I have no positions in any stocks mentioned, and no plans to initiate any positions within the next 72 hours. I wrote this article myself, and it expresses my own opinions. I am not receiving compensation for it (other than from Seeking Alpha). I have no business relationship with any company whose stock is mentioned in this article.