Netflix (NASDAQ:NFLX) has been thrashing bears these past few weeks, as we've seen bullish investors warming back up to the film distributing giant. Netflix may be most known for its infamous rise to $300, before collapsing to ~$60 within three months in 2011. The rise to $300 was actually pretty steady, but the collapse was ugly and a lot of investors were turned off because of it. Below is a look at the three year chart of Netflix, where you can see the epic rise, followed by the catastrophic collapse: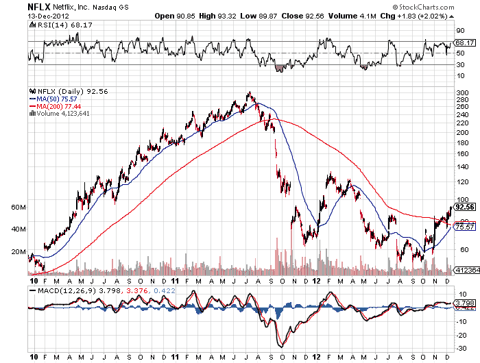 Source: Stockcharts.com
But the tide appears to be turning, with Netflix making a recent low on September 25, at $53.70, just $.83 above the 52-week low, it now currently trades over $90 per share. Even more recently, after reporting a lackluster quarter on October 23rd, Netflix dropped down to $60.12, before Carl Icahn revealed a position in the stock that sent Netflix up to $80 just 4 trading days later. Even the run from $60 to $90 represents a move over 50%, something any remaining bulls thought they might never see again. Below is a chart of the recent moves in Netflix, which have resulted in large gains for bulls: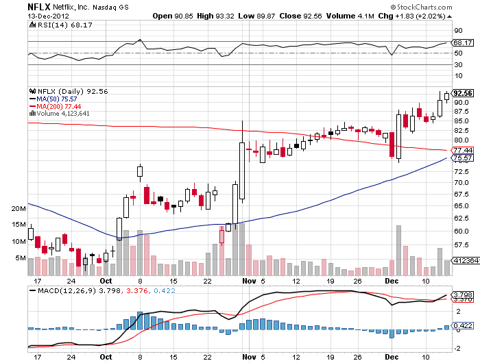 Source: Stockcharts.com
Of course, the new bullish position by Icahn has helped the stock in recent months, but there's been other news moving the stock as well. By now we all know of Whitney Tilson's long position on Netflix and the talks about a takeover, but the main catalyst lately has been a deal with Disney. The deal would give Netflix exclusive rights for streaming Disney movies, what a huge boost, right? Well, the deal doesn't actually kick-in until 2016, which is quite far away. Also, the deal is for an undisclosed amount, and we all know Disney (NYSE:DIS) didn't need the deal as much as Netflix did, so it'll likely come at a pretty hefty price tag.
While Bill Maurer did a great job depicting the long-term struggles ahead for Netflix - and I agree with many of his points - I think Netflix has finally perked up. I was initially a "sell-the-news" skeptic when I caught wind of the Icahn investment, but that has proved to go against me. With all the recent positive news, I think Netflix is finally picking up and will be able to continue this move for a while. Let's take a look at the chart of Netflix and see where the recent momentum has left the stock: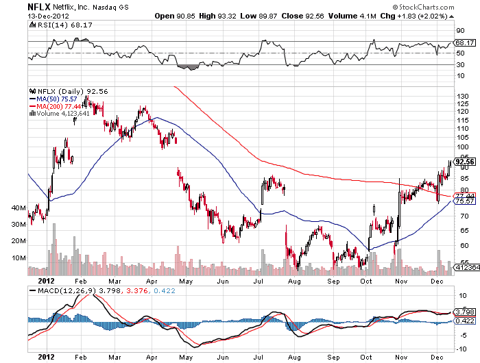 Source: Stockcharts.com
As you can see on the chart above, Netflix has found solid support at its 50-day simple moving average (blue line), where it has bounced several times now. In mid-December, Netflix was able to perk up over its 200-day simple moving average (red line), and is now trying to form what is known to technicians as a Golden Cross, where the 50-day sma crosses the 200-day sma to the upside. This formation is known as a bullish move, with upward biased momentum.
While I don't think Netflix will perform amazingly for years and years to come, I do think there is some money to make off the fundamental movements that have drove the stock up 50% in recent months. Now that Netflix is flush with bullish news, I think it is also technically favorable to be long as well. The Disney deal, takeover rumors, and hedge fund positions will likely allow Netflix to continue moving up in the short- to intermediate-term. If the 50-day sma does indeed cross the 200-day sma, even more buyers will likely be present.
I think that even with bears trying to raise alarm, Netflix will still prove to have strength, at least until its next earnings report in late-January. A pullback is definitely in the cards after such a large run, perhaps to the mid- to lower-$80 range. It's important for investors to remember that Netflix - along with almost all stocks - will likely be influenced by the 'Fiscal Cliff' fiasco and how, or if, it is resolved. Over the next couple of weeks, investors will probably see elevated volatility and potentially violent price swings. Netflix will be no exception, but I expect the current price support to be the floor for it, pending a total collapse in equities.
The Trade
Sell 1 January 85 put @ 3.80
Buy 1 January 80 put @ 2.25
Net Credit (Max Gain): 1.55 or $155
Max Risk (Max Loss): 3.45 or $345
Days Until Expiration: 35
This is just a simple bull put spread, and one that I think will be better if deployed when or if Netflix drops. If Netflix does indeed have a pullback to the mid- to lower-$80 range, then I think selling this credit spread will be much more beneficial, for several reasons. The first being that Netflix should pullback in the near future, and by waiting until that happens, it will increase the odds that the trade is successful. The second reason is the spread will fetch a juicier premium. Right now, we are risking $345 to make $155. By waiting to sell the same spread when it is at-the-money, we will collect closer to $200. This will not only raise our maximum gain, but will also lower our risk, which is a plus.
When considering selling options, it's always best to do so with a certain time frame in mind. Options decay in an exponential manner, meaning that the closer they get to expiration, the faster that the time decay will eat away at the premium. It is usually best to sell an option with 30-45 days left until expiration and with 35 days left with the one above, it allows a prime entry over the next couple of trading days, pending the movement of the stock. Below is a look at how time decay affects an option's premium: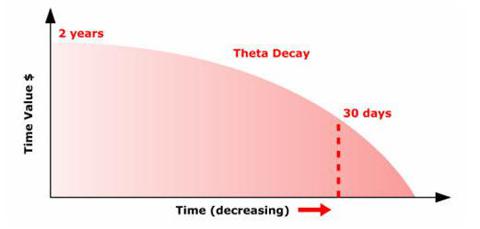 Source: Optionalpha.com
I think that Netflix has enough short- and near-term catalysts to keep the stock price from falling very far. Along with the fundamental catalysts, I think the charts look good enough to keep pushing the stock higher, while supporting it against any deep pullbacks. While I do think the short-term and intermediate-term prospects look good, I don't particularly like the stock in the long term. However, I don't think shorting into the upward momentum is a sound idea at this time. I remain slightly bullish on Netflix in the near term.
Disclosure: I have no positions in any stocks mentioned, but may initiate a long position in NFLX over the next 72 hours. I wrote this article myself, and it expresses my own opinions. I am not receiving compensation for it (other than from Seeking Alpha). I have no business relationship with any company whose stock is mentioned in this article.